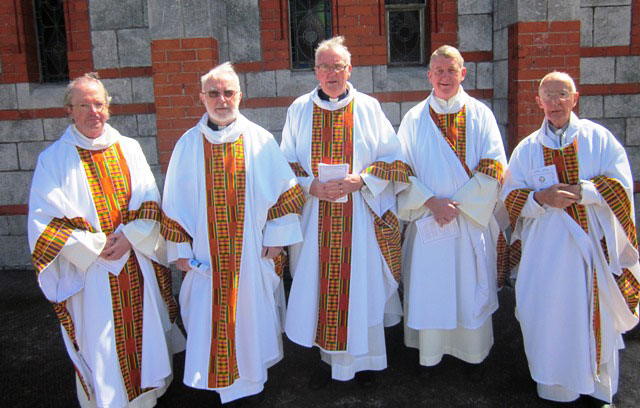 The mortal remains of Fr Hugh McLaughlin were removed from the African Missions, Blackrock Road on Tuesday evening, 14 May to St Joseph's SMA Church, Wilton where it was received by Fr John O'Keeffe, SMA Wilton Community Leader.
After reading from Luke 4:16-21, Fr John shared the following thoughts: "In his priesthood Hugh found a life to which he was able to dedicate himself, heart and soul, a vocation which brought him fulfilment and, as a result, happiness. Hugh brought happiness to many a person, family and situation. The source of his happiness was rooted in his priesthood.
Loyalty to his friends, dependability, hospitality, kindness, his care for students and parishioners, indeed his entire pastoral ministry, are his gifts scattered throughout the dioceses of Ondo and Cork & Ross (Ballydehob, Passagewest, Goleen). On behalf of the entire Wilton community I offer our sincere sympathy to his sister Mary and brother Arthur.
We are confident that Hugh will meet his parents, Charles and Mary, and his sister-in-law Peggy in that place prepared for us all since the foundation of the world."
Funeral Mass, Wednesday, 15 May
Fr Hugh was laid to rest in the SMA community cemetery after Concelebrated Requiem Mass.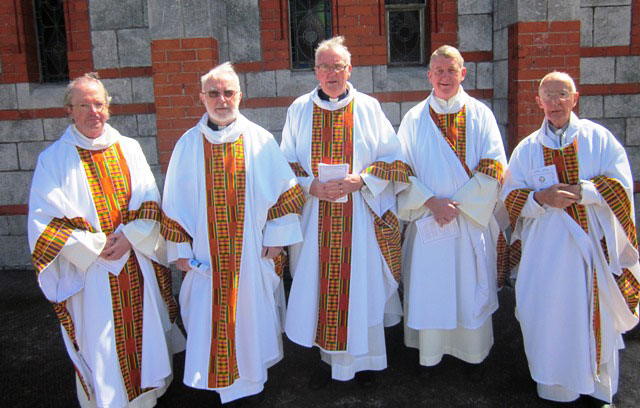 The Principal celebrant was the SMA Provincial Leader, Fr John Dunne assisted by Fathers Fachtna O'Driscoll (SMA Superior General), Alan O'Leary (PP of Schull, which takes in Goleen and Ballydehob where Fr Hugh ministered for any years), Colum O'Shea SMA and Michael Igoe SMA. More than fifty other priests, many from the diocese of Cork & Ross as well as SMAs from different parts of the country also concelebrated.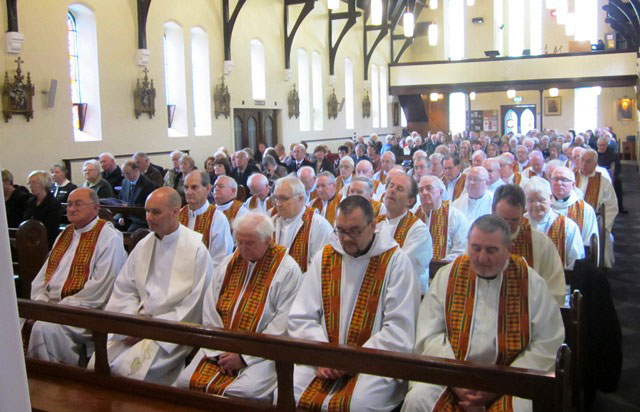 In a sign much appreciated by the family and the SMA, Bishop John Buckley also attended and led some of the Prayers of Commendation. Fr Alan O'Leary, PP of Schull, led a decade of the Rosary at the graveside.
Among the concelebrating priests were four SMA classmates of Fr Hugh: Fathers John Clancy, Michael Evans, Paddy McGovern and Frank Meehan.
Fr John O'Keeffe SMA acted as MC and the singing was led by Fr Cormac Breathnach SMA. Relatives and friends of Fr Hugh participated, including Jude and Madeline McCrossan who had travelled from Malin Head, Co Donegal and whose Marriage Fr Hugh had officiated at early in his ministry.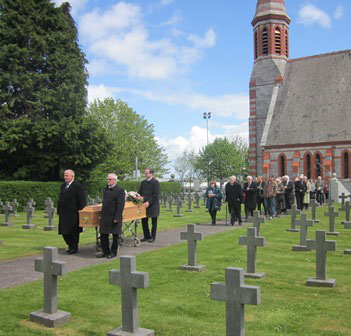 Pat O'Rourke read from Eccl 3:1-7, 11 and Hugh O'Brien proclaimed the Word of God from St Paul to the Corinthians (4:14-5:1). The Prayers of Intercession were read by Niamh, Derval, Teddy and Nell O'Brien.
The chief mourners were Fr Hugh's sister Mary and brother Arthur. In his opening remarks at the Mass, Fr Dunne welcomed the many friends and relatives who had travelled from all over the country as well as from the UK. He also spoke of the different religious congregations, including the OLA and St Louis Sisters and those from the Mercy Congregation.
Fr Damian Bresnahan SMA preached the homily reminding us that Fr Hugh was a man who said his prayers and who always tried to do good in his life. He was a man who loved the sunlight and was always of a happy disposition.
In the cemetery after Mass there was a short shower of rain and then the sun came out. It was a reminder of Fr Damian's words as we laid Fr Hugh to his earthly rest.
Afterwards the large gathering of mourners expressed their sympathy to Arthur and Mary, before all accepted the invitation of Fr O'Keeffe to come to the Community Dining Room for lunch.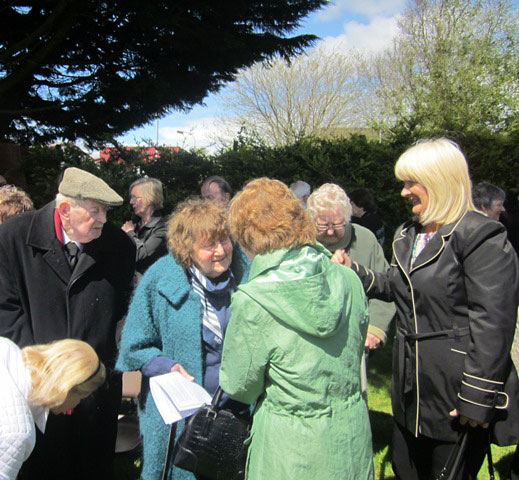 May Fr Hugh rest in eternal peace. Amen.
Read an Obituary of Fr Hugh here.