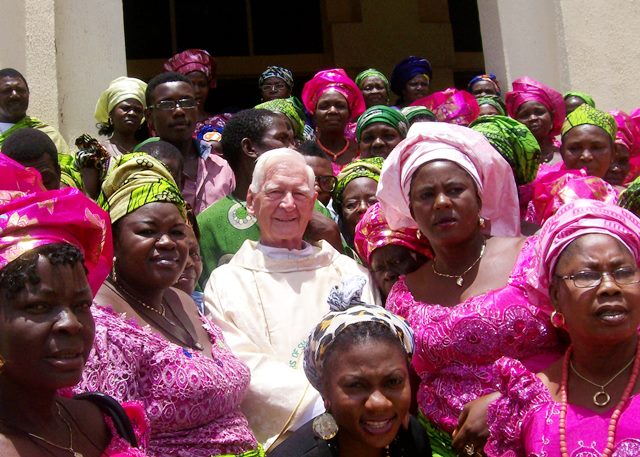 Fr. Richard ('Dick') Wall's contribution to the growth of the Church in the Archdiocese of Benin was recognized and joyously acknowledged on Wednesday, 3 April 2013 at a Thanksgiving Mass in St. Anthony's Cathedral, Uromi.
The Mass was organised by Fr. Peter Egbe, Administrator of St. Anthony's Cathedral, Uromi. A large number of diocesan priests and SMA priests, Sisters from various Congregations, Catechists and lay faithful joined in the Mass. The chief celebrant was Fr. Wall. Among the concelebrants was Fr. John Akhidue, Administrator of the Diocese of Uromi (which has been without a Bishop since Bishop Augustine Obiora Akubeze was appointed Archbishop of Benin two years ago), Fr. Peter Egbe, Administrator of St. Anthony's Cathedral, Uromi, Fr. Maurice Henry, SMA Regional Superior for Nigeria and Fr. Tim Cullinane SMA, Spiritual Director of SMA House of Formation, Ibadan.
Fr. Richard and enthusiastic women parishioners from Holy Trinity outstation of Egbele parish, Uromi.
Ostensibly promoted as the 80th Birthday (in actual fact the 80th birthday took place on 22 August, 2012) Thanksgiving celebration, it turned out to be a glowing tribute to Fr.Wall's 57 years of missionary endeavour in the now Benin Archdiocese, since his arrival there as a fledgling SMA missionary a few months after his ordination on 13 June 1956.
As exemplified many times throughout the day his missionary career has truly been a pastoral tour de force and the typically uninhibited nature of the people's joyous outpouring of goodwill towards him on this occasion was in itself an eloquent testimony to their appreciation of his generous missionary spirit. Fr. Richard's own inclination to underplay his effectiveness was clearly overwhelmed by the local people's spontaneous desire to demonstrate their appreciation. A beaming Fr. Dick willingly registered his gratitude and appreciation of their enthusiasm, generosity and devotedness.
The appreciation of the priests in the Archdiocese was captured in the Homily which was preached by Monsignor Joseph P. Omesa, a senior diocesan priest, an admirer of Bishop Patrick Joseph Kelly SMA (whose cause for Canonisation he has been actively promoting in the Archdiocese for the past 10 years), an equally long time SMA admirer since his youth and a committed missionary in his own right.
Read Msgr Omesa's homily here.