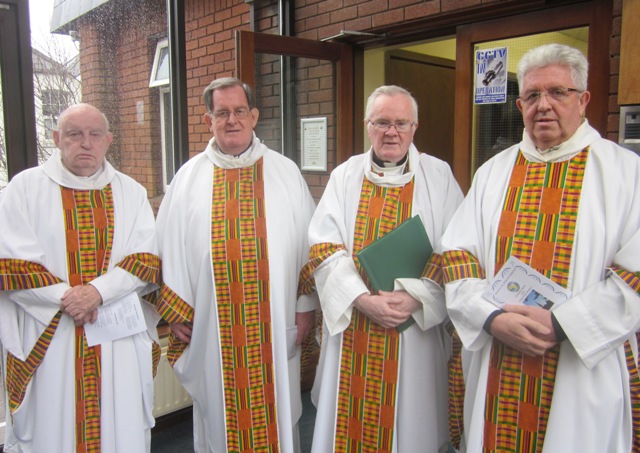 Fr Tom Gorman died on Thursday, 4 February 2016. His concelebrated funeral Mass took place at St Joseph's SMA Church, Wilton, Cork on Saturday, 6 February. The Principal celebrant was the Irish Provincial Leader, Fr Michael McCabe, assisted by Fathers Leo Silke, Denis Collins and Eamonn Finnegan.
The following is the homily preached by Fr McCabe at the Mass.
The death of someone who was, for a long time, part of our lives is always a painful experience. Those we have known and loved have a special place in our hearts – a spiritual space that is nourished by their physical presence among us. Death is the moment when this physical presence is cut off, when communication is lost in time. Images and memories of the deceased person remain – indeed many memories remain – but the death of our dear one ends a personal relationship and tears out a part of our own hearts.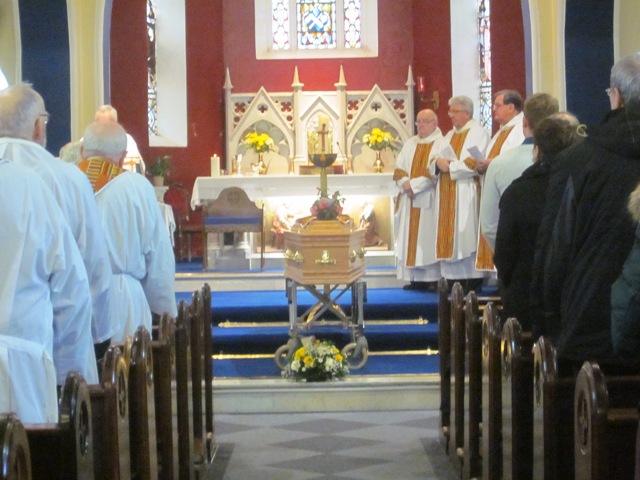 To celebrate in faith the death of Fr Tom – Priest, Missionary, Uncle, Relation, Friend – is in no way to deny this pain of separation and the loss which accompanies it. This sense of loss is real and must be acknowledged.  Indeed, Christ who lived among us knew this pain personally. In the death of his friend, Lazarus, and in his own death, Christ identified with our sense of separation and loss. In both cases he cried. But Christ also knew that death was not just an end but also a beginning.  In the face of his own death, he could say: "Unless the wheat grain falls to the ground and dies, it yields only a single grain; but if it dies, it yields a rich harvest". By his own life-giving death on the Cross, Christ overcame the destructive power of death and made it a pathway to new life. As we pray in the first Preface of the Mass for the Dead:
"In Him who rose from the dead, our hope of resurrection dawned. The sadness of death gives way to the bright promise of immortality. Lord, for your faithful people life is changed, not ended. When the body of our earthly dwelling lies in death we gain an everlasting dwelling place in heaven."
So, while acknowledging our sense of loss on the death of our dear brother, Tom, we do so in the context of Christ's life-giving death and resurrection which we commemorate in the Eucharist. Christ has revealed to us a love that is stronger than death, a love that draws life out of death. What we celebrate in this Eucharist is the victory of God's love over death – a victory won for us by him who said "I am the resurrection and the life. He who believes in me, even if he dies, will live". It is in this context, then, that we look back on some of the key moments in Tom's long and fruitful life.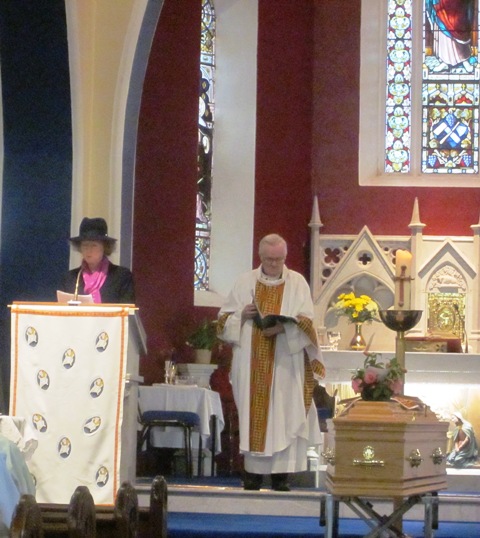 A native of Borris, Co. Carlow, Tom was born on the 13th October 1922, the youngest of a family of six – three girls and three boys – of Thomas Gorman and Annie Hoban.  Following his early education, Tom decided he wanted to become a missionary priest and so entered the SMA College in Cloughballymore, Kilcolgan, Co Galway, where he completed his Philosophy Studies (1940-'42).  He went on to the Major seminary of the African Missions in Dromantine, Newry, Co Down where he studied theology (1942 – '46). On 15 June 1945, Tom became a permanent member of the Society and was ordained to the priesthood in the Cathedral of St Patrick and St Colman, Newry, on 15 June 1946. He was one of a class of thirteen ordained that day. Following Ordination, Tom was appointed to work in the Vicariate of Ondo-Ilorin, Nigeria, then under the leadership of Bishop Thomas Hughes, SMA.  He served in various parishes in Ondo. He was also, for several years, secretary to Bishop William Field, the successor to Bishop Hughes.
For most of his missionary life Tom held key leadership and administrative positions in our Society – in Africa, Rome, and Ireland.  In 1959 he was appointed Regional Superior of Western Nigeria, an office which involved responsibility for more than one hundred SMA missionaries working in the Region at that time.  In 1964 he was re-appointed for another five years. However, two years into his second term (in 1966), following the retirement of Fr Stephen Harrington due to ill-health, Tom was co-opted to the General Council in Rome. He served there for two years until the 1968 SMA General Assembly. These were the years immediately following the Second Vatican Council – a time of change and upheaval in the Church and a challenging time to be in leadership.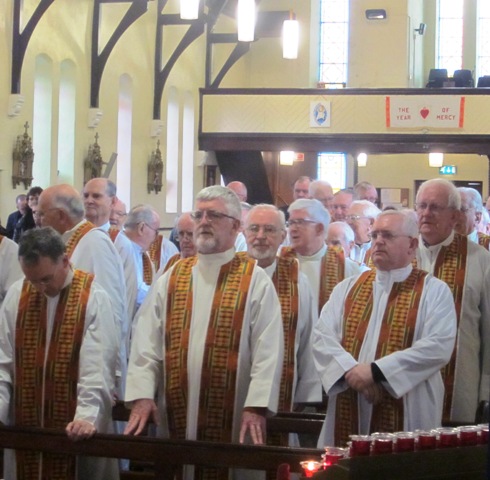 From his return to Ireland in 1968 until his retirement in 1997, Tom was asked to undertake important posts of responsibility in several Houses of the Province: Superior of Blackrock Road ('68 – '73); Superior/Vice-Superior and Bursar, Ballinafad College, Co Mayo ('73 – '75); Superior & Bursar, Wilton ('76 – '78); Bursar, Dromantine, Newry ('78 – '97); Vice-Superior, Dromantine ('85 – '97).  This succession of responsible posts – without a break – in the service of the SMA and especially the Irish Province not only shows the high esteem in which Tom was held by his Superiors; it also shows his great generosity of spirit and willingness to serve wherever he was  sent – qualities as essential today as in the past.  
At all times Tom fulfilled his duties diligently and competently, without fanfare or drama. Never one to trumpet his achievements, his sole concern was to do whatever was asked of him calmly, discreetly, without fuss, and to the best of his ability. He never complained and was happy to be able to serve the Society to which he had committed his life. Tom didn't write often to his Superiors. He was a man of few words, written or spoken. However, one letter he did write to his Provincial Superior, Fr John Creavan (August 1964) in response to his re-appointment as Regional Superior gives us an insight into the spirituality that motivated and sustained him:
"I'm not too sure I am very happy about my re-appointment. However, I accept it as God's will and trust that He will give me all the graces I need to cope with the work."
Tom's spirituality, then, was based on obedience to his Superiors, accepting as God's will whatever they asked of him, and relying on the Lord to help him carry it out.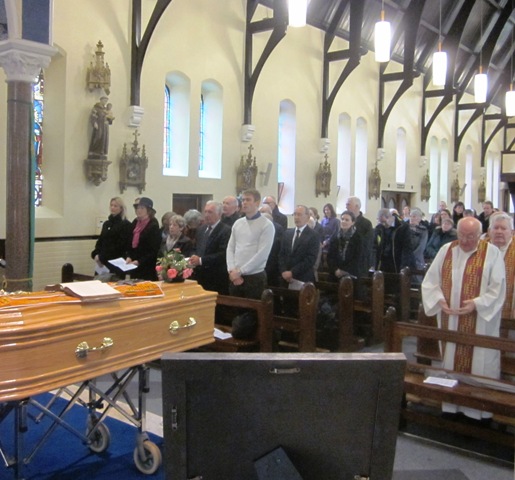 From 1997 up to last year, Tom lived in contented retirement in SMA House, Wilton, where he enjoyed reasonably good health for many years and, using his computer skills, gave invaluable assistance to the House Bursar.  A true gentleman, Tom was always approachable and gentle in his dealings with people. He had a wide circle of friends whose care and kindness he appreciated as his advancing years and declining health took their toll on him. He was much loved and will be missed by all who knew him. While Tom lived a frugal and sober life style in keeping with our SMA Consititutions & Laws, he was partial to the occasional glass of sherry. His cousin, Mary, always had a glass of sherry ready for him whenever he visited her. On one occasion, however, there was no glass of Sherry because, as she told Tom, it was Ash Wednesday. Tom replied: 'I'll have my glass of sherry now and postpone Ash Wednesday until tomorrow.'
Early last year, when his health deteriorated further, Tom was transferred to St Theresa's Nursing Unit, Blackrock Road, where he was well cared for by the nursing Staff.  Though initially a bit agitated with his new surroundings, Tom eventually settled into his new home and participated in the community prayers, particularly daily Mass.  A few weeks ago, following a fall in which he broke his hip, Tom was hospitalized. He returned to St Theresa's but never recovered his strength. Two days ago the Lord called him home.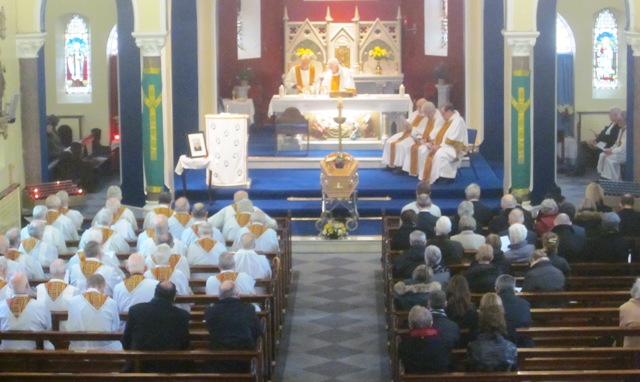 The Gospel we read today reminds us of what our final judgement will be like. We heard the words of Jesus himself who said, "In so far as you did this to one of the least of these brothers or sisters of mine, you did it to me". Throughout his long life of missionary service, Tom did multiple deeds of kindness and goodness, decency and generosity that many of us may never know about, but God knows. No act of kindness or goodness, decency or generosity, however small, will ever escape the notice or attention of God.  We can be sure that the Lord of heaven and earth will welcome Tom to his home with these words: "Well done, Tom, good and faithful servant, come and take possession of the kingdom prepared for you from the foundation of the world." Tom, as we take our leave of you, we entrust you into the hands of our tender and merciful Father.
"May flights of Angels sing thee to thy rest" (William Shakespeare)