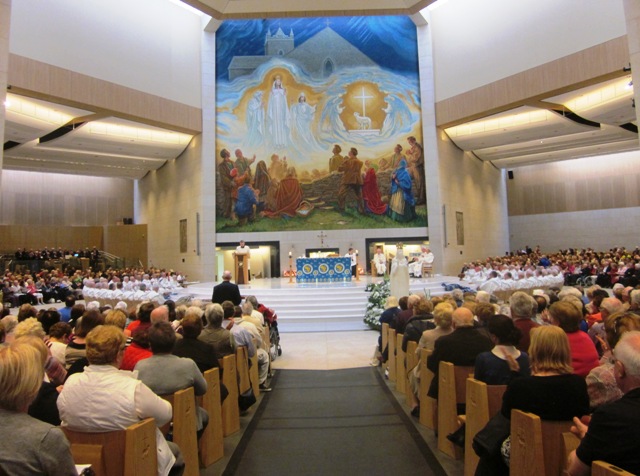 Fr Tim Cullinane, who after 52 years as a missionary in Africa, has returned finally to Ireland called on the more than 2,000 pilgrims at the SMA / OLA 36th Annual Knock pilgrimage  to 'welcome the stranger, the refugee, the migrant.
Though it may seem incredible to those who are suffering because of financial problems in Ireland – especially those who have been forced out of their homes by banks and vulture funds and government inaction etc – it is a fact that, according to the "2015 Legatum prosperity index Ireland ranks 10th of 142 countries in terms of wealth."
Read the complete edited text below:
Knock is a holy place where the Blessed Virgin Mary appeared on 21 August, 1879. She came to give hope and encouragement at a time when people were suffering greatly from the effect of the famine. The same Mary, though we cannot see her physically, is as present for us today as she was for those who witnessed the apparition on that day in August 1879.
We come firstly as individuals with our own personal needs. It may be to pray for healing for a health problem for ourselves or someone we know, to thank God through Mary for a favour received, to have our sins forgiven or for some other personal need.
Mary's prayers are very powerful. "Never was it known that anyone who fled to thy protection or sought thy intercession was left unaided." She is the great intercessor with her Son, for us as she was for the young married couple at the marriage feast of Cana when she saw their need and brought it to her Son, saying, "They have no wine." Whatever your need is today, Mary will do the same for you. The power of Mary's intercession is brought out very well in the following true story:
You may remember the case of the Maguire Seven and the Guildford Four, wrongly convicted of the Guildford pub bombings in 1974. The late Cardinal Hume was a great supporter of the campaign to get them released. In paying tribute to Cardinal Hume on his death, the late Cardinal Daly told the story that on one occasion he came with members of the Maguire family to meet Cardinal Hume to find out if there was any progress in the efforts to get the conviction quashed. When the Cardinal told them that in spite of the best efforts of many people there was no possibility of their being released anytime soon. The cardinal could see that they were very disappointed. As they were leaving he brought them to a statue of Our Lady with hands outstretched inside the front door of his house and told them that whenever he was facing a problem that seemed insurmountable he would go to this statue of Our Lady and put his hands in Our Lady's hands and hand the problem over to her and would return in peace to his desk knowing she would take care of it, and she always did. The Maguire's said that this gesture of the Cardinal which they themselves later copied brought them great relief and as you know the story eventually had a happy ending when those who were unjustly imprisoned were released. Today I invite you to hand over in faith whatever is troubling or worrying you at this time into the hands of Our Lady of Knock and I know she will take care of it.
Secondly, in this pilgrimage, we come not just as individuals but as part of an SMA / OLA family. We are both missionary congregations whose mission is to bring the Good News of Jesus Christ to the peoples of Africa. Every year this pilgrimage brings us together with our supporters from all over Ireland and beyond. In the media, much of the news from Africa is bad news: wars, poverty, famine, diseases like Ebola, corruption, undemocratic governments, Boko Haran kidnapping young girls. But this is only one side of the story. For a number of years, I worked in a place called Jos in Northern Nigeria.
At one time Jos was a great centre of tin mining with many foreigners coming to work in the mines. The SMA came to Jos at much the same time as the miners. When I was in Jos there was a cemetery, St Pirans, where you could see the graves of miners and missionaries lying side by side in death. But as I looked around I could see a big difference between what the miners left behind and what the missionaries left and are still leaving behind. With the development of plastic, the bottom fell out of the tin market. What is left now of the tin miners is the rusted relics of their mining equipment, huge mounds of clay, the result of open cast mining, and a  pock marked landscape filled with water for part of the year, a breeding ground for mosquitoes, malaria and other diseases.
What the SMA, the OLA and other missionaries have left behind and is still flourishing is quite different.  As you look around today you can see effects of the liberating message of Jesus Christ: thriving Christian communities with their own African bishops, priests and sisters, African SMAS and OLAS. There are thousands of ordinary Nigerians serving as Catechists, leading Sunday services… All over Nigeria there are churches, schools, adult education centres, hospitals, clinics, a Major Seminary with over 200 African students preparing for priesthood. What is true of Jos is also true of what is happening all over Africa, through the work of the SMA and the OLA and the many other congregations, foreign and indigenous.
This work would not be possible without the help of many people all over this country, who support us by their prayers and financial help. In this Mass we thank God for you and for your generosity. Your contribution has made and makes a big difference. I am always touched by the help missionaries can give to children and to mothers who come sometimes weeping because they have no money to buy food for their children to bring them to hospital or pay school fees. I was at a Mass in Nigeria for one of our priests, Fr Frank McCabe [from Drumshambo] who had died in Ireland. A man came up to me after Mass to tell me how grateful he and his family were to Fr McCabe. The family was very poor and in a country where there is no free education like we have here, they could not pay to get their children into school. Fr McCabe helped them and now he was a lawyer, his brother an engineer and his sister a teacher. This reminds me of something I once read, "One hundred years from now, it will not matter what your bank account was, the sort of house you lived in or the kind of car you drove but the world will be a different place, because you were important in the life of a child."
Thirdly, this year's pilgrimage is taking place during the Jubilee Year of Mercy and the theme of our pilgrimage is "Welcome the Stranger." During the year Pope Francis has been speaking out powerfully on the plight of refugees and asylum seekers.
Migrants, the Pope, says are our brothers and sisters in search of a better life, far away from poverty, hunger and exploitation, much like our forefathers at the time of the famine, fleeing to the United States and Canada, many of them dying on the way from disease and malnutrition.
As you can see from today's gospel, Jesus himself was a refugee fleeing to Egypt to escape the persecution of King Herod who wanted to exterminate every child three years old and younger. Today, if we have eyes to see, Pope Francis says we can see the face of Jesus in the migrant, in the refugee seeking protection from persecution, war and famine, in the men, women and children who are victims of trafficking, in the asylum seekers imprisoned for fleeing without documents. We should not see them as a threat to our security and our standard of living and, in our minds, put up wire fences against them as some European countries are actually doing. For those who are unemployed or burdened by mortgages or have been put out of their homes, it might be hard to believe it but Ireland is not a poor country. In fact, The 2015 Legatum prosperity index Ireland ranks 10th of 142 countries in terms of wealth.
Pope Francis has given us a wonderful example of concern for migrants and refugees. You can see it in the way his heart goes out to them not just by words but by deeds, bringing 12 of them to Rome in his recent visit to Lesbos and last year urging European parishes and religious houses to welcome at least one refugee family. Speaking at Lampedusa in 2013, where up to 300 refugees were drowned, Pope Francis put this question to us, "Who has wept for the deaths of these brothers and sisters who were on the boat? For the women carrying their babies. We are a society that has forgotten the experience of weeping, of suffering with, the globalization of indifference has taken from us the ability to weep. In this Jubilee Year of Mercy, with Mary the Mother of Mercy, let us open our hearts, like Pope Francis, to the refugee and the migrant. Jesus said "As long as you did it to one of these the least of my brothers you did it to me" and "I was a stranger and you made me – or did not make me – welcome."
How do we welcome the stranger, the refugee the asylum seeker? How do we welcome anyone? Smile at them, shake their hands embrace them, say they are welcome and "Is there anything I can do for you?" To be able to do this for the refugee we must start now by welcoming the stranger in our midst in our family, in our parish, in our town in our city and then our hearts will be ready to welcome the stranger from other countries.
Gathered here this afternoon, we are asking three things from God through the intercession of Our Lady of Knock: that He would grant the requests we make to him for ourselves and those we are praying for; 
continue to bless the work of the SMA and the OLA
and give us a sympathetic and welcoming heart to Christ as He comes to us in the distressing disguise of the refugee, the migrant and the stranger.
Our Lady of Knock, Mother of Mercy, pray for us.