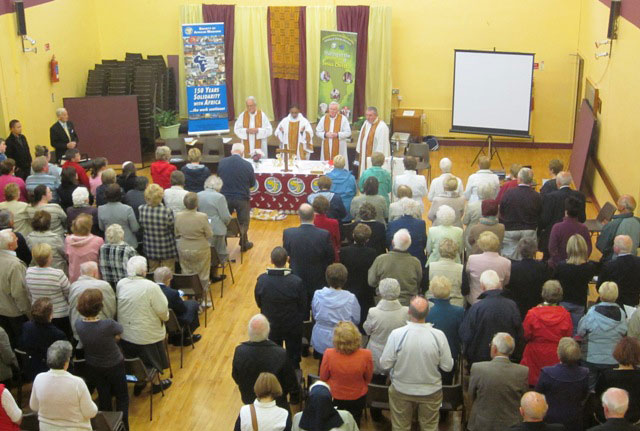 Obituary of Fr Tom Mullahy. Family Tribute to Fr Tom Mullahy
The SMA Provincial Leader led the Concelebrated Funeral Mass for Fr Tom Mullahy at St Joseph's SMA Church, Wilton, Cork at 12 noon on Saturday, 7 December 2013.
The Principal concelebrants were V Rev Muiris O'Connor (PP of Askeaton, Diocese of Limerick who was part of the Limerick diocesan Mission to Nigeria where he worked with the SMA); Fr Eddie Deeney (a classmate of Fr Mullahy) and Frs Bernie Cotter and Seamus Nohilly who both worked in northern Nigeria.
Mary Costello and Hannah Conway read the Readings. Siobhán Cryan, Mary Conway and Paraic Moran led the Prayers of the Faithful. The Gifts for the Offertory Procession were brought to the Altar by Della McGreal and Tom Moran. A nephew of Fr Mullahy, Paraic Fahey, spoke at the end of the Mass. His words can be read here.
Fr McCabe preached the following homily.
The death of someone who was part of our lives is always a painful experience. Those we have known and loved have a special place in our hearts. This spiritual space is nourished by their physical presence. Death is the moment when this physical presence is cut off, when communication is irretrievably lost in time. The image remains – indeed many images remain – but the death of our dear one ends a personal relationship. Death tears out a part of our own hearts.
To celebrate in faith the death of our dear brother, friend, confrere, Fr Tom, is in no way to deny this pain of separation and loss which accompanies it. For all who truly love, the sense of loss is real and profound and needs to be acknowledged. Indeed, Christ who lived among us knew this pain personally. In the death of his friend, Lazarus, and in his own death, Christ identified with our sense of separation and loss. In both cases he cried. But Christ also knew that death was not just an end but also a beginning. In the face of his own death, he could say: "Unless the wheat grain falls to the ground and dies, it yields only a single grain; but if it dies, it yields a rich harvest". By his own life-giving death on the Cross, Christ overcame the destructive power of death and made it a pathway to new life. As we pray in the first Preface of the Mass for the Dead: "In Him who rose from the dead, our hope of resurrection dawned. The sadness of death gives way to the bright promise of immortality. Lord, for your faithful people life is changed, not ended. When the body of our earthly dwelling lies in death we gain an everlasting dwelling place in heaven."
And so, while acknowledging our pain at the loss of our brother, Fr Tom, we do so in the context of Christ's life-giving death and resurrection which we commemorate in the Eucharist. Christ has shown us a love that is stronger than death, a love that draws life out of death. What we celebrate in this Eucharist is the victory of God' love over death – a victory wrought for us by him who said "I am the resurrection and the life. He who believes in me, even if he dies, will live".
Our brother, Tom, was just 7 months short of his 80th birthday, when the Lord called him home. Tom joined the Society of African Missions in 1954 and was ordained to the Priesthood in 1960 along with 23 others – 11 of whom are still living and many of them are here today. Tom's character is well described by his Superiors as "reliable, frank, courteous and conscientious". The SMA priests who lived and worked with him say he was an easy man to live and work with, a man with a gentle sense of humour. He lived a long and fruitful life as a priest and missionary, serving in the diocese of Jos (Nigeria) for 18 years (from 1961-79), and in the diocese of Limerick for 16 years (from 1986 – 2002). While in Jos, his ministry was mostly in the area of education (in a teacher training college and also in several secondary school). Though a dedicated and competent teacher Tom's missionary zeal led him to become involved in outreach to those yet to be evangelized (what we call primary evangelisation).
Throughout his life, Tom struggled with a good deal of ill-health, yet he was always ready to do whatever he could to promote the mission of the Society. While recuperating from illness in Wilton early on in his life, he was also Dean of Students there. Later on, when he had to return from Nigeria also because of ill-health, he did promotion work for the Society in Dublin. While he served the home Church for several years he never forgot the missions and, from time to time, sent substantial contributions to his Superiors for its work in Africa.
For his entire life, then, Tom was devoted to mission. In the words of the well-known Irish poet and patriot, Paraic Pearce, we can say of him that he tried "to give life in a world of time and space, to a dream that was dreamed in the heart, and only the heart could hold". I must also add that the dream for which Tom gave his life was no human dream, but a dream that was dreamed in the heart of God, a dream, and that only the heart of God could hold, a dream of a world transformed by the power of God's love. Tom's life was spent in living out what Pope John Paul II called "an historical drama of charity, heroism and sacrifice which has made the African Church the vibrant fast growing plant it is today". Today, as we pray for him and commend him to the mercy and kindness of the Lord, we also give thanks for his life and witness.
That life and witness was inspired and nurtured by his family, his Mum and Dad, brother, sisters, relations and friends, and the local community into which he was born. He always remained close to that community and it was their example of faith and service, of love and devotion to Christ and the Church, that imbued in him a desire to cross cultural boundaries and political borders to share that faith with the people of Africa. Several of Tom's family members are here today and I wish to acknowldege their presence and thank them for the support they gave to Tom and the SMA all through his life.
Fr Tom is laid to rest. On left is Mr Tom McEnery who, for the past 47 years, has overseen the burial of every SMA priest and bishop in this cemetery, save one.
And now as we bid our final farewell to Fr Tom, we affirm in this Eucharist our faith in "the resurrection of the dead and life everlasting" – our final hope beyond the portals of death. I end this homily with a prayer attributed to an English Dominican priest, Bede Jarrett, which expresses this hope simply yet profoundly.
Death is an Horizon
We give them back to you. O God,
Who firstly gave them to us;
And as You did not lose them in the giving,
So we do not lose them in the return.
Not as the world gives do You give, O Lover of souls;
What you give, you do not take away,
For what is yours is ours also, if we belong to you.
Life is eternal because love is undying,
And the boundaries of this life are but an horizon,
And an horizon is nothing, but the limit of our vision.
Lift us up, then, Strong Son of God,
That we may see further.
Strengthen our faith that we may see more clearly.
Draw us closer to Yourself,
so that we know ourselves to be nearer to our loved ones who are with you.
And, while You prepare a place of us,
Prepare us also for that happy place,
So that where You are we may be also
With those we have loved for evermore. Amen.
Fr Muiris O'Connor recited a decade of the Rosary at the conclusion of the Burial. In acknowledgement of Fr Tom's (and his) years of service in northern Nigeria he recited the Hail Mary in the Hausa language. Those SMA's who worked in that part of Nigeria responded in the language which they had used during their years in Nigeria.