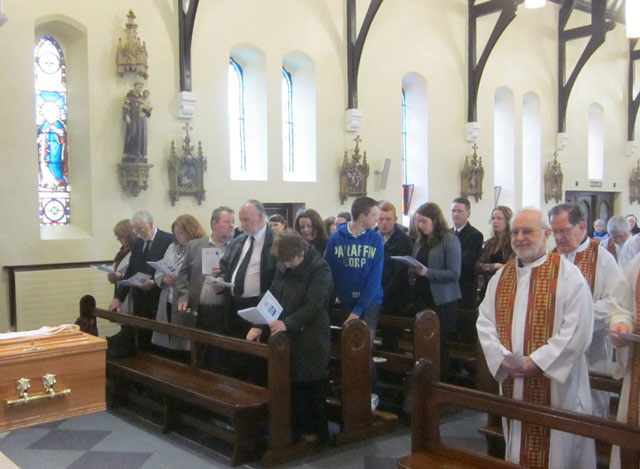 Fr Michael McCabe, SMA Provincial Leader, was the Principal celebrant at the Funeral Mass for Fr Sean Ryan SMA. He was assisted by Fr Sean Quinn (PP, Louth parish), Fr Malachy Flanagan SMA (Vice Provincial) and two classmates of Fr Sean: Frs John Flynn SMA and Tom Kearney SMA. Also concelebrating were Fr Tommie McGeough (Ardee, Co Louth), Fr Sean McArdle SM and more than 50 SMA priests, from the Blackrock Road, Claregalway, Dromantine and Wilton communities. Fr John O'Keeffe was MC. A large number of Fr Sean's family travelled from Louth and Armagh to attend the funeral ceremonies to say Goodbye to a greatly-loved uncle, grand-uncle and great grand-uncle.
Introduction
We are gathered here today to bid farewell to our brother, Sean – a priest and missionary – and accompany him with our prayers on his last journey into the arms of his Maker. Sean's death came more quickly than we expected, but, like his life, his death was simple, peaceful and undemonstrative. While acknowledging our sense of loss at his passing, we also celebrate his generous offering of himself in the service of God and others throughout his life.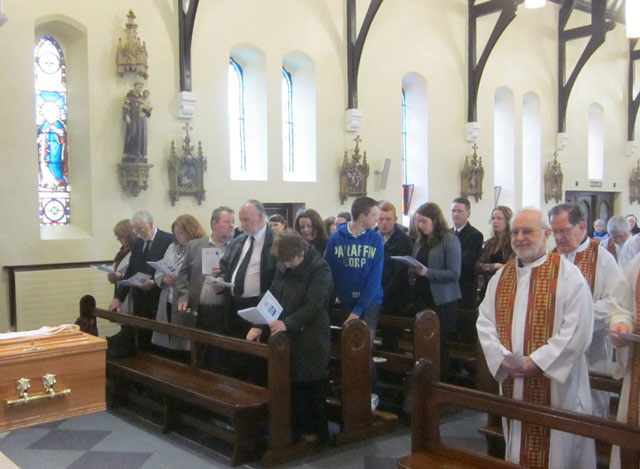 We welcome here today Fr Sean's nieces (Maura, Helen, Margaret, Bernadette & Stephanie), nephew (Patrick), his grand nieces and great grand nieces, grand nephews and great grand nephews and their families; his cousins, relatives, friends, visiting priests and sisters, especially the OLA Sisters, many of whom knew Fr Sean for many years, particularly in Africa.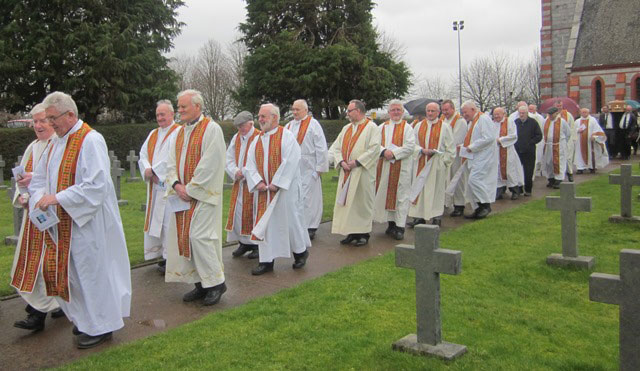 We remember in this Eucharist all the deceased members of Fr Sean's family, his parents John and Mary, his brother, sisters and step-sisters.
Celebrating with me at the Altar are his classmates, John Flynn and Tom Kearney, Fr Malachy Flanagan, Vice-Provincial Leader who, like Sean, hails from the 'wee county', and Fr Sean Quinn from his home parish in Louth village.
As we prepare to celebrate this Mass we ask the Lord to forgive our sins and renew us in his love.
Readings: Isaiah 25:6-9; Romans 4:7-15 and John 11:18-27
Homily
"For your faithful people, Lord, life is changed not ended. When the body of our earthly dwelling lies in death we gain an everlasting dwelling place in heaven"
These words taken from the first Preface of the Mass for the Dead express our firm belief in our Risen Lord and our expectation that his promises will be realised for Sean, and eventually also for us who remain. While there is always pain and sadness in our partings from loved ones, there is great consolation in the words of Jesus in today's Gospel – words he spoke to Martha on the occasion of her brother's death:
"I am the resurrection and the life. If anyone believes in me, even though he dies, he will live, and whoever lives and believes in me will never die."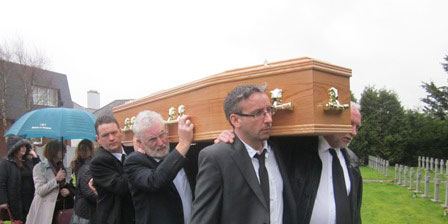 This is the context in which we recall Sean's life as we bid him a final farewell. Sean was born in the village of Louth, Co Louth on the 16th July 1933, the youngest of a family of eight. After completing his primary schooling, he decided to become a missionary priest and enrolled in the Sacred Heart College at Ballinafad, the secondary school run by the SMA in Co. Mayo. On completing Secondary School, he entered the SMA Novitiate at Kilcolgan, Co Galway, and took his first temporary oath of membership of the SMA on the 14th June 1954. Following the usual programme of studies in Philosophy and Theology in Dromantine, Sean was ordained a priest on the 18th June 1958 along with 11 others – 7 of whom are still living and five of them are with us today (John Flynn, Sean Hayes, John Horgan, Tom Kearney and Michael Kidney). Sean was described by his Superiors as a "steady, calm and cheerful person", and all who lived and worked with him came to recognise and appreciate those qualities as well his great sense of humour.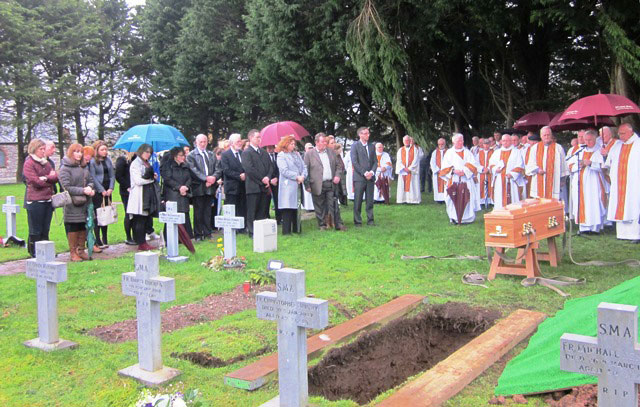 Following his ordination, Fr Sean was appointed to Benin City diocese in Nigeria. He was to spend the next 42 years working in that part of the country. He also worked in the dioceses of Warri (1962-1993) and Issele-Uku (1993-2000), when these dioceses were created from divisions of the original Benin City diocese. Sean was Deputy Society Superior in Warri Diocese from 1985-89. During all his years of dedicated missionary work in Africa, Sean only took one short sabbatical: a six weeks' renewal course in Maynooth during the Summer of 1980.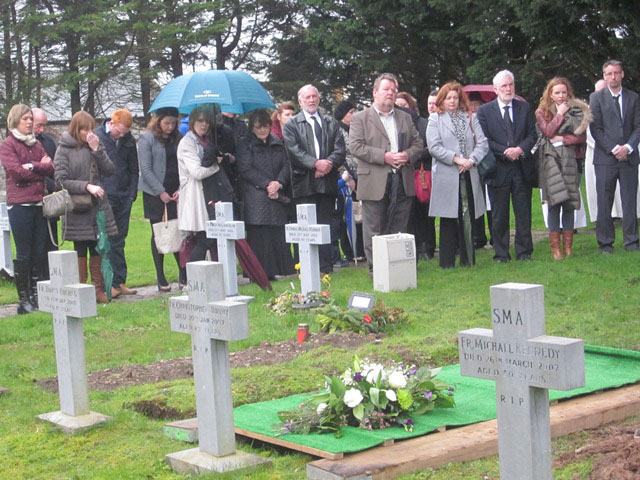 On his return to Ireland in 2000, he worked in parishes in Armagh Archdiocese up to his retirement to Dromantine in 2012: in Tallanstown, Dundalk, from 2001 – 2006 and then in St Peter's Parish in Drogheda, from 2006 – 2012.
A very significant part of Fr Sean's missionary work was among the Ijaw people of Bomadi in the Delta area of Nigeria. Fr Jimmy Higgins SMA (a veteran missionary who spent more than 55 years as a missionary in Mid-West Nigeria) in his book, Kindling the Fire, provides us with a vivid description of his ministry and lifestyle in that difficult, and, at the time, isolated mission:
"Sean was always thorough and regular in his pastoral ministry. The vast number of outstations in that mission were visited frequently by canoe with an outboard engine. It was a difficult mission by any standards. The mosquito-infested area warranted constant protection. The diet was simple: yams, gari (a popular West African food made from cassava) and fish. Meat was a rare luxury. Sean soon adapted to the area and the Ijaw adapted to Sean" (Kindling the Fire, p. 96).
Sean's life and witness, then, truly exemplified what Pope John Paul II has called "the special vocation of missionaries for life" The Pope went on to state that this special life-long vocation "retains all its validity: it is the model of the Church's missionary commitment, which always stands in need of radical and total self-giving, of new and bold endeavours. Therefore, the men and women missionaries who have devoted their whole lives to bearing witness to the risen Lord among the nations must not allow themselves to be daunted by doubts, misunderstanding, rejection or persecution" (Redemptoris Missio, no 65).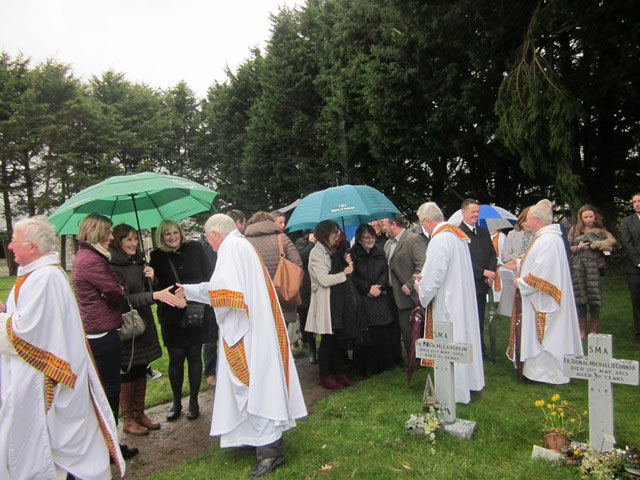 Sean certainly did not allow himself to be daunted by doubts, misunderstandings, or any of the difficulties that are part and parcel of the missionary vocation. His long years of dedicated and heroic missionary service in Nigeria bore ample fruit, building up what is today a vibrant and fast-growing Church that is itself now missionary. The core of Sean's contribution to mission is well expressed in these words of Fr Higgins:
"Sean will be remembered for doing many wonderful things during his 42 years of missionary service in the Mid-West but most of all, I think, for his dedicated service to his beloved Ijaw people. If we refer to Fr Zappa (a great Italian SMA missionary) as the apostle of the Western Igbos… then I think mission history may well refer to Sean Ryan as the apostle of the western Ijaws" (Kindling the Fire, p. 97).
Sean's remarkable, though largely unknown missionary work, was inspired and nurtured by his family, his Mum and Dad, brother, sisters, relations and friends, and the local Catholic community into which he was born. It was the example of their faith and spirit of service, of love and devotion to Christ and his Church, which inflamed in Sean a desire to cross geographical and cultural borders to share that faith with the people of Mid-West Nigeria. Several of Sean's family are here today and I wish to acknowledge their presence and thank them for the support they gave Sean all through his life, right up to the end.
Before moving on to the final years of his life, I must mention another important aspect of Sean's life – his sporting interests. From his student days, he was a keen sportsman. He was particularly skilled at table-tennis and soccer. During his time in Nigeria, he was chosen as an official referee of the Nigerian Football Association and refereed many important soccer matches.
The last chapter of his life, his final illness, brought Sean's offering of himself to God to completion. He knew from the outset that his illness was serious, but he bore it with great dignity, hope, patience and cheerfulness. He approached death as he had lived his life: gracefully, full of the grace of God. He bore his sickness in the spirit of Simeon in Luke's gospel, the spirit of letting go and letting God take care of him.
At last, all powerful Master, you can let your servant go in peace, just as you promised. For my eyes have seen your salvation, which you have prepared for all the peoples, the light to enlighten the gentiles…
Sean brought the light of God's grace and God's presence into many lives. He ministered God's healing and forgiveness wherever he was. His warm, generous, and cheerful disposition made him a natural missionary and a wonderful witness to the Good News of Christ. What is before him now as he ascends the mountain of God, is, as Isaiah tells us in the first reading, the great heavenly banquet where "every tear will be wiped away", where all the mysteries of life will be illuminated and where Sean will be united with his parents, brothers, sisters and other family members in contemplating the face of God for eternity.
May he rest in peace.
Read an account of the funeral ceremonies for Fr Sean Ryan SMA