Fr. Sean McDonagh celebrated his Golden Jubilee as a Columban missionary priest in 2019. Last year, during the World Meeting of Families, he honoured the SMA with his visit to our exhibition at the RDS. He was clearly impressed by the SMA exhibit and asked Fr. Maurice Henry SMA where we had gotten the idea from. Fr. Maurice answered, "We got it from a man called Sean McDonagh!"
And that is so. Sean McDonagh, for too long, was an Irish John the Baptist, crying in the wilderness to ears that did not want to listen, and pointing out things we did not wish to see. He was thought of as an eccentric, caught up in his own little niche, talking about the environment when the real issues, so we thought, were human rights and the unfair distribution of resources. And, of course, we were partly right, but we lacked the fuller picture, which Sean had already grasped, over three decades before most of us. 
Fr. Sean is now a subject of interest for Irish students studying 'Politics and Society' for the Leaving Cert. It is a subject, we are told by educationalist, intended to help Ireland develop a new generation of leadership with a deeper understanding of how social and political institutions work at local, national, European and global level.
Fr Sean McDonagh expressed happiness at his inclusion in the new textbook. "It is good to have recognition for the work I've been at for close to 40 years. There are a number of key thinkers in it and as a missionary I am delighted to be recognised as someone who has something to say on the environment, sustainability and social justice."
Back in the 1990s, Fr Sean McDonagh was very much a solitary voice within the Irish and Global Church calling attention to the looming ecological crisis.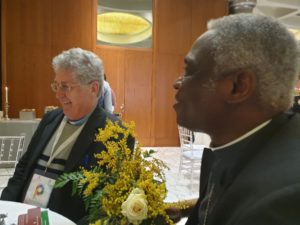 But under the pontificate of Pope Francis, following a phone call from Cardinal Peter Turkson, President of the Dicastery of Integral Human Development, he was invited to be part of the team who advised the Holy Father on Laudato Si'. 
"In 2009," Fr. Sean recalls, "Pope Benedict wrote the encyclical 'Caritas in Veritate' and it didn't even mention climate change. Six years later Francis described ecological destruction as one of the most serious sins. This is – six years! The Catholic Church isn't known for moving very quickly!"
Sean pays tribute to the Columbans – formally the Maynooth Mission to China – for giving him the opportunity to discover his interest in ecology and climate justice.
"I studied linguistics and anthropology in Washington and then I went back to the Philippines and taught in Marawi. I began working in Lake Sebu and I was there for 15 years. Over the years I saw logs in the water but I never put two and two together in relation to the impact of logging. Luckily, I came across people who were helpful including the great Passionist thinker, Thomas Berry. In that sense, if I had never gone to Lake Sebu I would never have written any of this."
He highlights how at that time, ecology was very often very technical biology and biochemistry. "But I had lived in the place and had seen what was happening to the soil as a result of 25 years of logging. That life experience gave me the confidence to speak about it."
Fr. Sean notes that though Laudato Si came out in 2015, and Amoris Laetitia in 2016, priests in general have little problem talking about the family but are a lot hazier on climate change.
Ecological awareness "will not thrive if it is dependent on priests," he suggests because "they have no experience or knowledge of it." The Church needs to be willing to tap into the well-trained members of the laity who are versed in the encyclical and the issues it deals with, such as the destruction of species and sustainability into the future.
Fr. Sean is currently finalizing a book due to be published by Veritas in 2019 that looks at the impact of robots and Artificial Intelligence on the human workforce, an area that the Church has been slow to grasp. Once again, he is showing his prophetic instincts. 
"In the 19th and the 20th centuries Northern Ireland was the shirt capital of Britain. The region hasn't made any shirts for the last 20-30 years. About 30-40 years ago China had 3% of global production; it is now up to 25%. Jobs like those in Northern Ireland went to places where wages were much lower and so shirts could be produced at a much lower cost."
"Robots and artificial intelligence pose a real problem. The jobs which gave countries like China and Korea an opportunity to get on the ladder are going to go. Moore's Law tells us we double our computer skills every three years or four years and the same is true of artificial intelligence. This technology is going to destroy jobs like nobody's business."
"I am looking at the context – how do you run a society or a pastoral reality if half the people are unemployed? And those who are employed, are they part of the gig economy rather than real economies where you are able to live without being a pauper."
"We talk here in Ireland about almost having full employment now. In the middle of the recession we were up to 16-17% unemployment. But when you drill down, what do they mean by full employment – are they zero hours contracts? Are they secure into the future? Are they paid enough money to actually live a decent life, build a house and do they get a pension? Those are the issues."
"Very few people in the religious world are actually looking at the impact of what these new technologies will be. This is something that is going to make extraordinary changes in society and most of them will be negative in the long term," he warns.
The Society of African Missions wish to express our gratitude to Sean McDonagh for his life of service, both as a Columban missionary and as one of Ireland's most visionary leaders. 
Thank you Fr. Sean McDonagh!