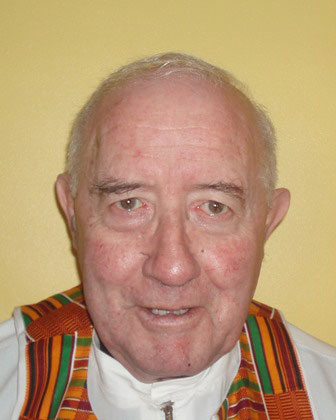 Fr Patrick [Paddy] McGovern SMA died unexpectedly but peacefully at 7am on Thursday, 4 June, in the African Missions, Blackrock Road, Cork. Fr McGovern was born in Bawnboy but the family later moved to Swanlinbar, Co Cavan. He was predeceased by his brothers Fr Gregory SMA and John.
Deeply regretted by his brother Bernard Michael, sisters Eileen and Rita, sister-in-law, nieces, nephews, grandnieces, grandnephews, relatives and a wide circle of friends and his confreres in the Society of African Missions.
Fr Paddy served as a priest in the Archdiocese of Ibadan and Ilorin diocese, Nigeria. On his final return to Ireland he served in Crossna, part of Coothall parish in the diocese of Elphin.
Following a concelebrated funeral Mass in St Joseph's SMA Church, Wilton, Cork, Fr Paddy was laid to rest close to his senior brother Fr Greg in the adjoining cemetery. Chief mourners were his sister Rita and brother Bernard Michael and a large family circle, some of whom travelled from the USA and England for the funeral.
Read the Obituary of Fr McGovern.
Read the homily of Fr Malachy Flanagan SMA, Vice Provincial, at the funeral Mass.
Read an account of the funeral ceremonies for Fr McGovern. 
May Fr Paddy rest in peace