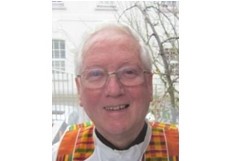 Fr Patrick [Paddy] Jennings died peacefully in St Theresa's Nursing Unit, African Missions, Blackrock Road, Cork early on Palm Sunday morning, 5 April 2020. At the time of his death, Fr Paddy, aged 95 years, was the oldest member of the Irish Province.
He was the 2nd child born to James and Sarah [née Burns] of Kilmegan, Castlewellan, Co Down. His parents, his older sister Eilish [Boyd] and a younger brother Peter predeceased him. He is deeply mourned by his brother Jim [Castlewellan] and sister Mary [McKenna, Belfast], fifteen nieces and nephews, grand-nieces and grand-nephews, the people of Ibadan and Lagos Archdioceses and his confreres in the Society of African Missions [SMA].
Fr Paddy was ordained on 14 June 1949 and spent 24 years in Nigeria, fifteen years on the teaching staff of St Theresa's Minor Seminary, Ibadan [later serving as Principal] and, for nine years, as Secretary to Archbishop [now H E Cardinal] Anthony O Okogie of Lagos.
He also worked in several positions in Ireland.
Fr Paddy retired to the SMA House, African Missions, Blackrock Road, Cork, in 1999 where he led a very active retired life up to recent weeks.
Last year he celebrated the 70th anniversary of his Priestly Ordination, firstly with his family in Co Down and later in the year with his 'SMA family' in Cork.
To follow best practices and guidelines and with the support of ­­­­Fr Paddy's family the funeral will take place privately in Cork.
A Memorial Mass to celebrate Fr Paddy's life will be held at a later date.
Requiescat in pace