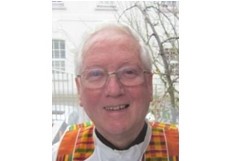 Fr Patrick Jennings SMA, the oldest member of the Irish Province, died peacefully on Palm Sunday, 5 April 2020. His Funeral Mass took place at St Joseph's SMA Church, Wilton, Cork City on Tuesday, 7 April, followed by burial in the adjacent SMA Community cemetery. Due to COVID-19 restrictions the funeral was private. His SMA colleagues, his family, relatives and friends joined in the Mass through the Church webcam.
The following is the homily, prepared by Fr Tim Cullinane SMA, for the Funeral Mass.
Fr Malachy Flanagan, the SMA Provincial Leader, celebrated the Mass.
"The Lord is my shepherd. There is nothing I shall want. Even though I should walk through the valley of the shadow of death, I fear no evil for you are with me."
This is a special week in the Church's year, Holy Week, when we journey with Christ during the last week of his life as he passes through death on Good Friday to Resurrection on Easter Sunday.
Our Christian faith tells us that Christ is there for us too to make the same journey through death to new life with Him in heaven. He did this for Paddy last Sunday morning. Saint Paul puts it this way: "We want you to be quite certain about those who have died to make sure that you do not grieve for them like the other people who have no hope. We believe that Jesus died and rose again and that it will be the same for those who died in Jesus, God will bring them with him.
We can tell you this from the Lord's own teaching and we can see this from Christ's own words in the gospel. When Martha was grieving at the death of her brother Lazarus Jesus said to her, "I am the resurrection and the life. The one who believes in me will live, even though he die; and whoever lives and believes in me will never die. Do you believe this?"
We heard in the first reading that there is a time for giving birth and a time for dying. Paddy's time for dying came last Sunday morning, Palm Sunday, the day Jesus entered into Jerusalem to endure his suffering and crucifixion. He lived a long life, 95 years, the oldest member of the Irish Province. And he was happy to let go. On the Monday before he died he said to Gladys, one of the carers who was looking after him, "I am dying. I am ready, my time has come."  I once read some words that are very appropriate as I think of Paddy's dying:
"When a person reaches an advanced old age, dying becomes almost as natural as the picking of ripe apples, or the falling of a brightly coloured leaf in autumn. The harvest has been gathered in, the journey ended, the story told. Life's tasks finished, neatly bound together like a sheaf of wheat. There is a roundedness about the person's life, a sense of completion and fulfilment and wholeness, there is sadness at him leaving us, there is joy too, so much so that the funeral becomes a celebration.
Funeral becomes a celebration. That is the way I would like to see the funeral of Paddy. When I went to Nigeria one of the things that struck me was how the people dealt with death in the place where I was working. If a young person died, the funeral was a very sombre affair and the parents were not allowed to attend the funeral because the people belived that children should bury their parents not the other way.  
When an old person, like Paddy died, the mood was completely different. The funeral was a celebration of the life of the person and could go on for days with a mood of joy and celebration with dancing and music.
Prayers were said, hymns were sung. A special brochure was produced with tributes from different people and pictures of the deceased at different stages of their life. This would have happened for Paddy if he had died in Nigeria.
In spite of the restrictions imposed on us by Covid 19, we celebrate the life of Paddy even though the Church is empty and you can only join us through webcam.
Paddy was born in Kilmegan, Castlewellan, Co Down on 15th January 1925, to James and Sarah [née Burns]. He was the second of five children, three boys and two girls. His sister Eilish and his brother Peter predeceased him. He is survived by his beloved sister Mary [Belfast] and brother Jim [Castlewellan].
After his secondary school in St Patrick's Downpatrick he joined the Society of African Missions and was ordained in June 1949.
After ordination he was appointed to Nigeria, spending 15 years teaching in the Minor Seminary at Oke Are in Ibadan and nine years as Secretary to the then Archbishop Anthony Okogie of Lagos. The Archbishop highly appreciated Paddy for his hard work, dedication and wise judgement.
The aim of the Minor Seminary was to produce local priests for a growing African Church. One year a young boy came to the seminary. Paddy taught him mathematics and the young boy must not have been very good at it or Paddy himself must not have been a good teacher because the boy scored very low in the final exam. In the years that followed this small boy was ordained priest, bishop, Archbishop and later a Cardinal.  
Paddy many years later was to travel to Rome to witness the investiture of that young pupil as Cardinal Anthony Olubunmi Okogie of Lagos by Saint John Paul II. In the brochure to celebrate his seventy years of priesthood last year there is a photo of that event, with Paddy standing alongside four bishops, two Archbishops and H E Cardinal Okogie, all of them his former pupils! But there were eight more, including Cardinal Tumi of Cameroon, who were not in that photo. This record is never likely to be beaten.
The vibrant church that you have in Nigeria today is, in part, the fruit of the many seeds of priesthood that Paddy nourished during his time in the Minor Seminary in Ibadan.
Apart from his time in Nigeria Paddy gave great service to the SMA here in Ireland, as Superior of the Novitiate in Galway, Provincial Secretary in Cork, Superior of Wilton, working in the promotion Office, assistant bursar in Blackrock Road and assistant to the Provincial Bursar. In everything he did he was a faithful servant, committed to duty, dedicated and conscientious. What a record of service to God, to the Church, to the SMA, and to Africa.
Paddy's time as a priest spanned a period of great changes in the Church as it moved from a pre-Vatican II Church to a post-Vatican II one. This was not always easy for him. In his time, the Mass changed from Latin to English. No longer were priests afraid if they made a mistake in how they held their hands or when to genuflect etc. After Vatican II there was a change to the more laissez-faire liturgy of today which I sense Paddy struggled to be comfortable with. I am sure that Paddy would make his own the saying in all aspects of how he lived his life, "trifles make perfection but perfection is no trifle."
ln other areas of his life he was ahead of many people of his age. For example in the area of modern communications he readily embraced new developments, the internet, the IPad, the smartphone and the opportunities that they offered. He was a very good singer, something Archbishop Jatau of Kaduna, a former student, often alluded to. He was a keen golfer in his younger days and was delighted when Big Bertha arrived on the scene, giving more distance to his drives. Golfers will know what I am talking about.
He was very close to his family and they were close to him, his sister Mary, with whom he was in regular contact by phone, his brother Jim and his 15 nieces, grandnieces and grandnephews and they were close to him too. Birthdays were never forgotten!
Today we say farewell to him, not in the way we and his family would have wanted to. That will come later. In these dark days of Covid 19 we surrender him into the hands of the God who he served so well, encouraged by the hope the word of God gives us in today's readings where St Paul assures us that "Nothing can come between us and the love of Christ. I am certain of this: neither death nor life, no angel no prince nothing that exists nothing still to come can ever come between us and the love of God Made visible in Christ Jesus our Lord.
I read of one woman who was very upset at the death of her father and found it very hard to come to terms with her loss. She went to see a monk in the Cistercian Abbey in Bolton and what the monks said to her gave her great consolation. "In the human condition", he said, "Death is the final expression of God's love for us. It doesn't matter what the language is, cancer, heart failure or in the case of Paddy old age. It is always the language of love, of a loving God calling us home."
And Jesus himself says, "Do not let your hearts be troubled. Trust in God still and trust in me… There are many rooms in my Father's House. I am going now to prepare a place for you and after I have gone and prepared you a place. I shall return to take you with me so that where I am you may be too."
Last Sunday Christ came and took Paddy home to himself to live with God forever.
May he now rest from his labours in his Father's House as our prayers go with him in this Mass.
I ask all of you to join with us in prayer through the webcam. May Fr Paddy rest in peace.
And pray for us Paddy from your place with God. Amen.