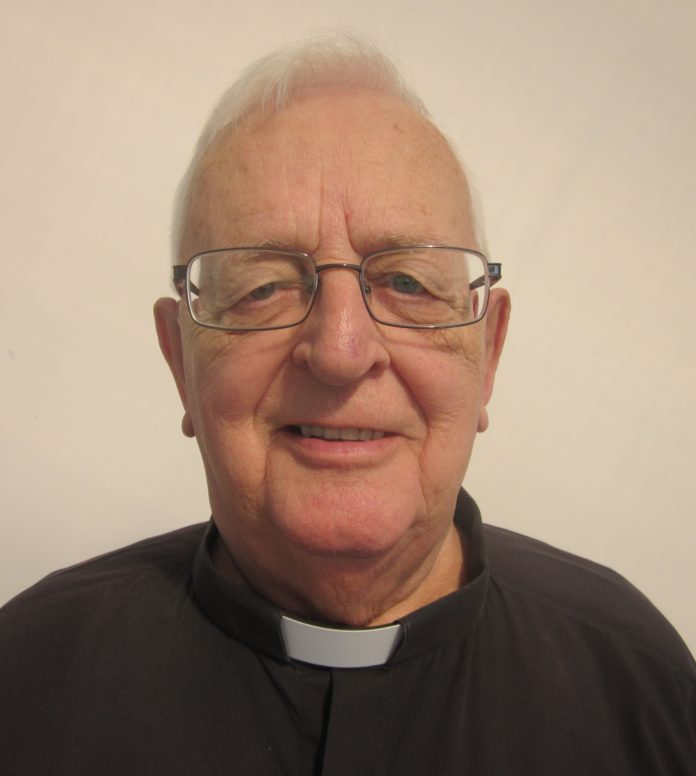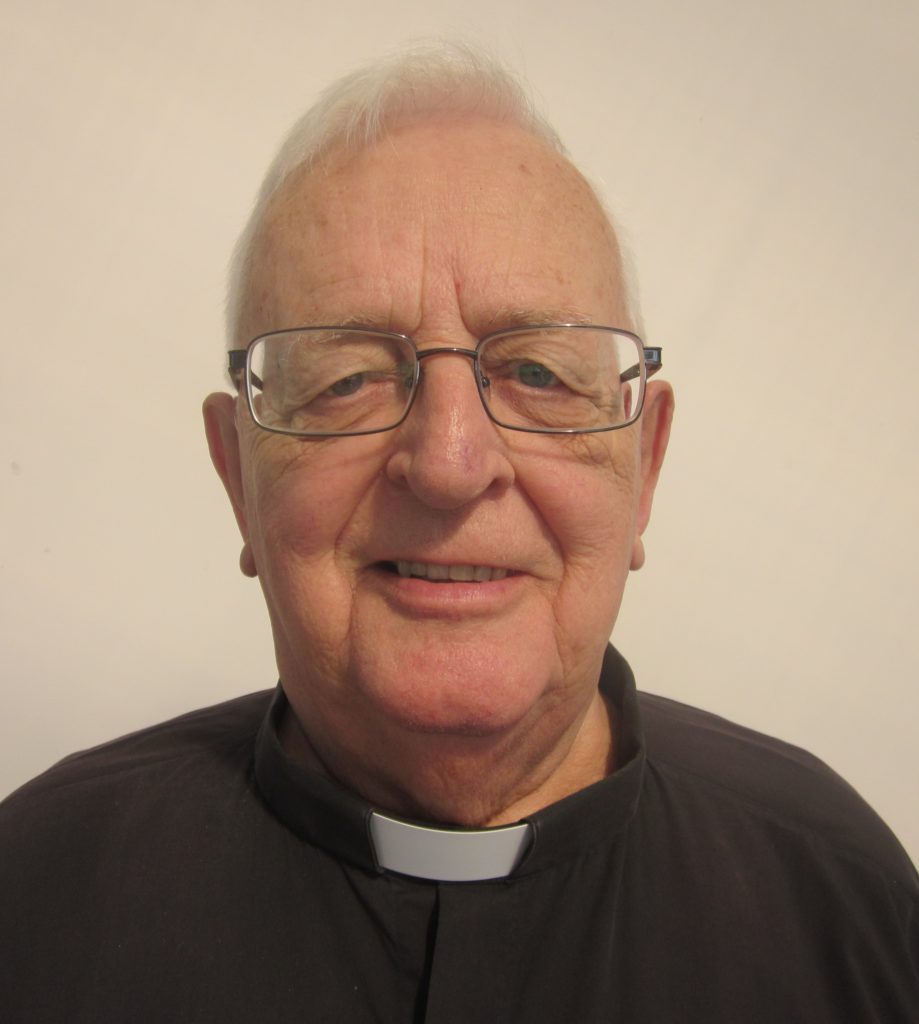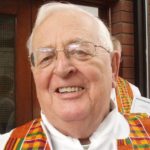 Michael Christopher Morgan-Evans, second son of Dr George and Catherine [née O'Connor], was born in Putney. London on 8 July 1931. He died in the SMA House, Blackrock Road, Cork, on 22 February. He is survived by his two brothers, John and Peter. His parents and only sister, Mary [Beale], predeceased him.
From 1942 – 1947, Michael attended St George's College, Weybridge, Surrey after which he applied to begin studies with the Society of African Missions [SMA] in Kilcolgan, Co Galway. It was unsurprising that he should do so as an uncle Tom, his mother's brother, was an SMA priest in Nigeria for many years and the stories Fr Tom shared with the family inspired Michael to follow in his steps. A second uncle, Fr James, was Parish Priest of Drom and Inch in the Archdiocese of Cashel and Emly but Michael did not feel a call to the diocesan vocation. From 1948-50, Michael undertook his Novitiate and Philosophy studies, at the end of which [29 June 1950] he became a temporary member of the Society. Along with his classmates, he moved to the African Missions Major seminary, just outside Newry, Co Down, where they completed their theology studies. They were ordained in the Cathedral of Saints Patrick & Colman, Newry on 15 June 1954. Unlike most of his classmates, Fr Michael was not immediately sent to the Society's many missions in Egypt, Liberia and Nigeria [where most Irish SMA priests worked]. Recognizing his academic abilities, Michael was sent first to do a BA in the University College, Cork, and then to Cambridge University to prepare for a teaching appointment in Nigeria.
In October 1958, Fr Michael Morgan-Evans SMA arrived in the diocese of Ondo, Nigeria, where he was promptly appointed by Bishop William Field SMA to the teaching staff of the Thomas Aquinas College in Akure. After some years on the teaching staff, Michael was appointed as Principal of the College and he set about increasing the academic standards of the College. After eighteen years, Fr Michael took a break from the teaching ministry. After a sabbatical year his plan was to return to Nigeria and take up a new teaching post elsewhere in the diocese. But his plans were not to come to fruition!
He agreed to be the Secretary at the 1978 General Assembly in Rome. The result of this decision was to see him elected to the SMA General Council, which oversees the Society worldwide. After completing his five-year term he was asked to take on the work of administering the Society's financial affairs and he served for three years as General Bursar. He was recalled to Ireland to be Editor of the African Missionary magazine, produced five times a year and sent to more than 40,000 of our Irish supporters.
In March 1990, Fr Michael's life turned a completely new page and he moved into fulltime parish ministry. His first appointment was to the Sacred Heart SMA parish in Luton. From August 1991 to January 1995, Fr Michael was assigned to a parish in Bunbury diocese, western Australia.
The SMA had a parish in the neighbouring Archdiocese of Perth, Christ the King, Beaconsfield, Perth, and he was asked to go there to join the parish team. Established in 1952, the SMA took responsibility for it with a view to seeking vocations in Australia for the Society's missions in Africa. Sadly, it did not bear fruit but the Society continued to care for the parish till the present day, with Fr Liam Keating, from Kerry, as the present Parish Priest and only SMA in Australia. Part of the reason why Fr Michael was asked to go there was because there were a large number of parishioners of Italian origin. Fr Michael's fluency in Italian allowed him to reach out to this part of the parish community. Before Fr Michael, they had another Italian-speaking Irishman, Fr Michael Colleran SMA, ministering to them. Fr Morgan-Evans was to serve there for fifteen years, before retiring to the SMA community in Wilton, Cork, in September 2010. For nine of those years Fr Michael was also Superior of the SMA team in Australia.
After 54 years of active ministry the time had come for Fr Michael to take some rest. He adapted to life in a very changed Ireland and occupied himself with reading and other pastimes. Declining health made it necessary for him to transfer to the SMA Blackrock Road community where he could receive medical care from the nursing and care staff of St Theresa's unit. It was in that unit he died at 9.50pm on Saturday evening, 22 February 2020. Coincidentally on this date we celebrate the Feast of the Chair of St Peter in Rome, a place where Fr Michael had spent nearly nine years of his priestly life. No doubt St Peter was at the Gates of Heaven to sign him in!
Fr Michael was predeceased by his parents, George and Catherine and his sister Mary. On Tuesday next, 25 February 2020, Fr Michael will be laid to the rest in the same cemetery as his uncle, Fr Tom O'Connor SMA, who died on 3 March 1986, following a heart attack, aged 62 years.
Fr Michael was laid to rest in the SMA cemetery, Wilton, Cork on Tuesday, 25 February 2020, following a concelebrated Funeral Mass led by the SMA Provincial Leader, Fr Malachy Flanagan.
May Fr Michael Morgan-Evans rest in peace. Amen.