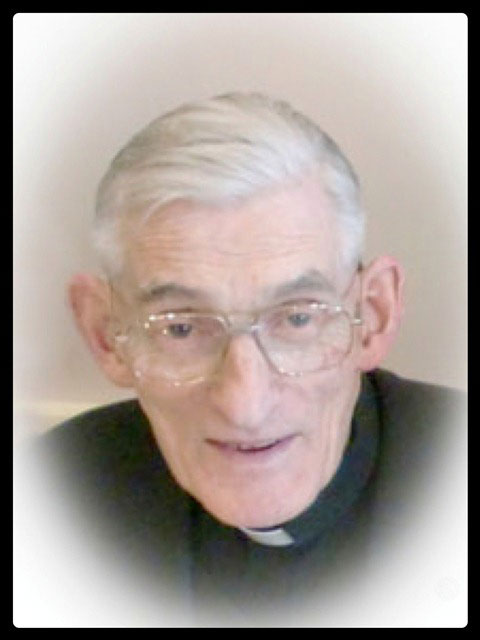 The death has taken place of Fr Martin Nolan SMA at Craigavon Area Hospital, Co Armagh. Fr Nolan died at 9.10pm on Tuesday, 29 January 2013. He was 78 years old and had been in declining health for some time.
Two of his sisters, Mary and Eileen, and his two surviving brothers, Jimmy and Pat, as well as Aileen (a niece) and John (a nephew) were with Fr Martin when he died, as well as Fr Paddy O'Rourke SMA and Fr Kevin Mulhern SMA from the Dromantine SMA community.
Martin, son of Myles Nolan and Ellen (neé Darcy), was born in Ballinstraw in Oylegate parish, diocese of Ferns on 8 May 1934 and was baptised in the Church at Glenbrien the following day. He was one of seven children – 4 boys and 3 girls. His brother John predeceased him.
He attended Glenbrien National School and then moved to the CBS, Enniscorthy for six months before deciding, in 1949, to go to the Sacred Heart Minor seminary of the Society of African Missions at Ballinafad, Co Mayo. Martin's vocation was no doubt nurtured by the fact of a strong Catholic family background and some relatives in the priesthood and religious life. An uncle, Fr J Nolan, was a priest of Ferns diocese. Martin also had a cousin who was a member of the Sisters of St John of God and a second cousin was also a priest in the diocese.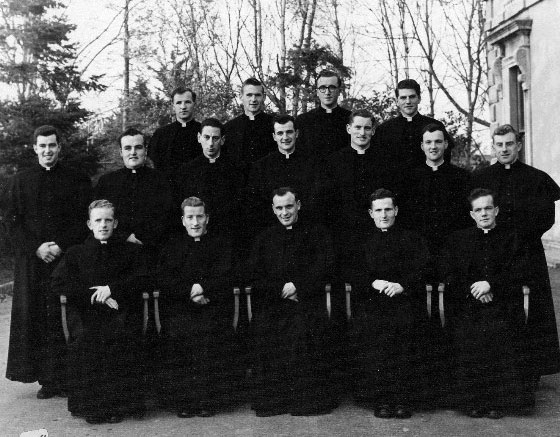 1961 Ordination class – Fr Martin is middle row, 3rd from the right.
He completed his Leaving Certificate in 1954 and proceeded to the Novitiate at Cloughballymore, Kilcolgan, Co Galway where he became a member of the Society on 26 June 1955. From 1955 – 1958 Martin lived at the African Missions, Wilton, Cork while studying at UCC. He graduated with a BA in Philosophy and Latin. He then spent four years at the African Missions Major seminary at Dromantine, Newry and there he became a permanent member of the Society on 13 June 1961, along with fifteen classmates.
During his time in the different seminaries Martin was a keen sportsman, though if often too gentlemanly for some who played alongside him. With two brothers who won All-Ireland Senior Hurling medals with Wexford it was not surprising that Martin excelled at this particular game, especially in Dromantine. All through his life Martin could engage in any sporting conversation, recalling the puc of a ball in an All-Ireland final which turned a match this way or the other. Hurling was his first love but he was also interested in football, soccer, golf and many other sports. It was a plucky man who disagreed with Martin on sporting facts. In a way, some might describe him as the Jimmy Magee – Memory Man – of the SMA when it came to sporting matters. Martin was a lifelong Pioneer but could still enjoy a sing-song and party and could also be relied on to make his contribution.
It was the tradition that Ordinations took place in St Colman's Cathedral, Newry. But this was not the case with the 1961 Ordination class. At that time Fr John J Conlon, the Superior in Dromantine, had encouraged the BBC to do some Radio broadcasts of ceremonies from Dromantine. It was a means of getting the SMA known by people far beyond Co Down. In 1961 the BBC decided that they would televise the Ordinations to the Priesthood. However, due to lighting issues, St Colman's Cathedral was considered unsuitable for a TV production. It was agreed with Bishop Eugene O'Doherty that the ceremony be moved to St Peter's Church, Lurgan.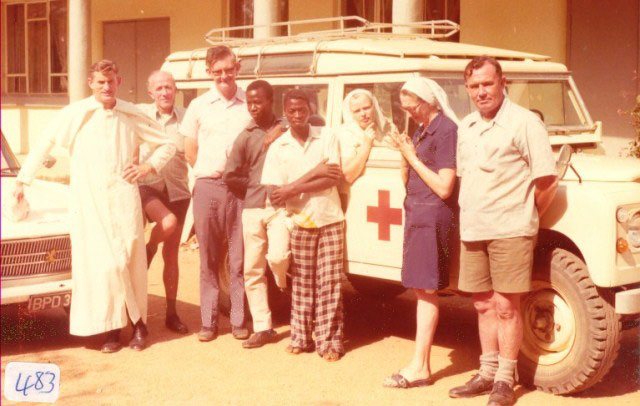 Martin was appointed to northern Nigeria and after completing his Tyro (a six-month initiation programme into the language and customs of the local people) he was appointed to teach at St Murumba's College in Jos. Of the 22 years Martin was to spend in Jos, 10 were in the education apostolate and 12 in fulltime parish work. From St Murumba's, Fr Martin moved to the Minor seminary at Barakin Ladi, on the outskirts of Jos Town. He was then transferred to Mary Immaculate Training College (CMI) at Kafanchan where he was much loved, respected and appreciated as a wonderful teacher, particularly of English.
Pictured left are: Frs Martin Nolan, Vincent Bartley, Tim Cullinane, Sr Roisin Cox OLA, Sr Marie O'Shea OLA and Frank Hourihane.
In 1972, Fr Martin moved to work with the late Fr Frank Hourihane SMA at Pankshin parish. Over the next 12 years, he ministered in Pankshin, Akwanga and Langtang / Shendam. They say that the fruit of the pudding is in the eating. And the work of the missionary is seen long after he has left the field. Today, 51 years after Fr Martin Nolan began his missionary work in Jos diocese we now have three dioceses in the places he ministered: Jos, Kafanachan and Shendam (where the first SMA missionaries came in 1907).
Ill health was part and parcel of Martin's life and it was not surprising that, in 1984, he was told by his doctors that his days in Africa had come to an end. After some months recuperating, Fr Martin took up a pastoral appointment in west Cork – Castlehaven parish (Cork & Ross diocese) from January 1985 to July 1987. During his time there he was known as a gentle priest and was well regarded by the parishioners.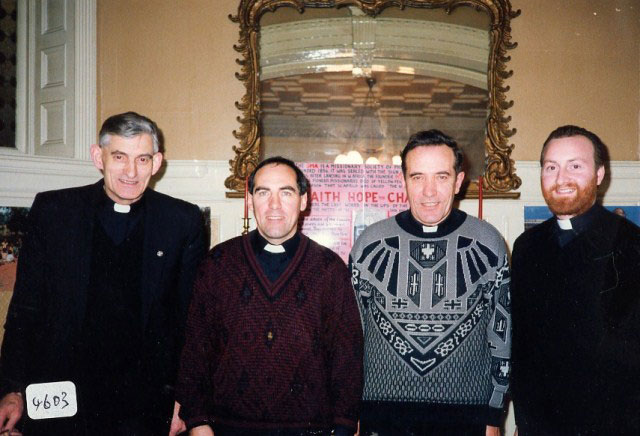 In 1987 it was clear that Martin's health was not strong enough for the demands of fulltime parish ministry and he was appointed to the SMA House in Dromantine where he would live out the rest of his years. But Martin was not one to sit back and do nothing. He served in different capacities in the house – particularly as Boys' Club Director (1991 – 1993) and responsible for the Treasury Office (1993 – 2010). Successive Dromantine Superiors relied on Martin to look after this important work and he never failed in his attention to detail. In 2008 he had a hip operation in Cork. Returning to Dromantine he resumed his work and in 2010 he handed this work on to another SMA in Dromantine.
Speaking on the occasion of Fr Martin's Golden Jubilee the Irish Provincial Leader, Fr Fachtna O'Driscoll, used two words which everyone concurred well applied to Martin: conscientious and courteous.
Our picture shows Frs Martin, Anthony Kelly, Pauric Kelly and John Denvir taken in Dromantine in the 1990's.
Martin is deservedly missed by his brothers Pat and Jimmy, sisters Annie (Lindon), Mary and Eileen (Fortune) as well as his nephews, nieces and family circle and friends as well as his confreres in the Society of African Missions and the Dromantine lay staff who held him in the highest regard for his gentleness and courtesy.
Fr Hugh Harkin, speaking at the Golden Jubilee celebration for the 1961 class quoted the late Archbishop Oscar Romero:
"We are workers.
We accomplished in our lifetime only a tiny fraction of the magnificent enterprise that is God's work.
We cannot do everything, and there is liberation in realising that.
This enables us to do something,
and to do it very well.
We may never see the end results,
but that is the difference between the master builder and the worker.
We are workers, not master builders,
ministers, not messiahs.
We are prophets of a future not our own".
There is no doubt that the late Fr Martin Nolan lived these words for whatever Martin did, he did it very well. May he now enjoy eternal life in heaven.
To read additional articles on the funeral ceremonies for Fr Martin click on the following links:
Dromantine ceremonies; Wilton ceremonies; Fr O'Driscoll's homily at the funeral Mass