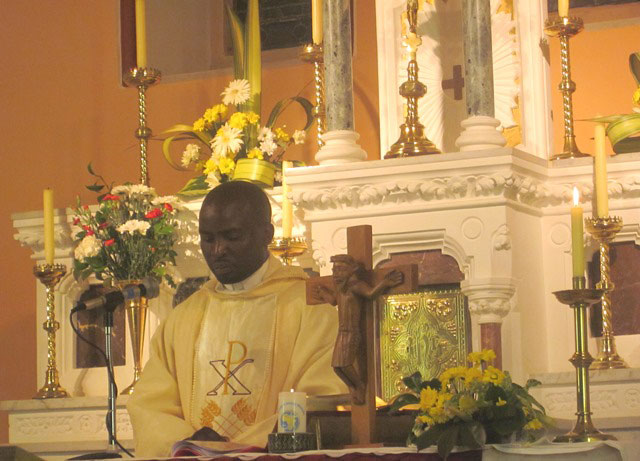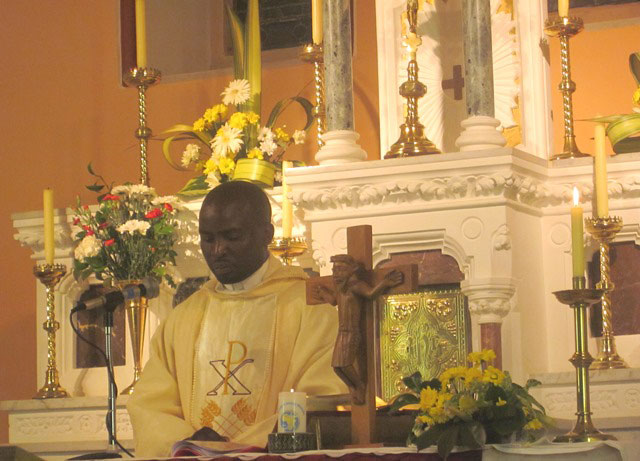 Many years ago it was very difficult for a young Irishman to study for the priesthood if he did not have sufficient money to help defray some of the seminary costs. The SMA, however, appointed some of its priests to seek support from the people of Ireland so that no suitable candidate would be turned away from the SMA for financial reasons.
Over 45 years ago the SMA established a formal structure to ensure this financial and other support for our seminarians. As a result hundreds of SMA priests owe their training and priesthood to the prayers and financial support of tens of thousands of ordinary Irish men and women who are part of the Family Vocations Crusade [FVC].
Fr Ignatius Malwa SMA pictured at the Altar of the Sacred Heart Church, Belgooly, Co Cork where he celebrated Mass for Mary O'Brien's FVC group who had just completed a further eight years sponsorship. Other Sponsors were also invited and enjoyed the celebration, especially the lovely tea afterwards.
Since 2011 there has been no Irish SMA ordinations but, thank God, we continue to ordain priests from Africa, India, Poland and the Philippines. The training of these students has been costly but, due ot the continuing support of the FVC Sponsors, we are able to recruit, train and ordain priests who will continue the missionary tradition of the Society. In 2014 we ordained 18 priests – from Benin Republic, Central African Republic, DR Congo, India, Ivory Coast, Nigeria, Togo and Zambia.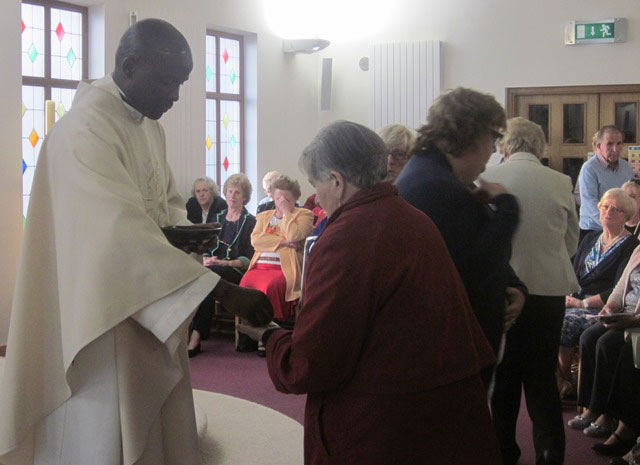 As a sign of our gratitude to the FVC Sponsors we invite those whose 8-years of Sponsorship is over to attend a Thanksgiving Mass with one of our priests – from some African country or India or Philippines. He represents the Ordination Class of that year.
Fr Ignatius distributing Holy Communion at the Mass in Roslevin.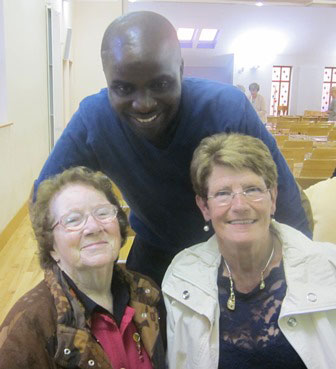 The 2014 eighteen ordinadi are represented by Fr Ignatius Malwa SMA. Fr Ignatius is from Zambia and is presently the Parish Priest at St Peter's, Sabon Tasha, Kaduna, Nigeria. Read biography of Fr Ignatius.
Fr Ignatius began his visit to Ireland by visiting FVC Sponsors in Clare and then travelled to SMA Claregalway to visit groups in Galway and other parts of the west. Our photo shows some of the Sponsors who came to Roslevin Church in Ennis where Fr Gerry Carey gave us a great welcome. Fr Ignatius celebrated Mass for the 70+ Sponsors and afterwards chatted with everyone over several cups of tea!
Head Sponsors Tess Delahunty (from Feakle) and Anita Enright (Quin) posed for this photo with Fr Ignatius.
Some Belgooly sponsors enjoyed the 'cuppa' and a chat after the Mass.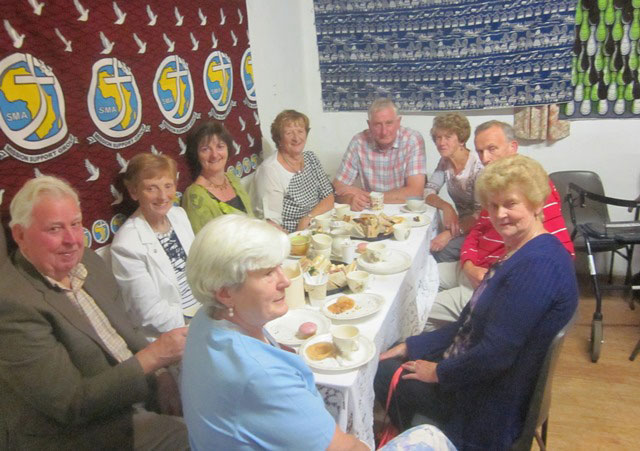 After a week in the west, Fr Ignatius travelled to the 'southern capital' – Cork – to join the Munster FVC Director, Fr Fergus Tuohy, as they visited groups in Cork and Kerry. When asked how he enjoyed the beauty of Kerry, Fr Ignatius replied: "I didn't
have time for tourism; there were too many people I needed to thank." Sponsors were invited to attend Masses celebrated in Ballyvourney, Mitchelstown, Belgooly, Killarney and the SMA Parish, Wilton, Cork.
Margaret O'Neill, Donnacha O'Brien and his mother Mary pose with Fr Fergus Tuohy in Belgooly. Thanks to Mary and all her helpers for a lovely celebration, both in the Church and afterwards in the Hall.
FVC North – based in Dromantine – was the next stop and under the guidance of FVC Director, Fr Lee Cahill, Masses were celebrated in Dromantine for our northern Sponsors. The FVC was founded from Dromantine so it has a special place in the hearts of all SMAs.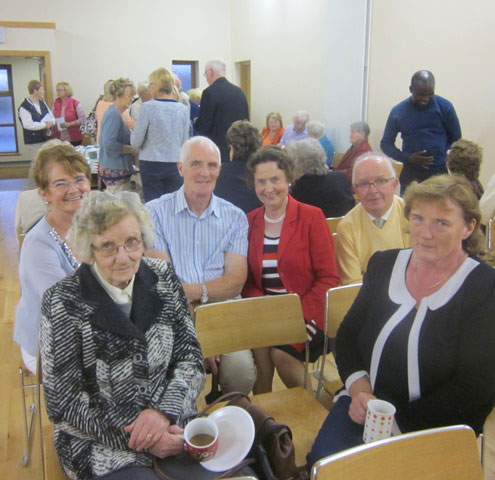 Fr Ignatius's final destination was the SMA House in Ranelagh, Dublin, from where he visited and celebrated Masses throughout Dublin and Leinster. Fr Tom Curran is responsible for Dublin and Fr John Bowe looks after the sponsors in the rest of Leinster.
Sponsors in Roslevin also enjoyed a cuppa and chat after Mass.
Fr Ignatius will complete his visit to Ireland by celebrating the closing Mass of the SMA National Novena in honour of St Therese of Lisieux at St Joseph's SMA Church, Blackrock Road, Cork.
Many thanks to Fr Ignatius for his visit and we wish him a safe return to St Peter's parish, Sabon Tasha, Kaduna in Nigeria.