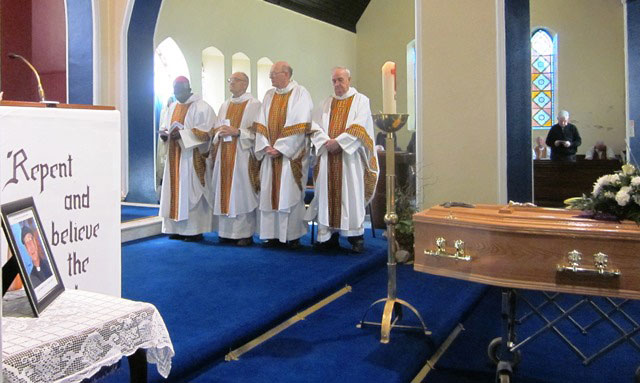 Fr Michael McCabe was the Principal Celebrant at the Funeral Mass for Fr Liam O'Callaghan SMA at 12 noon on Monday, 7 April 2014. He was assisted by Archbishop Felix Alaba Job and Fathers Don Burke SMA, Muiris O'Connor and Eddie O'Connor SMA. Fr McCabe preached the following homily.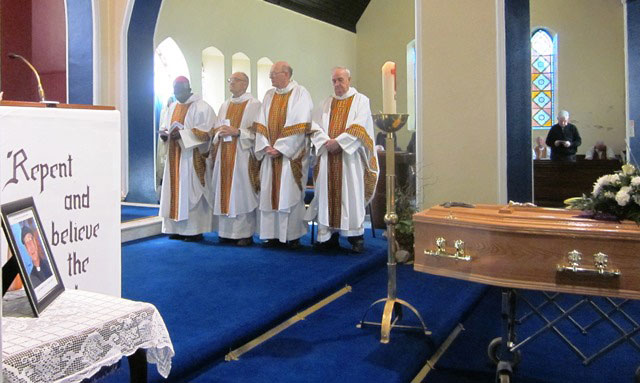 "Come you whom my Father has blessed, take for your heritage the kingdom prepared for you since the foundation of the world". With these words the Lord, the Judge of the Living and dead welcomes his good and faithful servant, Fr Liam, into the feast of eternal life. Fr Liam's life was, as I mentioned in the introduction to this Mass, richly blessed by the Lord.
"Seventy is the sum or our years or eighty for those who are strong"(Ps 90:10), the psalmist tells us. Fr Liam far outstripped that and two years ago became only the second member of the Irish Province to celebrate the Platinum jubilee of his ordination to Priesthood. The other member who had that privilege was
Bishop Patrick J. Kelly of Benin City (Nigeria) who died in 1991 in his 97th year. Fr Liam was in his 96th year when the Lord called him home, having lived a full, fruitful, and remarkably healthy life as a missionary priest. Let us recall some of the key moments of his long life.
Liam was born on the 20th December 1918 in Upton, Co. Cork. Later his family moved to Bishopstown. Shortly thereafter he came to live at the Lodge of the African Missions College here in Wilton. Following his primary schooling at Glasheen National School, Liam went on to Secondary School at the Christian Brothers (Sullivan's Quay) and the Presentation Brothers, (Western Road). At the age of 18, he decided to he wanted to dedicate his life to the Lord as missionary priest and, in 1936, entered the SMA Novitiate at Cloughballymore, Co Galway, Two years later he took his first Oath of membership of the Society. Following the usual programme of philosophical and theological studies at the SMA Seminary in Dromantine, Newry, Co. Down, Liam was ordained priest on the 14th December 1941 along with 12 other classmates.
After his ordination, Fr Liam was appointed to work in the Prefecture of Kaduna, a vast territory of 5 provinces, covering an area of 120,000 sq. miles. Owing to the Second World War, Fr Liam and two of his classmates were unable to travel to Nigeria until 1943.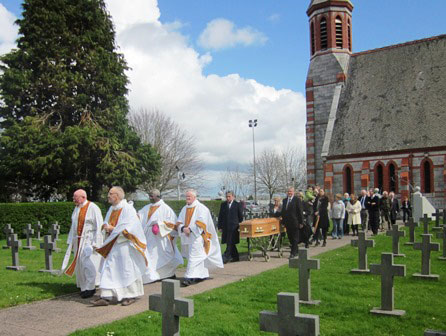 During his first and second tours Fr Liam worked in several parishes in the Provinces of Sokoto and Niger, including the difficult and remote missions of Argungu and Masuga. These were areas where Islam was the dominant religion and where the zeal and faith of an energetic young missionary's were put to the test. Fr Eddie O'Connor SMA, who also worked for many years in Kaduna and knew Fr Liam very well, gives us a very clear and poignant picture of the challenges which Fr Liam – those with him and those who followed him – faced in that situation:
"Many a time Liam and those before him and those who followed him must have wondered if the Church would ever take root in an area that was so dominated by Islam. They spent endless days in negotiating with chiefs and local authorities for permission to open schools so that they could have some influence on the young. They were days of frustration and anger and wishful thinking that they weren't somewhere else where there was some progress…. Some years ago I asked Liam what a missionary's life was like in Niger Province in his young days. He said, "Most of the time you just sat there, waiting…" That was the story of Niger and Sokoto Provinces at the time – waiting for the seed to bear fruit, however little. They were missions that demanded an almost impossible faith, the kind of faith where men just hung on praying that God would carry them through each single day as it came. Theirs was the apostolate of presence – hoping that sometime the ground they prepared at such emotional, spiritual and physical cost would bear fruit.
Faith, zeal and patience Liam had in abundance and, eventually, the seed did bear fruit, though in ways and places that were to surprise him and the missionaries who worked with him. He was to remain on in Kaduna Prefecture for 37 years, making a notable, but always untrumpeted, contribution to the growth of the Church in places such as Zonkwa, Zuru, Minna, Kano and Zaria.
After a painfully slow start, Fr Liam witnessed the growth of the Prefecture of Kaduna into a diocese and later an Archdiocese. He also lived to see the creation of dioceses in Kano, Minna, Sokoto, Zaria, and a Vicariate in Kontagora.
There is a poem by the well-known Monaghan poet, Patrick Kavanagh, which conveys something of those qualities of mind and heart which enabled Fr Liam to remain faithful to his difficult missionary apostolate:
"Lie at the heart of the emotion, time
Has its own work to do. We must not anticipate
Or awaken for a moment. God cannot catch us
Unless we stay in the unconscious room
Of our hearts. We must be nothing,
Nothing that God may make us something.
We must not touch the immortal material
We must not daydream to-morrow's judgment —
God must be allowed to surprise us."
Fr Liam's apostolate was indeed all about patient waiting, letting God make something out of what appeared to be nothing, and being humble enough not to want anything for oneself except the grace of knowing that God, in his own time and his own way, would render fruitful the seeds he had tried to plant even in stony ground.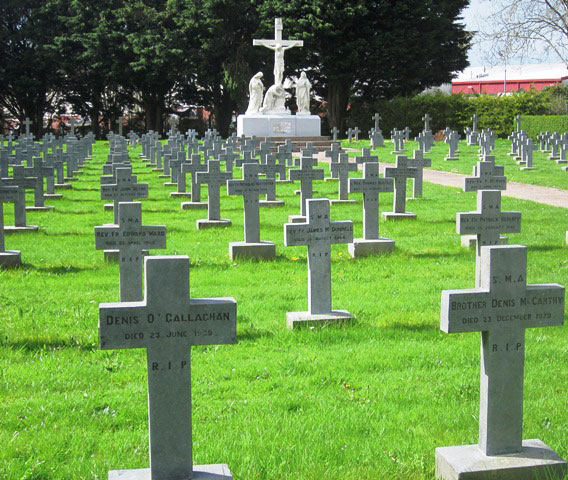 When Fr Liam left Nigeria in 1980, due to ill health, he did not retire but continued working in the Diocese of Limerick, looking after St Munchin's Church in the parish of Knockaderry for the next 13 years. From 1993 – 2013, Fr Liam lived a very healthy and active retirement at SMA House in Wilton where he devoted himself assiduously to his favourite hobby – gardening, and enjoying also the occasional cigarette.
Fr Liam's brother, Denis, rests in the same cemetery, just inside the entrance gate. The grave of Fr Liam is near the top right of our picture.
In December 2013 he came to live in St Theresa's, Blackrock Road, where he continued to remain active and healthy, taking part in community prayers and meals up to a few weeks ago. He died peacefully two days ago at around 10 am.
Those who knew Fr Liam well have spoken of the quiet, regular and ordinary tenor of his life. He was not a man for spectacular gestures or grand projects. And yet his long life of total fidelity to the Lord is an extraordinary witness to the presence and power of God's grace. In St Paul's Letter to the Romans, chapter eight, we read: "With God on our side who can be against us? For I am certain of this: neither death nor life, no angel, no prince, nothing that exists, nothing still to come, nor any power or height or depth, nor any created thing, can ever come between us and the love of God made visible in Christ Jesus Our Lord." That same conviction – that nothing can ever separate us from God's love – transformed the ordinary life of Fr Liam and made it into something extraordinary. As we return our brother, Fr Liam, to the Lord whose Love shone brightly in his life, we pray that our own lives may also bear witness to the Love that overcomes all things, even death itself.