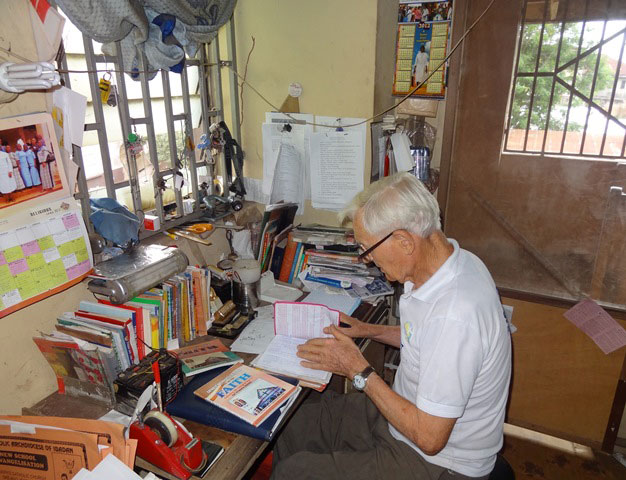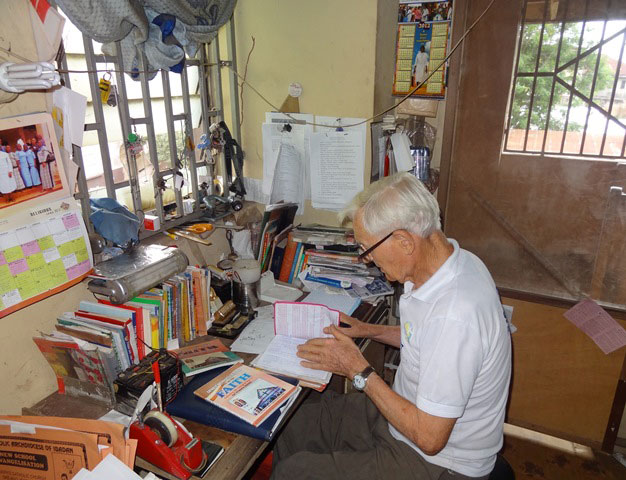 John O'Hea is a Corkman, born into a farming family at Woodfield about four miles from Clonakilty on 2 May 1932. He is pictured here in his office in Oke Ado parish, Ibadan, Nigeria
After secondary school, he spent some time as a surveyor with Bord na Mona, based in Belmullet, Co Mayo. There he learned some of the skills which later were to serve him well as a builder in Nigeria. He had an uncle in the SMA, Fr Eugene, ordained in 1913, who served for thirteen years in Liberia and later as a fundraiser for the Irish Province in the USA.
John was ordained in December 1960, one of a class of 24. His brother, Jim, was ordained as an SMA, eight years earlier. Between them, the two brothers have given 107 years to the service of the Church in Nigeria. After ordination he was appointed to the Region of Nigeria South and posted to the now Archdiocese of Ibadan where he has worked for the last 52 years.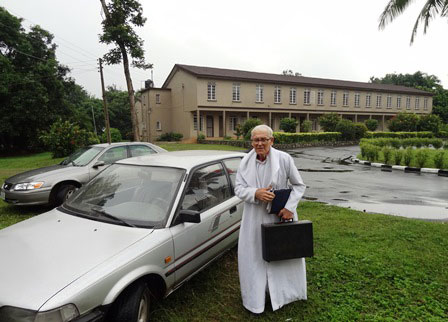 In his missionary career, he has had a variety of postings including teaching English at Fatima College, Ikire; building the Science laboratory at St Patrick's Basorun; teaching in the Minor Seminary at Oke Are.
Fr John arrives at the OLA Maryhill Primary School, Ibadan to teach Catechism.
In 1977, he was appointed administrator of St Mary's Cathedral in Ibadan and spent over twelve years there. In May 1992 he was transferred to Apata and spent the next ten years developing the parish and building a Father's House until he reached the age of seventy. After a sabbatical he took up his present appointment as animator of Catechetics for the Archdiocese. In his time he has seen the Church in Ibadan grow from small beginnings to what it is today. One example of its growth is that when he came in 1961 there were only three African priests. Today there are over ninety local priests with their own African Archbishop (Most Rev Felix Alaba Job) who will shortly step down as Pastor of the Church in Ibadan as he reaches the mandatory age of 75 years.
Of his missionary journey, Fr John has many stories which he tells with his own unique sense of humour. He tells of the occasion that he brought back some apples from Ireland for his older brother only to be held up by a customs officer at Lagos airport and told that he could not import fruit into the Nigeria and that the apples would have to be demolished but that he would have to pay a fee for their demolition. John took one of the apples, began to eat it, saying "I will demolish them myself" much to the glee of the custom officers who joined him in the demolition.
Passing on the Faith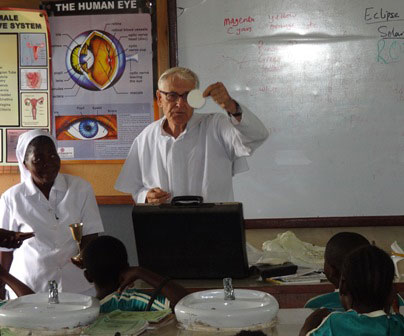 Now in his 81st year he has lost none of his passion and urgency for mission and sees his present work, as animator of catechetics in the Archdiocese as the most important of his whole missionary career. You can see the sadness and pain in his eyes as he speaks about so many children and young adults who call themselves Catholics but know little or nothing about the Catholic Faith with many of them not even baptized and as they grow up drifting off to Pentecostal churches who promise them prosperity and a feast of miracles.
Our picture shows Fr John and Sr Magdalen OLA explaining about the Eucharist – how the large bread is changed at the Consecration into the Body of Christ.
He traces the malaise in Catholic Religious Education back to the take-over of the Schools by the Government in the early 1970's. Unlike the Protestant Church who had already a well-established system of Sunday School, the Catholic Church was slow to respond to the new situation. He is saddened by priests and sisters who have their priorities elsewhere than teaching catechism. Schools run by the Catholic Church are now multi-denominational and there is pressure for results in order to compete with other schools. This often squeezes out the time for Catholic teaching which is mostly put as the last period of the day when the children are tired.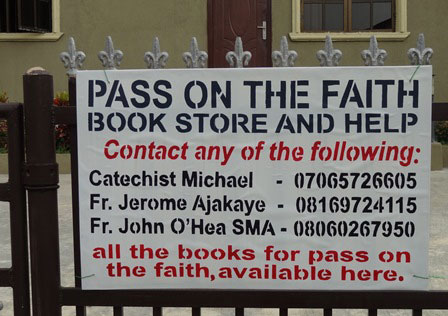 Fr John has developed a programme for schools and parishes based on his 27 years of experience of teaching religion, called "Pass on the Faith" to be used by priests, parents and teachers. It follows the three year cycle of the liturgical year and is based on the Sunday Readings with questions from The Catechism of the Catholic Church at the end of each lesson, in three languages: English, Yoruba and Ibo. He has produced separate books for each to the three years as well as a Sunday Bulletin for Children and Youth which is circulated to all parishes in the Archdiocese.
He spends much of his time going from parish to parish, from school to school trying to get priests, sisters and catechists to follow the programme. Each month, he has a monthly meeting with catechists and teachers to help them to teach the programme in the following month. Archbishop John Foley, former director of Vatican Communications said on one occasion, "The Gospel of Jesus Christ is the most precious message the world can receive and we have an obligation to present it well". Fr O'Hea does this and is doing his best to inspire others to do the same.
Hearing the Cry of the Poor
His second great concern is to help the poor and the most abandoned. Up to 70% of Nigerians live on less than $1 a day, according to the World Bank. They do not have medical cards, children's allowance, dole or the old age pension. In short: to be poor is to suffer.
To see a small child on a mother's arms in obvious pain with no money to buy medicine or go to see a doctor would soften the hardest heart. Every day to most , if not all parishes and religious house, unless they are barred by locked gates and security guards, there is a steady stream of people looking for help to buy food, to pay medical bills, house rent and school fees. Instead of giving hand-outs, which are necessary at times, Fr O'Hea has devised a scheme to empower the poor to help themselves and give them some semblance of dignity and self-respect.
A view of Ibadan from the soon to be completed Ile Lafia.
With the help of a dedicated retired catechist who interviews the applicants and fishes out cases that are not genuine, he gives each applicant a grant of between 4,000 naira (20 euro) and 5,000 (25 euro). This is used as small capital to buy foodstuffs to cook and then sell as cooked food. Others use the money to trade in fruit, raw rice, minerals and kerosene. Their children often help after school and at weekends. They hawk the food items at bus stops and in markets and make a small profit on which they can live. Most of the people he helps with this scheme are women who have children that they are trying to educate. Many of their husbands are dead or have just left them. The scheme has been quite successful for many but not all.
With the little money the people can generate in this way they can keep going until sickness, rent or some other emergency arises. Then they have to eat into their little capital and are back to square one. Once a person gets a loan she/he cannot come back for another loan for two years. Each week Fr O'Hea helps ten people through this scheme requiring a weekly expenditure of up to 50,000 naira. Where does the money come from? "The support I get from family and friends at home, some help from the SMA and from my own personal money. Why should I have money when the poor are suffering?" he says.
A Home for the Needy – Ile Lafia (House of Peace)
At present he is also supervising the building of a Home for the Needy on the site of the first convent of the OLA Sisters who came to Ibadan in 1917. The home will provide accommodation for old people, the sick widows, terminally ill patients and other destitutes who have no home and no one to care for them. The building is in the centre of the city in the market area, a good place to help the poor as many of them are to be found in the area but a terrible place for building because of the lack of space. The original convent has been demolished and the plan is to build a four storey building estimated to cost 100 million naira (500,000) euro.
It is planned that the ground floor will be let out as shops to traders to generate funds to help in the running of the Home and that the top floor will be a Convent for Sisters who, with their assistants, will be responsible for taking care of the aged and destitute on the other two floors.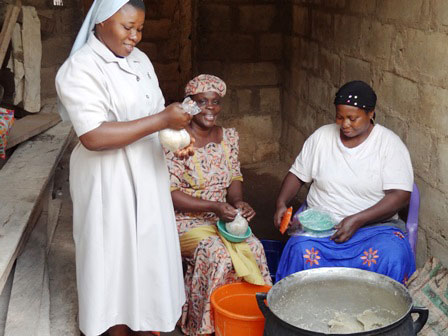 The Passionist Sisters come here each day and, with the help of volunteers, are already providing one meal each day to about 120 poor people. In some cases the food is brought to the homes of those who are really destitute. The building has now reached the second storey in spite of being beset with many problems. Plans were approved a number of years ago but a new Town Planner sent his people around to demolish half of the construction as he said it had not a proper set back from the road even though the building was there before the road. A lot of discussions took place and an enormous amount of money had to be paid before the building was allowed to go ahead. Because of the irregular water supply a bore hole had to be sunk not only for water needed in the building work but also to provide water for those who will live there in the future. There is a high powered committee of ten, in charge of the project, including Fr O'Hea, doctors and barristers. Its Chairman is Professor of International Economics, Professor Ibi. They do good work and a certain amount of money has been collected locally but nowhere near the amount needed to complete the building. None of them has the experience in building nor the sense of urgency that John himself has and this can be frustrating for him at times. This project is also very dear to his heart because of a neigbour from Clonakilty, Sonny Paul McCarthy, whom the O'Hea brothers used to visit during their holidays. He had no family and he willed that his small farm should be sold when he died and the money used to help the poor of Africa and this money is being used to help finance part of the project.
Appreciation
Fr O'Hea himself makes light of his contribution to mission, often quoting, especially in times of frustration, the words of his former teacher of theology, Fr Robert Molloy: "One just makes one's contribution and passes on." I doubt if he knows it himself but Fr O'Hea is certainly passing on something very important to a new generation of African SMA's, 22 of whom were ordained this year. This is what one them, Fr Emmanuel Dim SMA (pictured below), who as a deacon spent the weekends in pastoral placement with Fr O'Hea, at St Joseph's Parish, Oke Ado had to say about him in the report he gave on his pastoral experience:
"The time with him has helped me to learn that as a missionary it is important to put our talents fully into the mission and the people we are sent to minister to. His knowledge of mechanics, plumbing, electricity, building and construction is remarkable but more remarkable is his vibrant interest in "Passing on the Faith" or catechesis and this is what I appreciated most of all in the good things I learned in Oke Ado. I have also learnt the challenges that confront us as priests and missionaries of tomorrow but the importance and seriousness of teaching catechism and the preparation of catechumens for the sacraments exercised in St Joseph's Parish Oke Ado has been the most important learning and formative take away package that I have gained."