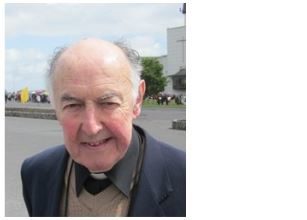 Fr John Clancy died peacefully on Saturday evening, 18 April 2020, in St Theresa's Nursing Unit, African Missions, Blackrock Road, Cork. He was laid to rest, after Funeral Mass in St Joseph's SMA Church, Wilton, on Tuesday, 21 April 2020 in the SMA Community cemetery, Wilton.
Fr Malachy Flanagan, SMA Provincial Leader, celebrated the Mass and delivered the homily.
View a recording of the Mass here. (Ckick on Recordings and choose Funeral Mass)
View Fr Malachy's Introductory remarks here.
The following is the text of Fr Malachy's homily:
We are gathered here today to say farewell to our dear brother priest, a brother, an uncle and friend, Fr John Clancy whom God called to himself last Saturday evening. No matter how prepared we might think we are, but when death comes to our doorstep it stops us in our tracks. Because someone has passed on and is no longer with us. Over the past few days we have been sharing stories about Fr John Clancy or better known among his family, relatives and friends as "Fr Junior". We are all trying to come to terms that he is gone from us.
Death is very often described as "going home". Home to the Father's House. St Paul speaks about it in the second reading. He reminds us that "when the tent that we live in here on earth is folded up, there is a house built by God for us, an everlasting home not made by human hands, in the heavens". So when death brings down the curtain on our life – we need a home to go to. Because without such a home, life would be a journey to nowhere. At the time of the last supper, Jesus told his disciples that: "I came from the Father and have come into the world; now I have leaving the world and going to the Father" (Jn 16:28). For Jesus, to die was to return to the Father from whom he had come. In other words, it was to go home. And this is where these words are meant for us too. It means that at the end of our earthly life, we have a home to go to. That home is the house of our heavenly Father. To die is to go to God, and to go to God is to go home. That is where we believe that Fr John Clancy is – gone home to God.
Fr John Clancy was born on the 4th May 1931 in Carhuligane, Mullagh, Co. Clare. He was one of a family of five children born to his parents John and Agnes (née Moroney). He attended the local national school for his primary education. Inspired by his cousin, Fr PJ Killeen who was an SMA at the time, John too decided he wanted to be a missionary priest with the SMA. Fr John often spoke about his decision of choosing the priesthood at that early age, which he said was very common in those days. So, in 1943, he began his secondary education at the SMA College at Ballinafad, Co. Mayo and then to the SMA College in Wilton, Cork. Following this, he proceeded to Cloughballymore, at Kilcogan, Co. Galway for his Novitiate and studies in philosophy from 1948 to 1950. He then moved to the SMA Seminary at Dromantine, Newry for his studies in Theology from 1950 to 1954. Again, Fr John would have spoken about those years in the seminaries and at home on holidays and how they were most pleasant and varied. During holidays he did a lot of farm work, played with the local football team and did some swimming and cycling. He was ordained a priest on the 15th June 1954 at Newry Cathedral – being one of 13 ordained that day.
His first appointment to Africa was in October 1954 where he was assigned to the Archdiocese of Lagos, in Nigeria. Over the course of the next 25 years, apart from four years at home from 1959 to 1963 when he was appointed as a member of the Formation Staff at Cloughballymore in Co. Galway, and a three month renewal course in Dublin in 1975, his mission ministry in Nigeria was of a varied kind – at times he was assigned to remote parishes and then other times to big towns. He served in places such as Eshure, Ibonwon, Itesi, Abeokuta, Badagry and Ajilete. Fr John was very happy in Nigeria and had a great rapport with the people that he served and he was known for his understanding and fluency of the local Yoruba language. He was also known for his regular visitation to the outstations for the sacraments and in his final years in Ajilete he succeeded in building a convent for a congregation of Sisters to help the poor and with the work of evangelisation.
The gospel today tells us "I am the resurrection and the life. If anyone believes in me, even though he dies he will live, and whoever lives and believes in me will never die".
As we are in the second week of Easter, and over the past few days we have been hearing a lot about resurrection and new life. The words of today's gospel passage are spoken by Jesus to Martha and Mary as they mourned the death of their brother Lazarus. This is really one of the most powerful statements in the Gospels. It means that Jesus holds the key to life and death. Jesus, by experiencing death and rising from the dead has broken the power of death forever. We are sad now because death has claimed the life of our loved one – Fr John. But we should not be overwhelmed by it. What sustains us now is our faith and hope in Jesus – who is the resurrection and the life.
Over the course of his lifetime, Fr John would have assisted at many a funeral of family, relatives and parishioners and he would have reflected upon and shared this message from today's gospel, Today, we speak these words for Fr John because with his whole heart he believed in these words. He has passed through death's door and into eternal life with the Lord. Yes, reunited now with his parents, his sister and his brothers, relatives and friends who have gone before him.
In 1980, Fr John took up a pastoral appointment as a curate in the parish of Ballingarry in the Diocese of Limerick. For the next two years he served the people in the parish to the best of his ability and was happy there. It was also during these years that his parents died and so it was providential that he was not too far away from Clare and was there with his family to offer spiritual and prayerful support at those sad occasions. From 1982 to 1984 he was based at home in Mullagh but continued to help out and serve in different parishes around when the need arose.
In August 1984, Fr John was assigned to the Promotion Team of the SMA Irish Province. And for the next 30 years he gave unstinting service to the collection of Mission Boxes all over the counties of Kerry and Limerick and his own native Clare. Fr John was well known for his time-keeping – or rather his "lateness". But not in the negative sense as that is how he was. For over 30 years he had been part of that dedicated band of "men on the road" who were the public face of the Society of African Missions in Ireland. Fr John often spoke of his work of collecting Mission Boxes as not only helping the Missions financially but also as a ministry to the people he met who kept our boxes in their shops, post offices, pubs and banks. It was an opportunity for him to meet people where they were at and with a listening ear, a consoling word and being available for prayers and Masses to be offered for their needs and concerns. Again, Fr John speaking of his work, he described it as possibly being less glamorous and fulfilling than the work in Africa, but for him it was a marvellous experience, a discovery of the faith, the generosity and hospitality of many of our Irish people. Fr John kept in contact with Nigeria and his former parishioners and during the 1990's he travelled there over three different summers to help out in parishes while their priests were on leave. He loved these visits and they acted as a renewal of his missionary spirit and helped him as he fitted back into the Mission Box ministry in the Munster region.
The first reading today tells us that "My portion is the Lord' says my soul 'and so I will hope in him,' The Lord is good to those who trust him, to the soul that searches for him. It is good to wait in silence for the Lord to save".
In 2014, Fr John retired from collecting Mission Boxes and from active ministry and he took up residence in our SMA House at Blackrock Road, Cork. For the next four years he settled into retirement and took part faithfully in all the daily activities of the community there. By 2018, his health condition deteriorated more and he was transferred permanently to St Theresa's Nursing Unit, Blackrock Road, Cork. For the past 18 months he received constant nursing care from the dedicated nursing staff of St Theresa's. Over this time, Fr John would have waited in silence for the Lord. As his body weakened from the seriousness of his illness and not having the energy to talk much when family and visitors came – he would have spent long times just waiting, pondering and being with the Lord in prayerful moments. Yes, waiting for that day when the Lord would come to call him home.
The reading says: "The Lord is good to those who trust him" – during all his life, Fr John trusted in the Lord. His long years of missionary work in Nigeria and then on the promotion team in Ireland were marked by the fact that he was a man of faith and believed in what he was doing. He was a missionary and an instrument in the Lord's hands. The Lord used him to reach out to others.
May he now enjoy the fullness of eternal life and receive the reward that awaits this good and faithful servant of the Lord.
Ar dheis Dé go raibh a anam dílis.