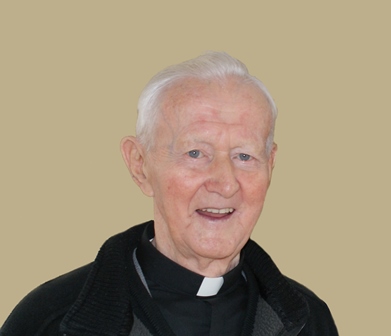 Fr James O'Hea was laid to rest in a private Funeral at the SMA cemetery in St Joseph's parish, Wilton, Cork, on Thursday, 19 March 2020. The following is the homily preached by the SMA Provincial Leader, Fr Malachy Flanagan at the Funeral Mass which took place in St Joseph's SMA Church, Blackrock Road, Cork.
Readings at the Funeral Mass:
Ecclesiastes 3:1-8, 11
2 Timothy 4:6-8
Luke 23, 44-46, 50, 52-53; 24:1-6
It is sometimes said that it is easier to accept death when it comes in the autumn of life. There is a certain 'rightness' about it, because autumn is the season of the harvest. In fact, one could say that death is natural when it happens in the proper season.
This ties in very well with what we heard in the first reading from the book of Eccelesiastes. That there is a time to die. Just as there is a time to be born, a time to mourn, a time to dance and so on …. there is, in fact, a season for everything. But today as we gather to say farwell to Fr James O'Hea – our minds are focussed on the fact that his time has come to die. When a person reaches old age, after having lived a long and full life, dying becomes almost as natural as the coming on of sleep after a long and rewarding day's work. It can be described like the harvest of life being gathered in, the journey is ended and the story of Fr James' life has been told. Today we celebrate Fr James O'Hea's long life of over 92 years.
Fr James O'Hea was born on the 9th July 1927 at Woodfield, Clonakilty, Co. Cork. He was the third son in a family of eleven, six boys and five girls born to his parents James O'Hea and Mary (nee O'Brien). He started his primary education at the local school in Lissavaird and later moved to Clonakilty National School. In 1942, he began his secondary education at the SMA Minor Seminary at Ballinafad, Co. Mayo and two years later he moved to St Joseph's SMA Secondary School, Wilton, Cork city where he completed his secondary education in 1946.
Fr James was born into a family with a rich history. Michael Collins was a first cousin of his mother Mary, and fourteen priests emerged from the family home where he was born in, including one bishop, Bishop Michael O'Hea who was an uncle of Fr James. Another uncle, Fr Eugene O'Hea joined the SMA and worked in Liberia before moving to the USA where he died in 1934. His life was to have a big influence on the young James and John O'Hea as they considered their future path in life. Fr James' brother, Fr John, also joined the SMA and was ordained in 1960. Fr John was also appointed to the Archdiocese of Ibadan in Nigeria where, as brothers, they soldiered together side by side for many many years. Our prayers are with Fr John who is still in Ibadan and cannot be here today.
In 1946, Fr James took a step closer to priesthood when he enrolled at the SMA Novitiate, Kilcolgan, Co. Galway for a two year course in spirituality and philosophy. By 1948, he moved on to begin his theological studies at the SMA Major Seminary at Dromantine, Newry, Co. Down. He was ordained a priest on the 18th June, 1952 at Newry Cathedral – being one of 10 ordained in that class.
One of the greatest graces God can give us is to look back over our life, to see its highs and lows, its successes and failures, and to be able to see the hand of a loving God in all of it. When one dies in old age, they have had a great chance to put their house in order as they reflect on the years of their life, the experiences and encounters along that journey. As we heard St Paul say in the second reading that he feels his life is being poured out as a libation. It's as if he has given everything for the cause – in fact his whole life. And he is able to say that he has fought the good fight, he has finished the race, he has kept the faith. We can easily apply these words today to Fr James. He was a missionary priest for almost 68 years. He had spent 55 years working in the Archdiocese of Ibadan, Nigeria. He was very happy there and parishioners in Ibadan have very happy and fond memories of him. When asked to describe his greatest joy for all those years of service in Ibadan – he simply said it was his priesthood and the fact that all the Yoruba people of Ibadan were a Father and Mother to him all those years.
After ordination, Fr James was appointed to the then Prefecture of Ibadan, Nigeria. His first appointment was to teach at St Theresa's Minor Seminary at Oke-Are in Ibadan where he would spend the next four years. During this time as teacher, he would have had a strong influence on the lives of young Africans, many of whom later became priests, bishops, archbishops and even two cardinals – Cardinal Okogie of Lagos and Cardinal Tumi of the Cameroon – all who led the local church at a time of huge development. In 1956, he came to Ireland on his first home leave and during that time was asked by the Provincial to take up a temporary appointment as Bursar at the SMA Novitiate in Kilcolgan, Co. Galway. It was only a temporary assignment so within four months he was on his way back to Nigeria to resume his missionary work.
On his return to Nigeria in 1957, he was appointed to the parish ministry and for the next fifty years he served in the following parishes, Holy Cross, Ikire; The Cathedral, Oke-Padi, St Cyprian's Oke-Ofa, St Joseph's Oke-Ado; St Gabriel's Mokola and St Patrick's Bashorun. In 1961, while home on leave, he was again asked by the Provincial to take up a temporary appointment as Superior / Bursar of the SMA House at Doughcloyne. Again, this only lasted a few months and Fr James was soon on his way back to Nigeria. St Patrick's Bashorun was to be his last parish to minister in in Ibadan and with consultations with his superiors, it was decided it was time to retire and return to Ireland. Of his 55 years in Nigeria, 4 were spent in the teaching ministry while the remaining 51 years were in parish ministry. It's also important to note that during his fifty five years in Nigeria, the present Archdiocese of Ibadan had progressed from being a Prefecture in 1952, to the status of a Diocese in 1958 and to the status of an Archdiocese in 1994.
In the gospel passage today, we heard Jesus say: "Father, into your hands I commit my spirit" and with that he breathed his last. He gave everything. Fr James also gave his life to God many years ago. He too gave everything. And when the Lord came to call him home, last Tuesday night, on St Patrick's night, he too answered the call. The same call he answered almost 80 years ago to become an SMA missionary priest. Like St Patrick, he followed in his footsteps as a missionary all those years right up to the end.
We heard too in the gospel today: "why look among the dead for someone who is alive? He is not here; he has risen". This is the Jesus that Fr James preached throughout his missionary career. A Jesus who is alive and living among us. A Jesus who brings us healing in times of pain and illness and comfort and support in times of sadness. A Jesus who has broken the chains of death and brings us hope. A hope that there is life after death. Death is not the end but only a doorway which we must pass through to reach eternal life with God forever. Today we pray for Fr James as he now passes through death's doorway into life eternal with God.