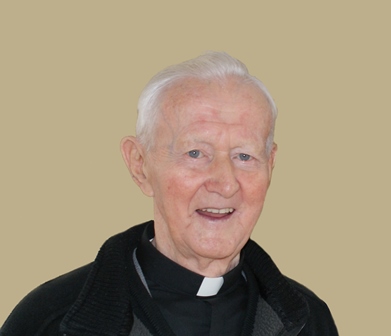 Fr James O'Hea SMA died in the SMA House, African Missions, Blackrock Road, Cork on 17 March 2020. Due to the COVID-19 pandemic and the consequent Guidelines of State and Church authorities the funeral ceremonies for Fr O'Hea were of a private nature.
Fr Edmund Hogan SMA, Provincial Archivist and Historian, celebrated Mass for Fr O'Hea in Blackrock Road on 19 March with the SMA community in attendance, prior to his removal to the SMA cemetery in Wilton, Cork for burial. The following is Fr Hogan's homily.
James O'Hea was born in Woodfield, near Clonakilty, in 1927 (going on 93). His mother was closely related to Michael Collins who was born in the same townland. Family history relates that over the years there were 15 priests and one Bishop (of Ross) born out of that same household. (Jim's uncle, Eugene O'Hea was one of the pioneers of the Liberia Mission. While serving on the Kru Coast lack of rain caused a failure of the rice crop in 1914 and a serious famine and disease broke carrying off large numbers. The four or five SMA's based managed to get in some food which they distributed to long lines of starving tribesmen who thronged the mission stations. They also led the way in planting and cultivating cassava and rice in the vicinity of the mission stations. O'Hea was a leader in all this. He also gave heroic service to his flock during a period of warfare. 'O'Hea attends to the wounded, gives them food and gives over the church to them. They light fires there and it is soon crowded with children and grown people. Families cook their food and eat in the yard. During the night the veranda is crowded with sleepers. (Eugene was to play a leading role as peacemaker and protector of his people. Doubtless he was to be a major influence in inspiring Jim and later his brother John.
Jim was ordained in 1952 in the same year as Ibadan was erected as a Prefecture.  His mission career is easy to describe. Apart from a few months as bursar in Clough he spent the remainder of his long missionary career in Ibadan. He was part of the growth of that territory from a Prefecture to a Diocese (1958) and an Archdiocese (1994). By the time he reached his Silver Jubilee he had served in every parish in the diocese. But he also served in Oke Are seminary where Ibadan's future priests, bishops and even archbishops were formed. Jim was reckoned as a fine builder, especially renowned for beautiful ceilings. A weekly game of golf and a meeting with his brother on a morning once a week, kept him young and fresh.
Jim was to celebrate his Golden Jubilee in 2002 and was to retire in 2007 at the age of 80 years. Early on in his retirement he almost died but miraculously recovered to live on for another decade. His enjoyment of his retirement was there for all of us to see. Greatly attached to his daily spiritual exercises he concelebrated and followed the Mass with the greatest attention, using a booklet which enabled him to read aloud all the responses and passages in a voice which kept the main celebrant right. When his duties to God were fulfilled Jim liked to relax by following the fortunes of his Irish golfing heroes, none more than McIlroy (who intuitively must have sensed the flight of Jim's soul – his greatest fan – to God on Tuesday night and, I suspect were it not for the virus might have felt an urge to attend his funeral).  Jim was one of the great SMA missionaries, tough, hardworking, there till the end – one of that great cohort of SMA missionaries who, touched by the Holy Spirit of God has made the Church in Nigeria the wonderful instrument for good – for faith, hope and charity – in the Nigeria of today.
May he rest in peace.