Fr Michael McCabe, SMA Provincial Leader, was the Principal Celebrant at the concelebrated Funeral Mass for the late Father James Higgins at St Joseph's SMA Church, Wilton, Cork on Tuesday, 5 April 2016. Fr Higgins had died early on the morning of 3 April, Divine Mercy Sunday.
The following is the homily delivered by Fr McCabe:
"Father, I want those you have given me to be with me where I am". We can rest assured that Jim is one of those whom Christ wants to be with him for all eternity.  Jim devoted his entire life to serving the Lord as an SMA missionary priest. In the words of the first reading, the Lord chose him to "bring good news to the poor, to bind up hearts that are broken, to proclaim liberty to captives, freedom to those in prison". And to that call, Jim responded with selfless generosity and for 60 years lived and worked in three dioceses in Mid-West Nigeria. His life was, in the words of the second reading "poured out as a libation." He now goes to receive the "crown of righteousness" which the Risen Lord has reserved for him. As we accompany Jim with our prayers, we recall and celebrate a life that manifested to an exceptional degree the transforming power of Christ's love at work in our broken world.
Jim was born in Colooney, Co Sligo on 8 Feb 1924 – the youngest of 3 children of Alfie Higgins and May Ellen Harte. Him mother died when he was just six months old and Jim and his siblings were raised in by a Miss Coggins, a middle aged lady, who was called "Nan Nan" by the children and who was, in Jim's own words  "a very kind, loving and caring person". Following his early education at Camphill National School, Jim began "the arduous journey that led to missionary priesthood". In 1937 he entered the African Missions College, Ballinafad, Co Mayo, where, in addition to spiritual formation, he also completed the first part of his secondary schooling.  After his Inter Cert he went on to SMA College, Wilton, where he completed his Secondary School education and also began the first year of his BA programme at UCC.  In 1943 Jim entered the African Missions' Novitiate in Cloughballymore, Co. Galway, where, under the benign guidance of the Spiritual Director, Fr Michael Mahony, the spiritual foundation of his missionary vocation was deepened.  While there, he also completed his BA degree at UCG.
In September 1945, Jim began his theology studies at the SMA Major Seminary, Dromantine, Co. Down, where he was to spend the next four years – a very happy time for Jim, but also marked by the sadness at the untimely death of his beloved father in March 1947. Jim adored his Dad whom he described as a man of extraordinary patience, kindness and concern for other people's welfare and happiness" (The Pilgrim Soul in Me, p. 62) – qualities which Jim himself possessed in great measure. Jim took the Permanent Oath of membership of the SMA on 11 June, 1948, and was ordained, along with seven classmates, by Bishop Eugene O'Doherty on 14 June, 1949, at St. Colman's Cathedral, Newry, Co. Down.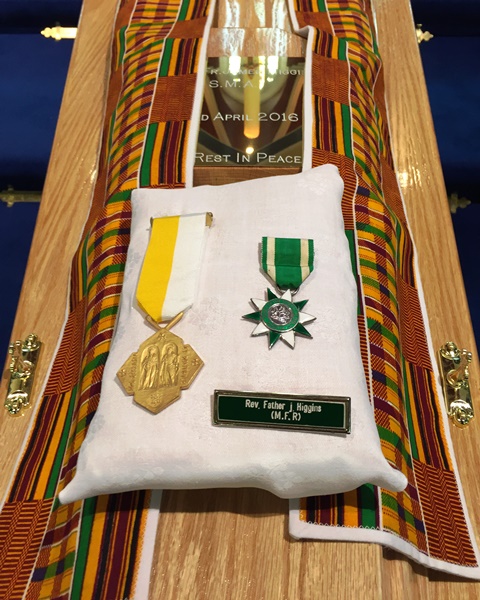 Following his ordination, Fr Jim was asked to return to UCC and study for a Higher Diploma in Education, in order to be part of the large cohort of SMA missionaries involved in the teaching apostolate in Africa. Fr Jim arrived in Nigeria in December 1950 and his first appointment was to the diocese of Benin City, then under the wise direction of the legendary Bishop PJ Kelly SMA. This was time of rapid expansion in the field of education in Nigeria, and Jim was to serve in that field for the next 30 years: 5 years in St Thomas' Teacher Training College, Ibusa; 10 years as Principal of Assumption Teacher Training College, Uzairue; 7 years in St John Bosco's Grammar School, Ubiaja; and 8 years in St Joseph's Teacher Training College, Ozoro. Jim was a gifted teacher – though he didn't like administration. He was much loved by the thousands of students who passed through his hands. He respected them and they in turn respected him. His remarkable contribution to education in Nigeria was recognised nationally on 20 February, 1982, when he was inducted as a Member of the Order of the Federal Republic of Nigeria (MFR) by President Alhaji Sheju Shagari.
While on a well-earned sabbatical in 1981, Jim was asked by SMA Provincial Superior at the time, Fr. Con Murphy, to consider a request from Bishop Edmund Fitzgibbon [St Patrick's Missionaries], Administrator of Warri Diocese, that he take up an appointment as Parish Priest at St. Patrick's, Sapele. This was during a time of serious crisis in the diocese and in Sapele in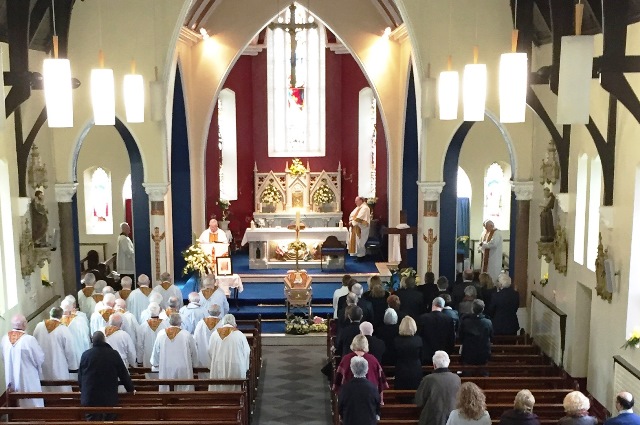 particular. With his typical generosity of spirit, Jim accepted the appointment and broke off his Sabbatical to return to Warri Diocese. This was his first official pastoral appointment, although, like all the SMA priests working in the field of education, Jim also engaged in pastoral ministry in "the bush" at weekends and during School holidays. Shortly before celebrating his 60th Ordination anniversary he was awarded the Papal honour – Croce Pro Ecclesia et Pontifice – by Pope Benedict XVI, at the request of the Bishop of Warri for his meritorious service in that diocese during a particular time of turbulence. Jim was to remain in Sapele until 1994 when, as he himself puts it, the burden of age made him request a less onerous appointment. He was appointed to SMA Parish, Cable Point, Asaba, in Issele-Uku diocese, where he worked for the next 6 years.
In addition to his outstanding contribution in the fields of education and pastoral ministry, Jim was also entrusted with Society responsibilities. He was an elected delegate at the 1973 and 1983 Irish Provincial Assemblies and he served as Society Superior in Warri from 1983-1989. In 2000, having celebrated 50 years of priesthood the previous year, Jim was appointed to SMA House, Uromi, where he employed his literary skills, penning two wonderful little books: The first, Kindling the Fire, was published in 2003 and contains profiles of over two hundred SMA missionaries who laboured in Mid-West Nigeria from 1884 – 2003. He followed this up with a second, more autobiographical book, The Pilgrim Soul in Me (the title is based on words from W.B. Yeats' poem, When You are Old). Published in 2004, it provides a valuable record of his early life and over half a century of missionary service in Africa. In 2007, Jim returned to the parish in Asaba, where along with a number of young African SMA priests he served until, in 2010, serious health issues compelled him to retire in Blackrock Road, Cork. In all, Jim has given 60 years of unbroken missionary service in the Mid-West Region of Nigeria – the longest serving member of the Irish province in Africa. 
Jim's missionary life coincided with a period of remarkable growth and development of the Church in Nigeria. Over the 60 years he had served there, it had developed from a church relying completely on foreign missionaries to being a church sending its own sons and daughters to other parts of Africa and further afield. When Jim arrived in the Mid-West in 1950 only a small number of children received Primary education; smaller numbers still got Secondary education and Third level education was almost non-existent. By the end of the century there were innumerable schools at all levels of education. In the Mid-West alone there were 3 universities. And the same transformation took place in the field of health services.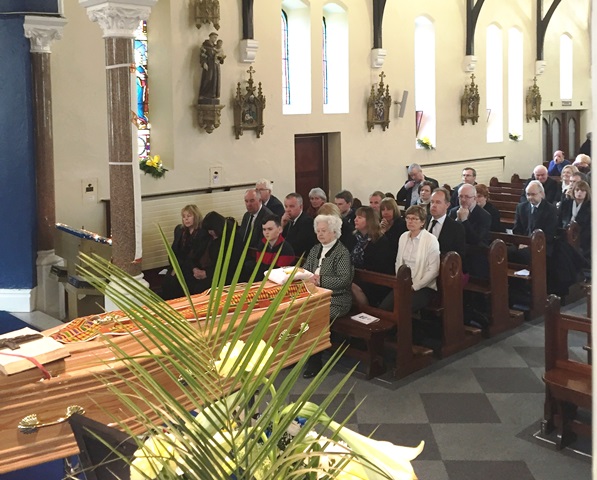 I have mentioned earlier Jim's very close relationship with his Dad, whose qualities of patience, kindness and compassion he inherited in abundance. But there were other qualities he inherited from his Dad as well: a great love of sport, especially hurling, at which he was quite adept; a love of the cinema, and a love of history, especially local history. Jim also never lost contact with his homeland and his family. He enjoyed his visits to Sligo, Dublin and London and he always kept in touch with what was happening in the home front.
Jim spent the final years of his life (almost six) in St Theresa's Nursing Unit, Blackrock Road, where he received excellent care, love and support from the nursing staff and carers. His gentle spirit touched the hearts of all who knew him.
Jim was gentle, thoughtful, well read, witty, and even-tempered man. But above all he was a grateful man. He was a humble man at ease with himself and others. He saw the best in everyone and was perpetually grateful for all the blessings life bestowed on him. The manner in which he ends his autobiography is typical of him:
"I thank God for my missionary vocation and my good health. I thank the SMA authorities for sending me to Nigeria and allowing me to stay here for so long. I thank the bishops, European and African, for accepting and putting up with me. I remember with gratitude all my SMA colleagues and the wonderful spirit of camaraderie that exists between all of us; the OLA Sisters as well as those who followed them. I thank our Nigerian diocesan priests and sisters; all the teachers who worked with me; the multitude of students who made life easy for me; the cooks, the stewards and houseboys of the various domestic staff who looked after me. Above all I thank the ordinary people of the Mid-West… for their wonderful hospitality and friendship, which made my stay so happy and gave me so many wonderful memories of the past fifty three years" (The Pilgrim Soul in Me, 123).
And today, Jim, as we bid you a final farewell, we, too, thank God your life of missionary service and the gift you were to us and to the many people who were privileged to know you.