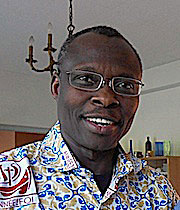 Pope Francis has appointed SMA Fr Francois Gnonhossou, a member of the General Council, as Bishop of Dassa-Zoumé in Benin Republic. He is the third African SMA member to be appointed to the episcopacy in Africa. Already, Bishops Nestor Nongo-Aziagbia and Dennis Agbenyadzi are serving in the Central African Republic.
Fr Francois was born in 1961 in the Archdiocese of Cotonou, Benin Republic. He is a member of the Bight of Benin District-in-formation.
After completing his primary and secondary education he enrolled in the University of Cotonou. On completion of his studies he decided to respond to a call to be a missionary and so he joined the Society of African Missions as he was familiar with the French SMA members who worked throughout his country since 1861 when SMA Fathers Borghero and Fernandez arrived at Ouidah.
Read an account of the early years of the SMA in Dahomey / Benin.
Fr Francois joined the SMA and was ordained a priest on 26 July 1997. He was appointed to the then Prefecture of Kontagora (it became a Vicariate in 2002) and ministered in Guffanti and New Bussa parishes.
After studies in Formation in Paris, Fr Francois was appointed Vice Superior of the then African District-in-formation and after three years in that position he was, in 2007, appointed as its Superior. In 2009 he was asked to establish an SMA parish in Quebec, Canada. In 2013 he was elected as one of the Councillors to the SMA Superior General, Fr Fachtna O'Driscoll.
Bishop-elect Gnonhossou will be the second bishop of Dassa-Zoumé which was erected in 1995 with territory taken from the diocese of Abomey. It's founding bishop, Rt Rev Antoine Ganyé, was appointed Archbishop of Cotonou in 2010 and since then the diocese has been without a bishop.
According to the latest statistics [2013] the diocese has a population of over 645,000 of which 54% are Catholic.
The SMA Superior General and all SMA members assure Bishop-elect Francois of our prayers and fraternal support as he takes up this new ministry in the service of the Church.