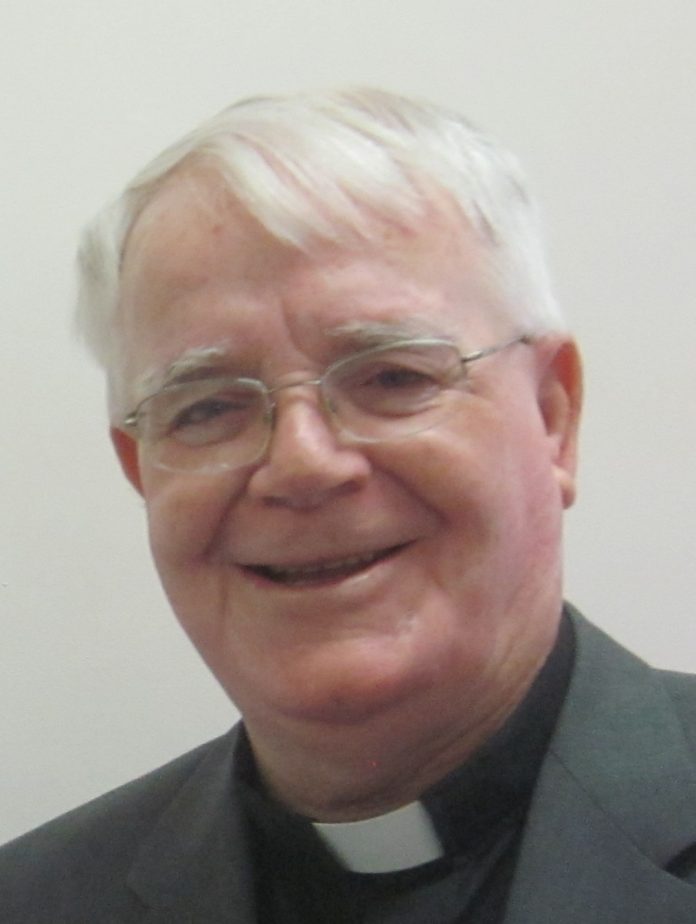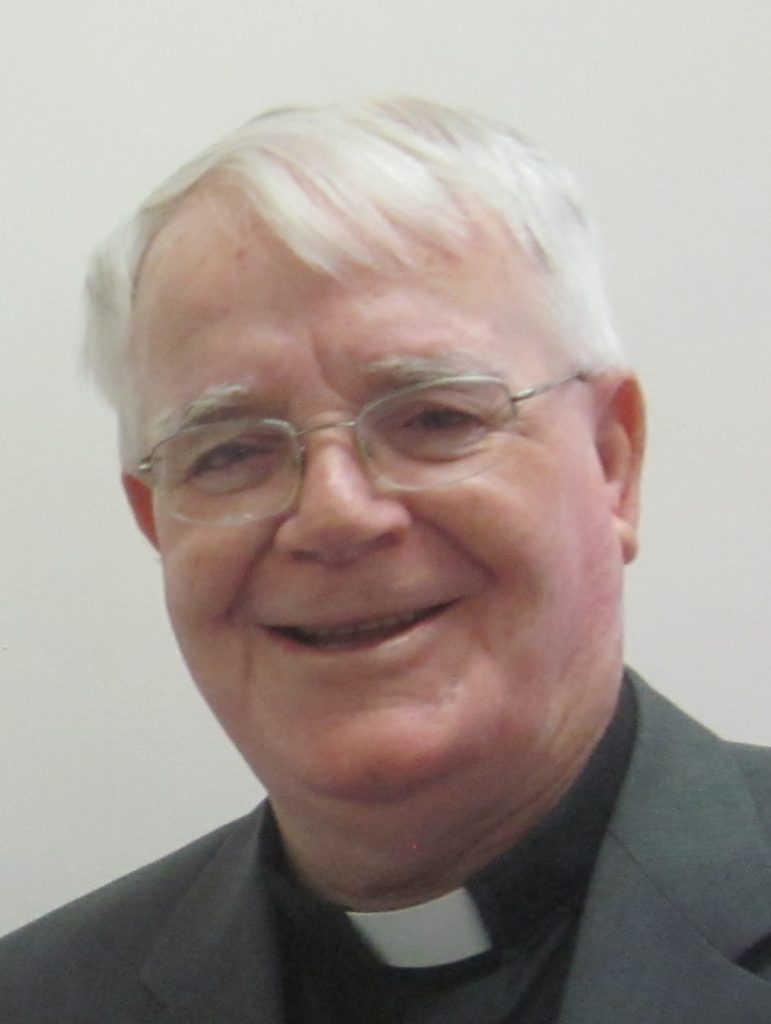 Fr Malachy Flanagan, SMA Vice Provincial Superior, was the Principal celebrant and homilist at the Funeral Mass for Fr Frank Meehan at St Michael's Church, Ballindine, Co Mayo on Monday, 21 August 2017.
He was assisted by Fr Martin O'Connor (PP of Kilvine parish, Ballindine), Fr Michael Alanga (who was Fr Meehan's Mass server in Pankshin, Nigeria and is now a priest of Pankshin diocese), Fr John O'Keeffe SMA (who lived with Fr Meehan in Jos) and Fr Eddie O'Connor SMA (Local leader of the Blackrock Road community, Cork). Among the other 32 concelebrants (diocesan and SMA) were Bishop Noel O'Regan SMA (former bishop of Ndola, Zambia), Fr Tom Ryan SMA (Provincial Superior of the British Province) and Fr Charles Owusu-Ansah SMA (visiting Ireland from his mission in Ghana).
After the Mass, FR Meehan was buried in the New Cemetery, Claremorris Road, Ballindine.
The following is an edited version of Fr Malachy's homily.
We are gathered here today to say farewell to our dear brother priest, a brother, an uncle and friend Fr Frank Meehan whom God called to himself last Friday morning. In a real sense we've come to pray Fr Frank home to God. Our hearts go out to his family whom he leaves behind – to his sisters and brother, nieces and nephews, extended family, relatives, friends, parishioners of Ballindine and the family of the SMA. Fr Frank was a priest for 63 years and so today we remember him and we give thanks to God for him as we celebrate his life as a great missionary and friend.
The first reading today tells us that: "My portion is the Lord' says my soul 'and so I will hope in him,' The Lord is good to those who trust him, to the soul that searches for him. It is good to wait in silence for the Lord to save".
Over the past seven weeks in Marymount Hospice in Cork, Fr Frank would have waited in silence for the Lord. As his body weakened from the seriousness of his illness and not being in the form or having the energy to talk too much when visitors came – he would have spent long times just waiting, pondering and being with the Lord in prayerful moments. Yes, waiting for that day when the Lord would come to call him home. "The Lord is good to those who trust him" – during all his life, Fr Frank trusted in the Lord. His long years of missionary work in Nigeria and then in Ireland were marked by the fact that he was a man of faith and believed in what he was doing. He was, as he often described himself as "an instrument in the Lord's hands". The Lord used him to reach out to others.
Just last evening I received a message from a Sr Laurencia Daniel (a sister of St Louis) speaking on behalf of her family in Jos, Nigeria. She said the Fr Frank was the real father we never had – without him we could not have survived. He did the same for so many other families. She said he was a man of few words but of a big heart in the way he reached out to the ordinary people. Sr Laurencia said she owes her vocation to the religious life to Fr Frank's encouragement and example. Their whole family would love to have been here today for his funeral.
The second reading tells us that: "The life and death of each of us has its influence on others … Alive or dead, we belong to the Lord".
Fr Frank's life had a big influence on all who knew and met him –as we've just heard from that message. As a priest, he had many opportunities to reach out and help people along the way. Over the past few days since his death, there have been lots of stories recalled about his life and his witness. We know that Fr Frank – gave his life to God many years ago – so alive or dead – he belongs to the Lord. He is gone to be with the Lord. And because of our faith, we firmly believe that he is alive with the Lord.
Fr Frank Meehan was born on the 17th June 1929 in Lisduff, Ballindine. He was one of a family of 9 children born to William and Julia (Nee Hernon). Fr Frank is a twin to his sister Mary. From an early age he showed interest in becoming a missionary priest. Whilst his primary schooling was in Irishtown, for his secondary schooling he attended the SMA Colleges at Ballinafad, Co. Mayo and Wilton, Cork. From there he formally entered the SMA training programme at Kilcolgan, Co. Galway and then to Dromantine College, in Newry. He was ordained a priest on the 15th June 1954 at Newry Cathedral – being one of 12 ordained in that class.
After ordination, Fr. Frank was appointed to the then Diocese of Jos in Northern Nigeria where he was to spend the next 41 years. Throughout his forty one years there he was particularly noted for his great rapport with all the people. For most of those long years, he served in several rural parishes. Places such as Zawan, Shendam, Kwa, Kwande, Akwanga, Pankshin and Mangu. He spent a lot of time visiting outstations – visiting families – building up communities of Christians and building churches. Most of these outstations founded by him are now vibrant parishes. During the Nigerian Civil War in the late 1960's, he was very instrumental in assisting people who needed help and protection. He worked with and encouraged village catechists in outstations and they in turn assisted in the instruction and nurturing of the faith.
He worked with and supported a great women's group in Northern Nigeria called the Zumunta Mata – who promoted the role of women in the Church and in Society. He is remembered with great affection for his kindness and gentleness with the people. Even his sermons were noted for the gentleness of his tone.
The remarkable growth of the Church in Northern Nigeria over the past half century is due in no small way to the dedication of missionaries like Fr Frank, who worked in that part of the Lord's vineyard. Jos Diocese became an Archdiocese in 1994, while both Shendam and Pankshin became Dioceses within the last 15 years – all areas where Fr Frank planted the seed of the Gospel.
The gospel today tell us: "I am the resurrection and the life. If anyone believes in me, even though he dies he will live, and whoever lives and believes in me will never die".
These are the words spoken by Jesus to Martha and Mary as they mourned the death of their brother Lazarus. This is really one of the most powerful statements in the Gospels. It means that Jesus holds the key to life and death. Jesus, by experiencing death and rising from the dead has broken the power of death forever. We are sad now because death has claimed the life of our loved one – Fr Frank. But we should not be overwhelmed by it. What sustains us now is our faith and hope in Jesus – who is the resurrection and the life.
Fr Frank would have assisted at many a funeral of family, relatives and parishioners and he would have reflected upon and shared this message from today's gospel, Today we speak these words for Fr Frank because with his whole heart he believed in these words. He has passed through death's door and into eternal life with the Lord. Yes, reunited now with his parents and brothers, his niece Regina, his nephew John, relatives and friends who have gone before him.
In 1995, ill health forced Fr Frank to retire from the missions but in fact as one door closes another one opens and he took up an appointment on the home front in the very important SMA promotions ministry in the Dublin and wider Leinster area. He put before the people at home the needs of the missions and afforded them the opportunity to share in that work of mission through their spiritual and financial support. In 2012, ill health returned and he retired to the SMA House at Blackrock Road, Cork and received care from St Theresa's Nursing Unit there.
In 2007, Fr Frank was invited to Nigeria for the centenary celebrations of the first coming of the Church in Northern Nigeria at Shendam in Jos Diocese (now an Archdiocese). This was a very memorable visit for Fr Frank [see picture] and he knew it would possibly be his last. Meeting up with parishioners from all those years before and the way they held Fr Frank in such great affection was really remarkable. At one such gathering during the celebrations, the Governor of the State was present. When the Governor realised that Fr Meehan was present – he was so happy and pulled out all stops to see that Fr Frank was treated as a VIP. The Governor recalled that when he was young boy he was a mass server to Fr Frank and how Fr Frank was so kind and helpful to his family and he attributed his education and where he is today to Fr Frank. Such was the affection they held him.
Family and Mayo were dearly loved and very important for Fr Frank. Any chance he had, even when not in the best of health, he would make great efforts to visit his family here in Mayo. His family loved him and enjoyed his visits and their visits to him in Dublin and Cork. He had a great interest in all sports but mostly he was a keen GAA supporter all his life. He could talk and talk football and loved getting the Mayo News newspaper to keep in touch with what's happening back home. Even from heaven he will be shouting for Mayo – especially next weekend.
It was his wish to be brought home for his funeral and to be buried among his own.
St John Paul II in his encyclical 'Redemptoris Missio' speaks of the "special vocation" of those who make a life-long commitment to mission – a commitment which involves the missionary's whole person and life, and demands a self-giving without limits of energy or time". Fr Frank gave his whole life to the Mission. He was a missionary who bore witness to the instruction of our SMA Founder – "to go out and give your life in the service of God among the peoples of Africa".
He has fought the good fight, He has run the race. He had completed his journey here on this earth. May he now enjoy the fullness of eternal life and receive the reward that awaits this good and faithful servant of the Lord.
Fr Frank may you rest in peace.
Ar dheis Dé go raibh a anam dílis.