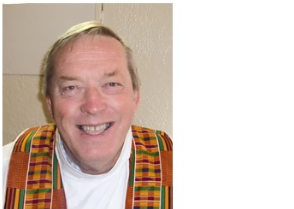 Fr Dan O'Brien SMA died in the Cork University Hospital on 7 April 2020. A native of Cork City, Fr Dan was a missionary in Nigeria for 40 years. Due to increasing ill health he returned finally to Ireland in 2013 where he was involved in Promotion work in Blackrock Road, Cork until 2017 when he was moved into St Theresa's Nursing Unit for medical care.
His Funeral Mass was celebrated at St Joseph's SMA Church, Wilton, Cork, on Wednesday, 8 April 2020, in accordance with the guidelines laid down for all funerals at this time.
Fr Malachy Flanagan, SMA Provincial Leader, celebrated Fr Dan's Mass in the presence of Fr Dan's two sisters, Pauline McCarthy and Mary Whelton, and some of their family
The following are Fr Malachy's Opening remarks at the start of the Funeral Mass:
"I am conscious of the fact that while we are here in this practically empty church for this funeral – we do so as we follow the guidelines and best practice for funerals with regards to Covid-19.
And I want to warmly welcome you to St Joseph's SMA Parish Church, Wilton, Cork especially all who are joining us by our Church Webcam for the Funeral Mass of Fr. Dan O'Brien SMA. He died peacefully yesterday, Tuesday, in Cork University Hospital at the age of 74. He was in his 50th year of priesthood and plans were in place to mark his golden jubilee of priesthood later this year.
To the members of the O'Brien family, his two sisters Mary and Pauline, his brothers-in-law Paddy Whelton and Barry McCarthy, his nieces and nephews and extended family – all those joining us by Webcam – I extend our sincere sympathies, prayerful wishes and condolences to you. We pray that God will console and strengthen all of you in the strange and unusual circumstances in which you say goodbye to a dear family member.
And so, on this Wednesday of Holy Week, we gather here physically and by Webcam to say farewell to our dear brother priest and friend Fr Dan and to pray him home to God.
I am fortunate and grateful to receive some reflections from two of Fr Dan's ordination classmates, Fr John Brown SMA and Fr Maurice Henry SMA both of whom worked with Fr Dan in Northern Nigeria and would have loved to be here today but sadly it's just not possible. I will share these with you in the homily today.
Today I would like us to remember in prayer the deceased members of Fr Dan's family – especially his deceased parents, Matthew & Mary. Now that Fr Dan is re-united with them, may they all enjoy the fullness of eternal life in heaven."
On a table in the sanctuary, there were three symbols representing the life of Fr Dan:  His Prayer book [Breviary] and Rosary – Prayer and the celebration of the Mass were the foundation of his life, which he learnt in the family home in Ballintemple. He celebrated Mass with the Blackrock Road community up to two weeks ago. A Cross, in the Hausa style of northern Nigeria, reminds us of Fr Dan's total commitment to Africa, where he served for 40 years before ill health forced him to return to Ireland. And finally a family photo of Fr Dan reminding us that family was very important to Fr Dan – his deceased parents, his sisters Mary and Pauline and their families, many friends and neighbours in Ballintemple and Glasheen and his brothers in the SMA family.
 To read Fr Malachy's homily Click here
At the end of the Mass, and before the Prayers of Commendation, Fr Malachy had the following Words of Thanks.
"Since yesterday, we have received sympathy messages from people in Africa and other parts of the world – I had a phone call from Archbishop Matthew Ndagaso, the Archbishop of Kaduna in Nigeria. He was so sad to hear of Fr Dan's passing and asked me to convey his deepest sympathies and condolences, on behalf of the clergy, the religious, and laity of Kaduna Archdiocese and on his own behalf; messages were received from other priests and religious and parishioners who knew him, and also from the OLA Sisters and St Louis Sisters – many of whom worked with Fr Dan in Nigeria – all send their condolences and prayerful wishes to the family and to the SMA – all were deeply moved by Fr Dan's life and are very saddened by his passing.
Finally, a word of thanks to all who assisted and took part in this Funeral Mass and who joined us by the Webcam – making this into a prayerful and memorable celebration of Fr Dan's life and a fitting farewell to him.
To the O'Brien family, I want you to know that Fr Dan was a valued member of the SMA and he was a hard-working missionary priest, in Africa, and here at home.
May God grant Fr Dan eternal rest. Amen."
Following the Prayers of Commendation, Fr Dan's remains were laid to rest in the adjoining SMA cemetery.