"The phenomenon of the
Global School Strike 4 Climate
grew from that one simple
act of protest
by Greta Thunberg."
Lorna Gold in her book, 'Climate Generation' says, "With the publication of 'Laudato Si' Pope Francis has become one of my all time heroes on this journey" (i.e. towards climate activism).
The phenomenon called 'influencer' has become common currency with a young social media savvy generation, especially in the area of marketing. My own interest in climate change can be attributed to a number of 'influencers' (or heroes) among whom are the following: Fr. Thomas Berry, Pope Francis, Lorna Gold and the latest is Greta Thunberg.
Lorna's book, which I reviewed for the SMA June 2019 Bulletin, was published on 8th June 2018, two months before Greta Thunberg began her now famous 'school strike protest' outside the Swedish Parliament one Friday in August 2018. The phenomenon of the Global School Strike 4 Climate grew from that one simple act of protest by Greta. It did not feature in Lorna's book simply because it had not yet happened. Lorna did include references to other current climate campaign groups e.g.' Global Catholic Climate Movement' (Tomas Insua 2015); 'Parents – I Million Women Organisation', Australia; 'Fossil Fuel Divestment Campaign'; '350.org'; and 'Raging Grannies', to mention a few.
At a conference held in Dromantine on 12th April 2019 titled 'Our Parish, Our Common Home' inspired by Pope Francis letter 'Laudato Si – On caring for the earth, our common home', Lorna Gold was one of the keynote speakers. Her book, 'Climate Generation' was published, let me reemphasize, before the Greta Thunberg phenomenon came on the scene in 2018. The Greta Thunberg-inspired school strikes took off after the publication of 'Climate Generation'. But come the Dromantine Conference of April 12th 2019 Lorna Gold was full of praise for Greta and the millions of young people who responded to her call to demonstrate their concern for the future of the planet by coming out of school on certain Fridays in what has become known as School Strike 4 the Climate. Lorna strongly recommended to her listeners that they ought to show their solidarity with the young people's campaign and join them in the forthcoming School Strike scheduled for 24th May.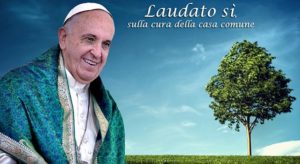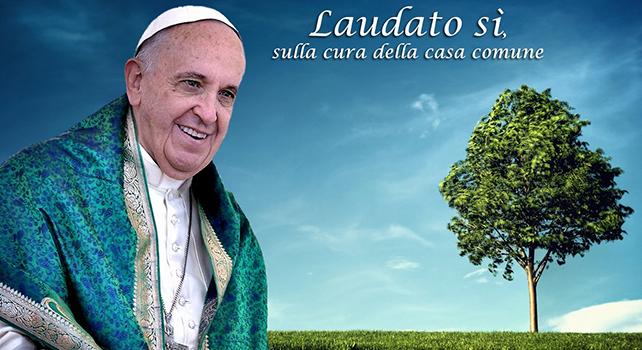 I was unable to follow Lorna's advice on 24th May as it turned out to be the day our family gathered in St. Columba's Church, Doneyloop, for the Month's Mind Memorial Mass for our beloved mother. However we did show solidarity with our young strikers by planting a tree in memory of my beloved mother after the Memorial Mass. We gathered on the lawn in front of her home for this ceremony. That day was also the fourth anniversary of the publication of Laudato Si, Pope Francis' now famous letter on caring for our planet – 24th May 2015. A beautiful set of 'coincidences'!
The next scheduled Global Youth Strike 4 Climate took place on Friday, 20th September. It was well publicised and adults were invited to come out and show solidarity for the young people's concern for the planet. I joined between three and four thousand youngsters who marched from the Cornmarket to Belfast City Hall. Globally around 6 million young people supported by adults marched in nearly all the major cities of the planet. There was a tremendous energy in the Belfast gathering with lots of chanting, singing and general noisemaking as they waved their banners and placards with a variety of climate related messages some of them very witty and humorous e.g. 'ULSTER SAYS NO… more Pollution!', 'Fossil Fools' etc.
I walked in the march with Chris O'Donaghue from the Friends of Africa (FOA) office in Belfast. The young organisers delivered inspiring speeches from a stage in the grounds of City Hall while representatives of Belfast City Council and several political parties also proclaimed their 'green agendas'.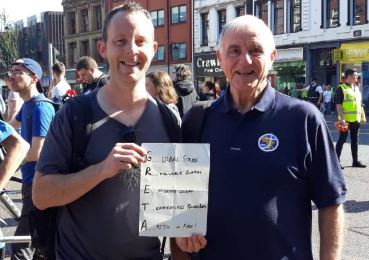 The most recent Global School Strike 4 Climate was held on Friday, 29th November. Again I made my way to Belfast this time accompanied by Dympna Mallon, the SMA Laity Coordinator and member of the SMA Justice Committee. In the Cornmarket, Belfast we were joined by Chris O'Donaghue and Maria Goldring, an FOA Volunteer, recently returned from Tanzania. The number of young people on this occasion was much smaller than the September rally. Many reasons could be proffered to account for the reduced numbers e.g. the weather, shopping season (the grounds of City Hall was packed with stalls of the Christmas Market), a clampdown by school authorities on children missing a day in class etc. The young people again made their presence felt by their chants, banners/placards and speeches. The most repeated chant of the day was the slogan "System change – not climate change", a phrase that Greta Thunberg uses in many of her addresses to world leaders of politics and economics.
As I end this short report the people of the UK are voting in the UK General Election. While climate change has certainly made it into the 'premiership' of election issues it has still been somewhat overshadowed by bickering over Brexit – soft or hard border, NHS, security/law and other issues.
The COP25 is entering its closing days in Madrid where world leaders have been meeting to progress the initiatives of the Paris Climate Conference of 2015. During the current conference hundreds of thousands of young people including Greta Thunberg marched on the streets of Madrid to signal to the conference delegates and world leaders the urgency of the climate crisis. Lets hope they 'get it'.
And it is timely, indeed, that Time Magazine have named Greta Thunberg 'Person of the Year 2019'. No doubt this will help to focus minds at COP25 that the younger generation is on the rise and they will hold us to account. As the saintly Dom Helder Camara of Brazil often said: "Each of us is responsible for Humanity – by our Actions or Omissions."
Fr. Dan McCauley SMA
Dromantine