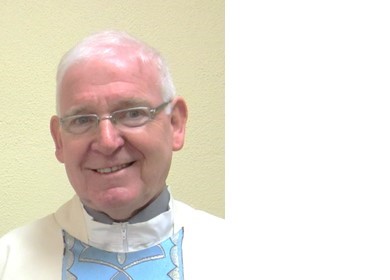 Fr Brendan Dunning SMA died on Easter Monday, 13 April 2020. After reposing in his family home in Clonown, Athlone, Co Roscommon, his remains were brought to St Joseph's SMA Church, Wilton, Cork, on Thursday, 16 April, for a Funeral Mass celebrated by the SMA Provincial Leader, Fr Malachy Flanagan SMA, following which Fr Brendan was laid to rest in the SMA community cemetery. 
Due to travel restrictions it was not possible for the many people, particularly relatives, parishioners from Neilstown [Dublin], Caltra [Galway] and Lacken [Mayo], and his SMA confreres to attend the Mass and burial, though over 1,000 watched the Mass via webcam.
Fr Eamonn Finnegan, SMA Vice Provincial Leader, preached at the Mass. The following is an edited version of his homily.
I want to begin with two quotations from today's readings which I hope will help us to understand what was important for Fr Brendan during his 50 years as a missionary priest:
'The Lord has anointed me, he has sent me to bring the good news to the poor; to bind up the broken-hearted; to comfort all who mourn'. [Isaiah 61:1]
'They told their story of what had happen on the road and how they had recognised him at the breaking of bread'. [Luke 24:35]
Today we gather as a Christian community to say farewell to Fr Brendan Dunning, a brother, an uncle, a friend, a neighbour, a brother priest, a great missionary.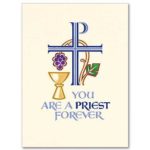 This day last week was Holy Thursday. On the first Holy Thursday Jesus instituted the Priesthood and the Eucharist. Priesthood and Eucharist is about service: going out of your way to help those in need, to be with those who mourn, to visit the sick. Brendan spent all his life in the service of others, in Nigeria and in Ireland.
The passage from St Luke's Gospel which I've just read is very familiar to us. The two disciples are going to Emmaus. They were sad. Their friend had died. They were talking about all that had happened in Jerusalem. They were coming to terms with the death of their friend Jesus and sharing stories about Him.
Since we heard of the death of Brendan last Monday morning we in the SMA have been sharing many stories about Brendan. The people of the parishes that he worked in have been sharing their stories as well. And you, his family and freinds, who knew Brendan best of all have also been sharing your stories.
Today many people are mourning the death of Fr Brendan Dunning. I know we in the SMA are mourning the loss of a brother priest and missionary; the people of the parishes of Neilstown in Dublin, Caltra in Co Galway and Lacken, near Ballina, in Co Mayo; the members of the Family Vocations Community [FVC] throughout Ireland are all sad at passing of this great priest. But you, his brothers and sisters, and extended family are feeling the loss most of all.
When Jesus joined the two disciples on the road the first thing he did was to listen to their worries and anxiety and then he turned to the scriptures. As he opened the scriptures to them their sadness lifted.
On this sad occasion we too turn to those same scriptures to look for consolation and comfort. The scriptures remind us that Jesus is the resurrection and the life and that all who believe in him will never die. Not only did Brendan believe this but he preached it at every opportunity.
It was at the breaking of bread that the two disciples recognised Jesus. "I am the Bread of Life", Jesus tells us, "anyone who eats my flesh and drinks my blood abides in me and I will raise them up on the last day." For 50 years as a priest, the Mass, the Eucharist was a very important part of Brendan's daily life.
Fr Brendan Dunning was born on the 2nd December 1943 at Clonown, Athlone, Co Roscommon. He attended Clonown National school and for his secondary education, he attended the SMA College, Ballinafad, Co Mayo. From 1963 – '66 he studied at University College Cork and then he went to SMA seminary, near Newry, Co Down to study Theology. He was ordained as an SMA missionary priest in Newry Cathedral on 17 December 1969.
His first missionary appointment was to the Teachers Training College in Ozoro and later to Mater Dei College in Ashaka, both in the Mid-West of Nigeria.
Fr Jimmy Higgins SMA, in his book, 'Kindling the Fire' describes 'Brendan as a born teacher who had a great way with students.  His love of sport enabled him to train good football teams all of which added to the prestige of the schools and the villages'.
In 1981 Brendan moved to Aquinas College, Akure in Ondo diocese, in the west of Nigeria. After six years teaching in this college Brendan wanted more involvement in normal parish work and was very happy when he was appointed to as Parish Priest of St John's Parish, Okitipupa. He was an outstanding parish priest.
He was noted for his work with the youth and regular visits to the sick. He achieved so much in building up the parish that a Chieftaincy title was conferred on him by the King of the town. Chief Rev Fr Brendan Dunning received the title, AFUWAJOYE of IKALE LAND. This means a Chief with good conduct and a man of character.
Another chief on that occasion described Fr Brendan, "as an evangelist of note, builder of churches and a great preacher. He gave the people of Ikale the 'matchless reputation for courage, truthfulness, and preached undiluted Christianity'." No doubt we, his brother priests, would say Amen to that!
Brendan returned to Ireland for medical treatment in 1990. Following his recovery, in 1991, he was appointed Parish Priest of St Peter the Apostle parish in Neilstown, Clondalkin, Dublin. He loved his parishioners and very soon, at the initiative of some of the youths, he founded a rock band that played loud music at Sunday Mass, with hundreds of young people in attendance from St Peter's and from neighbouring parishes. In every parish that he worked, in Nigeria and in Ireland, Brendan reached out to the youth and to the sick and house bound.
From 1996 -2002, he was the Director of the Family Vocations Community [FVC] in Leinster. This movement started in 1959 to raise funds for the education of young men to the priesthood. Brendan was very successful at this work both in Dublin and later as Director in the West of Ireland. He was always visiting families in their homes and visiting the sick in the local hospitals.
Always keen to get back to pastoral work, Brendan took up parish work in the Diocese of Elphin from 2002 – 2006, in Caltra parish. Brendan spent four very happy years in this rural parish, involving himself in every aspect of parish life, especially the local GAA Club. In 2003/2004 season, Caltra won the Senior Football Club Championship and Brendan played a pivotal role in their success. Before every big game, Mass was offered with all the young people in attendance. I am told that he even brought the team to the parish graveyard and reminded them that their progress and success was not just the achievement of the current generation but also the achievement of past generations who had sacrificed so much for their children. He assured them that their friends in heaven would be with them on the day of the final. Brendan knew every parishioner by name, from the youngest to the oldest. He showed friendship not favouritism and for this he was highly respected.
When our Provincial Superior asked him to take up an SMA appointment the people of Caltra were not too happy and did their utmost to keep him as their priest. Letters were sent to Cork, and a petition with over 1,000 signatures begged the Provincial to leave him in Caltra.
I lived with Brendan in Claregalway for a number of years and I know how much he loved the people of Caltra. One lady told me yesterday that if they were allowed to travel to the funeral, over 1,000 people would be in this church today. And it was the same when Brendan took up an appointment in Lacken parish, in Killala diocese. Again, Brendan devoted himself to the care of the sick and housebound.
Brendan had a great devotion to Our Lady and to St Anthony. The Memorare was his favourite prayer and was always said at the end of Mass.
Brendan was a great sportsman and was an excellent footballer in his younger days. When based in our House in Dromantine, Newry, Brendan won a Senior County medal with the local club, Glenn John Martins. He was a lifelong and fervent Roscommon GAA supporter. 
But I cannot let today go by without mentioning his love for Manchester United. When his phone would ring, which was pretty often, the ring tone was that of the Man United anthem blaring at full power. Perhaps now that Brendan has gone to the Lord, the Rossies & United might come good again.
These last couple of years has not been easy for Brendan and for his family. Today we thank all who looked after him so well in the Memory Care Centre in Laurel Lodge Nursing Home, Longford, and in Mullingar as well as in the SMA St Theresa's Unit in Blackrock Road, Cork. 
Brendan's suffering and pain is now over. As Christians we believe he is with the Risen Lord. We know God will reward him for the good he done for so many in Nigeria and in Ireland. We ask the Lord to forgive him for any sin that he may have committed.
May his gentle soul rest in perfect peace.
Fr Eamonn Finnegan SMA