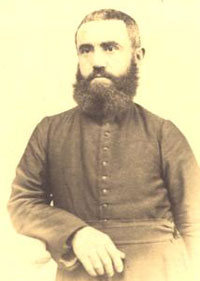 Fr Borghero's first 'secret' visit to Lagos
After deciding to seek other mission territories beyond Sierra Leone, where the first band of SMA missionaries had died from Yellow Fever (including the SMA Founder Bishop de Brésillac) the SMA missionaries sent to Dahomey (modern-day Benin Republic) landed at Ouidah on 18 April 1861. They experienced many difficulties and problems as they settled into their new mission. They established a mission at Porto-Novo.
The leader of the group was Fr Francesco Borghero (left), an accomplished cartographer and explorer. When informed by the Brazilian community in Ouidah of the existence of a Brazilian community (returned slaves) in Lagos to the east he decided to make a trip there as soon as possible. Lagos was also within the confines of the area confided to the SMA by the Pope following the death of the Founder in Freetown.
But the missionaries were not free to travel where they wished. They needed the permission of the King of Dahomey, who lived in Abomé. His representative in Ouidah, the Jevogan, was a returned Brazilian slave. In March 1862, the Spanish Consul in Freetown asked for a priest to come to Freetown to celebrate the Holy Week ceremonies. It was agreed that Borghero should go, as he was the only one to speak English. Permission was requested of the Jevogan. He promised to ask the King but did nothing. So Borghero decided to go secretly on the boat for Freetown, which went via Lagos.
In his Diary, Borghero wrote: "I stopped at Lagos at the French Trading-post… As there was no room free there I asked hospitality of Mr Carena, my compatriot from Genoa, who received me with great friendliness. His house is the finest in Lagos. (On Sunday) I say Mass in Mr Carena's house, with a large attendance. There are a good number of Brazilians and a few Italians. All of them are friendly to me." (Diary of Francesco Borghero, translated text, page 140, SMA Rome). After this, Fr Borghero continued his journey to Freetown and eventual return to Ouidah where the Jevogan was not happy!
Fr Borghero's first 'official visit' to Lagos took place the following year, 21 September 1863. Travelling by canoe from Porto-Novo he also visited Badagry and celebrated Mass for the Catholics in that former slave-town (slaves were shipped from Badagry to Brazil and other parts).