Padua (Agenzia Fides) – "It was September 17, 2018 when an unexpected event disrupted the life of Father Gigi Maccalli and we find ourselves together once again to pray for him".  These are the words of two dear friends of the priest of the Society for African Missions (SMA) kidnapped in Bomoanga, Niger, of whom there is no official news. "Each time we hope that it will be the last and that next time we will be able to meet for a thank you prayer. Because it is this hope that has sustained and continues to support our prayer". Hopes and prayers for the release re-emerged, after 15 months of imprisonment when Luca Tacchetti and his Canadian partner, Edith Blais, were released in Mali on 16 December 2018. A patrol of blue helmets that after having obtained all the necessary information assaulted the group that held the two young prisoners.
Fr. Maccalli's two friends today told Agenzia Fides about their acquaintance and closeness to the missionary shortly before he was ordained: "With his eyes and heart he was already in Africa. Three years after his arrival, on the eve of his perpetual vows, he wrote to us from Bondoukou: 'My perpetual vows within the SMA community is a commitment of faithfulness and consecration to the mission and to this Church of Africa at the service to the poor … I have come to serve and this remains the horizon of my priestly vocation'. Today his mission has taken on a new face, he is no longer an active missionary but a contemplative missionary, in this particular seclusion. His is a prayerful mission, which continues in a different way and will bear fruit".
And they continue: "It is being in love with God that makes us missionaries, said Cardinal Martini, it is the joy of the precious pearl that gives the desire to make it known to others too. It is the joy of the Gospel that drives mission. It is this joy that has always supported and pushed Fr. Gigi, always a little further towards Niger, this very poor country. This joy was his strength even in difficult moments".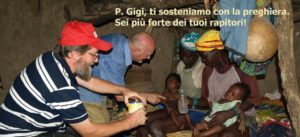 The memory addressed to Father Maccalli for this umpteenth anniversary of his kidnapping ends in light of the recent release of the two boys kidnapped in Mali 15 months ago. This extraordinary event keeps the hope of embracing Fr. Gigi alive. "Let us continue to pray full of trust because, even if we do not understand, we know and believe that God makes everything contribute to the good of those who love him".
(PRV/AP) (Agenzia Fides, 16/3/2020)