"I would like my mission career to define me. This is me. For this I came. The first 25 years of my life in Ireland were just a warm-up for the big game played out on the mission fields of Kaduna Archdiocese, Nigeria."
– Fr. Johnie Haverty SMA
This is a time I can truthfully say I'm proud to be an SMA priest. Why?
Because I've known and worked with such men as the late Johnnie Haverty SMA. His commitment as a priest of the Society of African Missions was inspiring and an example of ceaseless self-giving and generosity.
An incident before he went on mission sums up his self-understanding of Priesthood:
"Crise, why have ye that man rooting in the muck like that and he just ordained a Priest?" asked a neighbour.
"I suppose he was speaking the mind of the Irish Church of the time" wrote Johnny, "I wasn't embarrassed or annoyed. I was doing exactly what I felt happy doing, helping in the family farm-work as I had been doing before my Ordination and would go on doing long after. My understanding of Priesthood did not include being wrapped in cotton wool and put up safely on a pedestal for people to admire; on the contrary it gave me an added responsibility to pull my weight in the world and rub shoulders with the rest of the Dick and Harrys who were doing their bit."  
No taint of clericalism in that expression of his self understanding; rather his was to be a life of service and self-giving like that of his Master who stated "I came not to be served but to serve and to give My life for many" Mk.10:45.
Johnie, in the tradition of many SMA missionaries, preached the Good News of the Gospel in a practical way: the Christian message, he once told me, was meant to transform the lives of people struggling to eek out a livelihood on this earth.
He believed that the Gospel message should have a strong social dimension and so with his parishioners of Kachia, Kaduna State of Nigeria, he worked with them to establish a Farmers Cooperative Society, one where he bought in their corn in the plentiful harvest season, stored it, and sold it back to them below market prices, in the off-season, thus providing them with food security throughout the year. It was a major operation for some years: he had to build storage, protect it from rodents, treat the grain as well as manage the large voluntary staff and the financial responsibilities of the operation. It was a heavy load to carry but he had a great affinity with the farming community of his parish, arising from his own farming background at Poulnabany, Craughwell. He was a concerned Christian living out his faith in a practical way.
His affinity to and love of the African people whom he served was regularly shown in his participation in their social lives and family celebrations. In my many years on the missions, there were few parish priests I knew who celebrated the birthdays of all his domestic staff as Johnny did. Many a sing-song was shared and the chicken and rice was plentiful at each birthday celebration; in turn they also joined in Johnie's own birthdays. It was a regular feature of life at his mission at Kachia. His African household members were his extended family whom he treated with utmost respect and loyalty.
One Christmas he invited me to join him for the Christmas celebrations at his parish. It was different: I drove 100 kilometers for my Christmas dinner to his mission at Kachia. Firstly, we had to go out and greet his parishioners. We went from compound to compound, sharing what they offered, clapping and dancing till 7pm. I returned hungry and exhausted but I got to know better Johnie's family and community and how he related with them.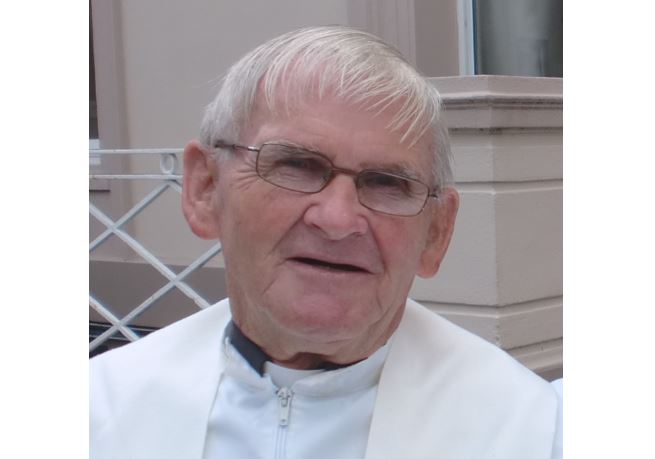 Yet his pastoral and parish life was peripheral to the major thrust of his 53 years of missionary service in Nigeria. He was first and foremost an educationalist. For all the good work the SMA did in Africa, its greatest glory arguably was its contribution to Education which revealed the truth and beauty and expansion of the Gospel message. The education ministry raised vast numbers out of ignorance; opened up the professions and careers to the poorest and most abandoned; it established thousands of primary schools and hundreds of secondary schools throughout the vast country.
Johnie stands tall among the SMA educationalists, as a teacher, Principal and founder of many schools, recognised by bishops and government officials alike, as well as treasured by Traditional Rulers who valued enlightenment for their subjects. For his work in education, Johnie was conferred with a traditional Chieftaincy title of "Agotoma" or Chief of Works by the late Chief Miwada Agom Adara of Kachia LGA, recently assassinated because of political intrigue. Johnie became a trusted adviser of the Chief and a deep friendship grew between them. He was devastated when he heard of his friend's assassination on 20th of October last.
Teaching is a two-way process, the teacher imparts knowledge and other values but also learns from his students, their families and culture. One major lesson learned by Johnie took place on the occasion of the death of one of his students, a traumatizing event on any school compound. He was a young Muslim boy and suffered from 'sickle cell', an African disease of the blood. Johnie was the school Principal at the time, and he and another member of staff, Les Jones, took the remains in a wooden coffin on a distant journey to the far North of Nigeria. After delivering the remains and saying some Christian prayers, the grieving parents were overawed but wanted to repay his kindness for undertaking the 600 mile journey. There was a long family deliberation; then they emerged with the wooden box, the only item of value in their hut, and returned it to Johnny. Like the widow's mite, it was all they had and Johnie thanked them graciously before setting back on the long journey to his school in Fadan Kaje.
In his 55 years of missionary life, Johnie never lost sight of the Craughwell Community which nurtured him and sent him out as a missionary to Africa and as a son of the soil. A missionary has significance from the faith he carries – and the faith-community he represents – to people's of other cultures who value the Good News of Jesus Christ. The people of Craughwell throughout his missionary career gave him moral, spiritual and material support. In his Mission Memoirs, both with photos and script, he pays special tribute to Fr. Michael Farrell and the Craughwell Community for their constant presence in his missionary life; the schools he built and developed were his home contribution to the development of education in Africa.
As a committed Galway supporter, an athlete, a tennis player, a golfer and one who played minor hurling for Galway, his great hero was the current Galway county player and youth role-model, Joe Canning, who in an article in one of the Sunday newspapers wrote that he didn't want his life defined by hurling. This impressed Johnny who wrote in the last chapter of his memoirs that "I feel I would like my mission career to define me. This is me", he said, "for this I came. The first 25 years of my life in Ireland were just a warm-up for the big game played out on the mission fields of Kaduna Archdiocese, Nigeria."
Our faith tells us that the lives of such people never die. As Johnie leaves us today, the big game just begins in God's kingdom where the Lord is waiting with open arms to receive back the one who was endowed with ten talents but magnified them enormously for growth of God's Kingdom on earth. May he rest in peace.
Maurice Henry SMA
10-07-'19