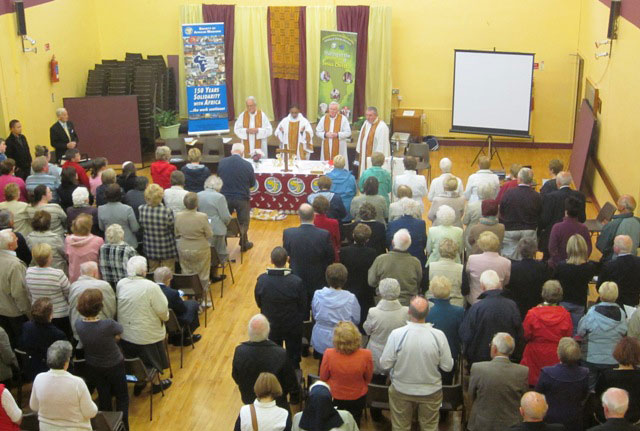 Within the parish boundaries of Claregalway lies an ancient Franciscan Abbey. A few months ago Fr Ian O'Neill, Parish Priest of Claregalway raised with Fr Eamonn Finnegan, Leader of the SMA community in Claregalway, the possibility of celebrating the Easter Dawn Mass in the ruins of the Abbey, opposite our SMA House, and afterwards some refreshments in our House, also within the parish boundaries.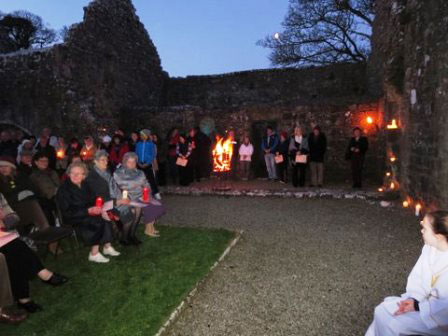 Fr Eamonn was enthusiastic about it and they agreed that, after the Mass, all would be welcome to the SMA House. Little did they realise what they were letting themselves in for!
So a mild, though chilly, Easter Sunday morning (6am), Fr Ian, Fr Eamonn and Fr Brendan Dunning SMA gathered with about 400 people to celebrate the Resurrection. They came not just from the parish but surrounding parishes. It was a wonderful occasion. Music and singing was led by the local choir and others in the congregation.
When Mass was over, and dawn had broken, more than 200 walked over to the SMA House where tea and freshly-baked scones were served to all. Many people had seen our House as they passed by on the main Galway – Tuam road but never knew what it was or who lived there. Even as people were waiting for tea etc our lay staff were pulling out all the stops to make sure everyone got something to eat. Many thanks to them!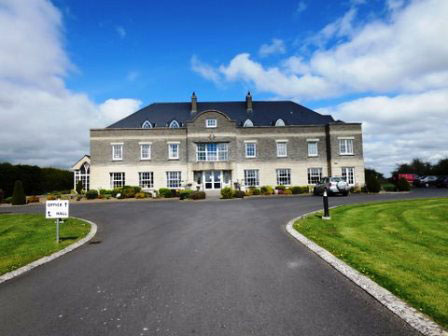 In an interview afterwards Fr Eamonn said that it was a wonderful opportunity to welcome the 'strangers' and let them know about the work of the SMA. It was also great to welcome the local people who support us so much and share with them some of our hospitality.
When asked if, next year, there would be bacon and sausages for all he just laughed! (well, at least he didn't say No).
The Claregalway Abbey was founded in 1240. The Abbey flourished until it was suppressed by Henry VIII. Despite this the Friars remained in the area and we know that in 1766 there were still five friars in the community.
There is still a functioning cemetery around the monastery with many local people resting there.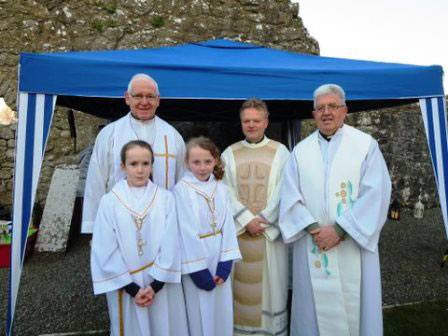 Our picture shows Fr Ian O'Neill, the Parish Priest of Claregalway flanked by Fr Brendan Dunning SMA (left) and Fr Eamonn Finnegan SMA with two of the Church Altar servers.
The SMA presence in Ireland goes back to 1876 and we had our first foundation in the west of Ireland by the late 1880's when a local property owner, Llewellyn Blake, gifted the fledgling missionary society with two properties – at Cloughballymore, Kilcolagan (Galway) and Ballinafad, Belcarra (Mayo).
Read about the foundation of the SMA in the west of Ireland.