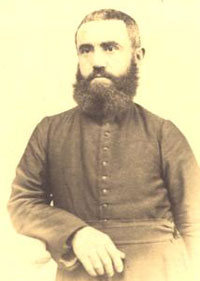 The first record of an SMA presence in the Badagry area was that of Fr Francesco Borghero (pictured) who passed through the
town on 27 May 1862 on his way to Porto Novo in Dahomey (modern-day Benin Republic). Fr Borghero had already visited Lagos and celebrated the first Mass there on 9 March 1862, in the house of an Italian merchant, Mr Carena.
The first residential presence was on Topo Island. The first 'mainland' mission was in Ado-Odo. The French SMA priests, who had a farm and industrial school on Topo Island, established the Catholic mission in Badagry building a burnt-brick church there in the 1890's. It is believed that one of the priests then decided to move to the mainland and he built an African style two-storey mud house with an outside stairs and no verandah.
Fr Bill Ghent was appointed in January 1967 to create a separate parish (residential mission) with the Sacred Heart Church, Badagry as its centre. Before this Fr Ghent was in Lafiaji parish in the heart of Lagos city. Fr Ghent moved to Badagry and lived in rented accommodation at the old UAC (United Africa Company) store on the Marina. He had approximately 20 outstations, all in the southern part of what was up to then part of Ado-Odo parish. His most northerly outstation was Ikoga-Zebbe (now a parish in its own right).
The plan was to build a new church and house in Badagry. The former church and mission house were demolished. The bricks from that first church were meticulously laid out as the sub-floor for the present Church. By the end of May 1967 a new proper brick Church had been constructed. The glass mosaic in the sanctuary floor was paid for by two Irishmen working in Lagos: Joe Harold and Frank Sullivan (Manager of the Airport Hotel). In later years, Fr Eddie Hartnett extended the Church by adding two side-isles.
While on leave in Ireland, Fr Ghent was asked to remain home to help with the organising of the first SMA Bazaar in Cork City Hall since 1953. This was a massive fund-raising event in Cork City and famous throughout the southern counties.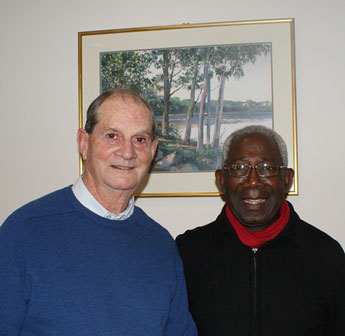 He returned to Badagry in April 1968 and celebrated the Easter ceremonies there. Between then and the end of 1969 he was able to get sufficient funds from Fr Jerry Coakley, the Archdiocesan Bursar, to build the mission house. The house was completed in early 1970.
During this period, with the help of some teachers in our Catholic Mission schools, a Parish Council was established. Each outstation was represented by a person of their choice. This is the basis on which successive Parish priests have built up an active community spirit.
Though having built the new mission house Fr Ghent never lived in it as Fr Joe Carew was appointed there and Fr Ghent moved to develop another section of Ado-Odo parish: Ajilete. This mission had been started by the then Fr Felix Alaba Job who was transferred to the staff of St Theresa's Minor seminary, Oke-Are in Ibadan. He later became Bishop and now Archbishop of Ibadan. They are pictured here at the SMA House, Blackrock Road in December 2012.
Ajilete had no Mission house and, for a period, Fr Ghent lived with Fr Michael McLoughlin (from Co Mayo) in Ado-Odo. He began to build the house in Ajilete and, after its completion in April 1970 he moved into it until going on leave in June of that year.
Fr Joe Carew died in the Sacred Heart Hospital, Abeokuta on 25 May 1973 at 60 years of age. He was succeeded by Fr John Hannon (+25 November 2004 in Matasia, Kenya). In 1976 Fr Hannon was transferred from to St Theresa's Parish, Ifako. He was succeeded by Fr Eddie Hartnett. For several years he worked at developing new outstations in the area, which runs up to the border with the Benin Republic, formerly Dahomey.
Our picture shows the Sacred Heart Church built by Fr Ghent. It has a Church bell which was cast in Lyons, France in 1879 (the SMA was founded in Lyons in 1856). It still peals out, summoning the people to Church and reminding them of the Angelus each day. The wall on which the bell hangs is faced with granite stone from the quarry in Abeokuta which was owned by Monsignor Somide's family.
Jesus speaks of the vine and the branches in St John's Gospel. In Badagry some branches grew so strong that there came a moment when they were replanted as vines in their own right. And so, today, there are four parishes which have grown from that central vine, Sacred Heart parish.
The first of them, Christ the King, Agbara, is now a parish in the neighbouring diocese of Abeokuta. The other three Fr Hartnett founded, and lived at are: Holy Family parish (Ajara), St Leo's (Ikoga-Zebbe) and his present parish: St Andrew Catholic Church (Kweme Sea Beach)
St Andrew's already has 15 outstation churches and three priests (1 SMA and 2 diocesan) to care for them. No doubt some of them will, in turn, become parishes in their own right.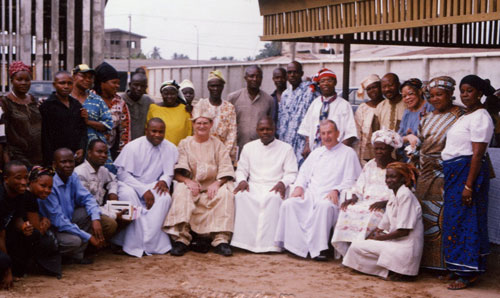 Fr Hartnett is pictured on the right and Fr Ghent is dressed in traditional Yoruba attire during a visit he made to Badagry several years ago.
Fr Hartnett was recognized as a suitable priest to train newly-ordained Irish SMA priests. As a result many SMA's were sent to him for an initiation period. They included Frs Kevin McGarry, Eamonn Finnegan and Donall O'Catháin. In more recent years, diocesan priests have been sent to him to help initiate them in the priestly ministry.
An interesting story is told of Fr Eamonn Finnegan's first day in Sacred Heart parish. Archbishop Okogie appointed him to Badagry in 1983, telling him to meet Fr Hartnett at the Holy Thursday Chrism Mass at the Holy Cross Cathedral, Lagos to be taken to his new mission. Fr Hartnett decided that the best way to initiate the new priest into life as a priest was to have him celebrate the Evening Mass of the Lord's Supper in the Sacred Heart Church that very evening. So as not to be too hard on the young priest Fr Hartnett agreed to preach, in Yoruba, one of the few Irish SMA priests who was competent enough to do so. The majority of missionaries would use an interpreter for their sermons. But Fr Hartnett, as well as Fr John Clancy, Jean Vincent, the late Fr Bob Hales and a handful of others had a sufficient grasp of the tonal structure of Yoruba to be understood by the people without difficulty. How much the people understood of Fr Finnegan's Yoruba that first day we do not know. And Fr Hartnett is too kind to tell anyone what he heard about his new curate's first Mass!
Postal address: St Andrew Catholic Church (Kweme Sea Beach), Seme Border, P O Box 50, BADAGRY, Lagos State, Nigeria