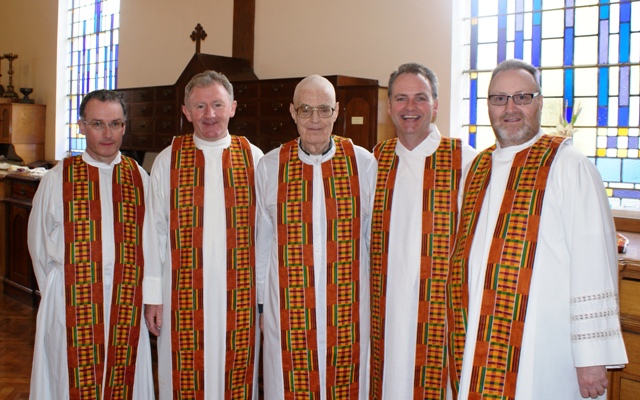 "Pray as if it all depends on God, act as if it all depends on you" were the words of advice given by Fr Paddy O'Rourke to six SMA Silver Jubilarians at the Thanksgiving Mass in Dromantine which was attended by a large number of SMA priests, some who had just completed their annual Retreat, others home on holidays from different African countries or some based in Ireland who came to show their solidarity with the 1988 class.
The Silver Jubilee celebration was to express gratitude to God for the faithful service of Fathers Chris Brennan (Kiltimagh, Co Mayo), Damian Bresnahan (Omagh, Co Tyrone), John Denvir (Downpatrick, Co Down), Padraig Devine (Frenchpark, Co Roscommon), Thomas Faherty (Salthill, Co Galway) and Dr Alberto Olivoni (Torino, Italy). Unavoidably absent from the celebrations was the 7th member of the class, Fr Ken Cooney (Cork City), who ministers in Rustenburg diocese, South Africa.
Fr John Dunne, SMA Provincial Leader, led the Thanksgiving Mass at which three SMA priests involved in the formation of the 1988 class had an active part. Fr Des Corrigan (their Spiritual Director in SMA House, Maynooth) lit the commemorative candles as the name of each Jubilarian was announced. Fr Peter Thompson (their Superior at the SMA Novitiate in Wilton) and Fr Mark Monaghan (Dean in Maynooth) read from Isaiah 61 and Romans 12:4-8. The Gospel, Luke 22, was read by Fr Tommy Faherty.
Fr Paddy O'Rourke preached a well-crafted Silver Jubilee homily.
After Mass and the obligatory official photographs the community Dining room was the place to be… for a wonderful lunch prepared by the Dromantine staff. During it Fr Dunne gave a brief resume of the lives of the different Jubilarians and presented each with a Papal Blessing and a letter from the SMA Superior General, Fr Fachtna O'Driscoll.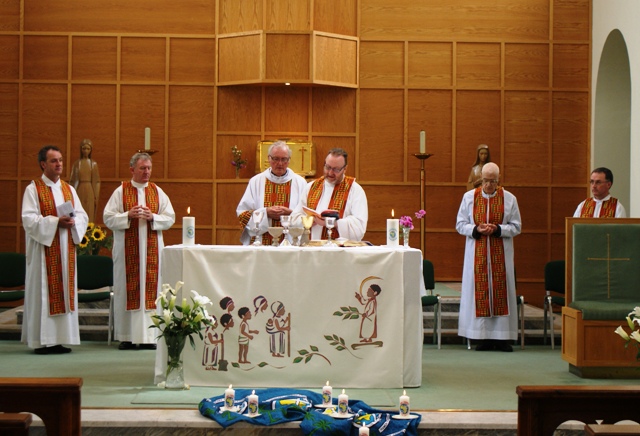 We were reminded that these priests have served in six African countries, as well as the Philippines, England and Ireland. Theirs is a varied ministry: pastoral work in rural and urban settings; youth work and vocations recruitment; education; formation work in Nigeria and the Philippines; organising and running projects in war-torn Liberia; studying and teaching several local languages in South Africa; involved in different strands of leadership at diocesan and SMA level (both in Africa and Ireland); mission promotion work in Ireland; administration work in Rome and Ireland; conflict and peace work in Kenya…
One of the class, Dr Alberto Olivoni, was a medical doctor in Ondo State, Nigeria in the 1980's where he came in contact with SMA missionaries. So impressed was Dr Alberto by their work that he felt a calling to become a priest. He joined the SMA and though many years older than his classmates he was ordained in the African Missions, Blackrock Road, Cork by Bishop William Mahony, Bishop of Ilorin, Nigeria. Fr Alberto returned to Nigeria and has served there for the past 25 years, combining his twin ministries of Priest and doctor. At present he is 'home' on a well-deserved holiday from his mission in Bauchi diocese.
Peace & Reconciliation has always been an essential element of the Gospel. Fr Padraig Devine is now the Executive Director of the Shalom Center for Conflict Resolution and Reconciliation, which he founded some years ago in Kenya to help look at the causes of conflict and see how, with the active participation of the people concerned, to see how such conflicts can be resolved and reconciliation brought about. With the support of the SMA and the collaboration of Fr Ollie Noonan this is a much-appreciated ministry, as Fr Dunne told us during the lunch.