Fr Tom Gorman passed to his eternal reward on Thursday, 4 February in St Theresa's, SMA House, Blackrock Road, Cork, aged 93 years.
Tom Gorman was born on 13 October 1922 to Thomas and Annie [née Hoban] in Borris, Co Carlow. He came from the same street as two other SMA priests: the late Fr Tom Lennon [RIP] and Fr Leo Silke [retired now in SMA House, Wilton]. He was the youngest of six children, Lawrence, Patrick, Cissie, Patricia, Frances and Tom.
He was baptized in the Sacred Heart Church, Borris [Diocese of Kildare and Leighlin] on 22 October and was confirmed in the same Church on 16 May 1933.
His secondary education was undertaken at Knockbeg College, Carlow [1935-39] and Mt Melleray Seminary [1939-40]. After one year with the Cistercians Tom decided to pursue a vocation to the missionary priesthood and entered the SMA College at Cloughballymore, Kilcolgan, Co Galway where he spent two years studying Philosophy. From 1942 to 1946, Tom studied theology at the African Missions Major seminary in Dromantine, Newry, Co Down. He became a permanent member of the Society on 15 June 1945, ordained Deacon in Dromantine on 9 September of the same year and was ordained to the priesthood in the Cathedral of St Colman and Patrick, Newry on 15 June 1946. There were fourteen in his class, four of them assigned to the fledgling American Province.
After ordination Fr Tom was appointed to Nigeria, specifically to the Ondo-Ilorin Vicariate then under the leadership of Bishop Thomas Hughes SMA. During the following fourteen years Fr Tom served in the parishes of Effon-Alaye and Oro as well as several years as Secretary to Bishop William Field, who had succeeded Bishop Hughes as bishop of Ondo diocese which was created out of Ondo-Ilorin in 1950.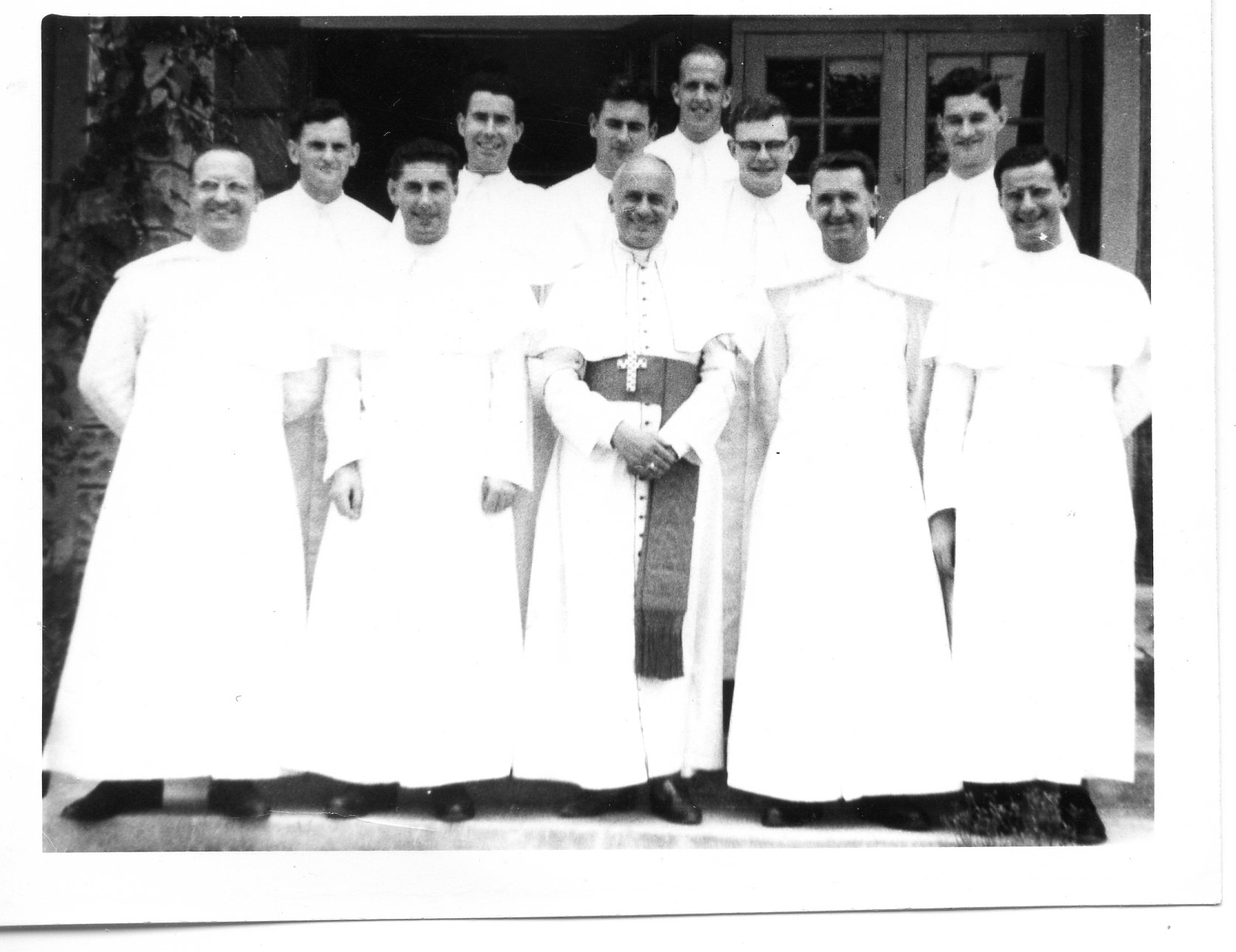 Throughout his life Fr Tom was noted as a steady, reliable, discreet priest. It was no surprise that he was appointed the SMA Regional Superior for the west of Nigeria in 1959. As Regional Superior he was responsible for the wellbeing of more than 100 Irish SMA priests in the Western Region. He was reappointed to this position but his second term was cut short when he was co-opted on to the SMA General Council in Rome where he was now part of an international team responsible for more than 1,000 SMA priests throughout Africa, Europe and North America. Fr Tom was as diligent as ever in his new position but was quite happy to leave following the 1968 General Assembly.
During his time as Regional Superior, Fr Tom welcomed the Pope's Representative to Nigeria, Archbishop Sergio Pignedoli in 1962 to the Regional House. Front Row, left to right: Joseph McAndrew [RIP], Thomas Gorman (Regional Superior), Archbishop Pignedoli, Bartholomew McCarthy (Vice Regional Superior) and Michael McEgan [RIP].
Back row, left to right: Sean Kilbane, Andrew O'Sullivan,  John O'Hea,  Terence Gunn, Oscar Welsh and William Ghent.
But Fr Tom's leadership abilities were not to be allowed go to waste. Over the next 29 years he was to serve as Superior in three SMA Houses in Ireland [Blackrock Road, Ballinafad and Wilton]. In Ballinafad and Wilton he also 'double-jobbed', serving as House Bursar for some years. In 1978 he was appointed as Bursar in Dromantine, a post he held for nineteen years before retiring to the SMA House, Wilton in 1997.
But Tom was not a man to 'retire' to a well-deserved rest. He busied himself about the house and, for several years, was invaluable to the Wilton House Bursar in the computerization of the house accounts. Advancing years and increasing ill health eventually forced Tom to 'sit back' and take it easy. Tom had many friends and he appreciated their friendship and kindnesses to him, none more so than Mary O'Flynn who had several visits a day from Tom to her office in Wilton. Right up to his death she was a constant support and her kindness to him was noted by all, his family and SMA confreres.
In early 2015, with his mind failing and in need of greater nursing care, Fr Tom transferred to St Theresa's in the SMA House on Blackrock Road, Cork where he quickly endeared himself to the Nurses and Carers because of his gentle and kind nature. Though it took him a while to settle in and get used to the way of the community he did eventually and participated in the community exercises, particularly daily Mass, until he was hospitalized with a broken hip a few weeks ago. Since his return to St Theresa's his health began to decline and, at 2.15am on Thursday, 4 February, this good and faithful servant returned to the Lord whom he had generously served as a priest for just under 70 years.
Fr Tom is deservedly regretted by his nieces, nephews, grand-nephews and grand-nieces, cousins, other relatives, friends and his confreres in the Society of African Missions.
He will be laid to rest in the SMA community cemetery after 12 noon Funeral Mass on Saturday, 6 February 2016, in St Joseph's SMA Church, Wilton, Cork.
Ar dheis Dé go raibh a anam dílis. Requiescat in pace.