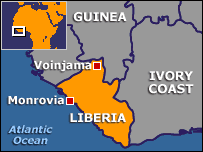 The small west African state of Liberia (Africa's oldest Republic) is slowly rebuilding itself after years of civil war and sadly reports are arriving of a return to civil disturbances in northern Liberia. The small west African state of just under 4 million people saw 250,000 of its citizens murdered and countless others maimed for life.
Since 2005, under the elected President Mrs Ellen Sirleaf Johnson (the first woman to be elected President of an African country) the twin aims of her administration have been to foster reconciliation and rebuild the country. A major challenge has been how to reintegrate the former 'child soldiers' into civil society.
According to reports from Monrovia, (via Reuters News Agency), the government has imposed a curfew in the northern county of Lofa after religious clashes killed four there on Friday.
However, in an interview with FIDES – the news service of the Congregation for the Evangelization of Peoples (Vatican) Msgr Christopher Brennan SMA, Apostolic Administrator of the diocese of Gbargna stated:
"It was not a clash between Christians and Muslims, but a clash between two ethnic groups.
"I am traveling around the area and I have still not collected all the information needed to have an accurate picture of events. But, I can already say that various reports circulating on the Internet and from news agencies are not correct. It does not seem that a church was burned, although a Catholic mission may also have been looted," says Msgr. Brennan. "I would strongly emphasize that such violence is not caused by religious conflict, but by tensions between two groups, one of which is predominantly Muslim, and the other, predominantly Christian. But, this has nothing to do with a supposed religious clash," concluded Msgr. Brennan. (Agenzia Fides 1/3/2010)
This the third time this year that there has been an outbreak of violence near the Guinean border between Christian and Muslim communities.
"The Liberia National Police, the Emergency Response Unit and United Nations Military Mission in Liberia have since been deployed in the affected areas, and a dusk to dawn curfew has been imposed," the government said in a statement.
The violence erupted in the town of Vionjama after the body of a child "with body parts extracted" was found near a mosque, the statement said.
The statement said the ensuing clashes had led to some deaths, but did not specify how many.
A doctor at the Talawayon hospital in Vionjama said four people had died of bullet wounds and that another 18 people were being treated for injuries.
Witnesses told Reuters on Friday that rioters had burnt down the Catholic, Baptist and Episcopal churches in the area. Msgr Brennan satted that it is not certain that a Catholic Church was burned.
Earlier in February at least three people were killed in clashes between Christians and Muslims in southeastern Guinea. In January, more than 400 people died in religious violence in the Nigerian town of Jos.
Human rights observers say violence that is triggered by religious incidents in the first instance often becomes politicised, and can involve disputes over land or property.
The Church in Liberia celebrated its centenary in 2006 and the SMA ministered in Liberia for all of those 100 years. Today SMA priests from Ireland, Liberia, Nigeria, USA continue the work of the early missionaries. There are three dioceses in the country: Archdiocese of Monrovia (Archbishop Michael Francis and Coadjutor Archbishop Lewis Zeigler), dioceses of Cape Palmas and Gbarnga.
V Rev Fr Chris Brennan is the Apostolic Administrator of the latter diocese.