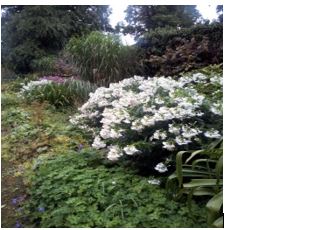 We are now well into the 7th week of 'Lockdown' at SMA House, Blackrock Road. When I arrived here on the 18th March, following the 'Covid-enforced' closure of the An Tairseach sabbatical programme I was doing in Wicklow, I initially felt an acute sense of disappointment and was wondering what I would do to pass the days and weeks ahead. I spent the first week 'floundering around', wasting time listening to the interminable reports on the advance of COVID-19 and its devastating consequences. Then, I realised that I was going to be quarantined in Blackrock Road for much longer than I had expected and had better make the best of it. So, I decided to take this unexpected 'time out' as an opportunity to deepen the sabbatical experience I began last October at St Mary's Monastery, Kinnoull, Scotland. 
The Kinnoull sabbatical had been a truly life-giving experience for me, a time of sorely needed rest and refreshment after six years as Provincial Leader. Back again in Cork with the second stage of my sabbatical suspended, I felt the Lord was inviting me to revisit the Kinnoull experience and deepen it. The Kinnoull programme had invited us to re-discover ourselves and develop a spirituality of true self-esteem and grateful appreciation. This is what I am now trying to do these beautiful spring days, through personal prayer, reading and reflection.
In quarantine, we can experience time either as Chronos or as Kairos, as crisis or opportunity, as burden or gift. It all depends on how we approach it. We can dwell on the limitations imposed on us, and bemoan all the things we can no longer do. And, true enough, the freedoms we normally take for granted are drastically curtailed.
But we have the gift of each new day.  We have the opportunity to notice the new life burgeoning all around us and to appreciate the good earth that is our home.
This can also time to reflect on our relationships with others and appreciate the gift they are to us. It is a good time, perhaps, to re-connect with old friends with whom we may have lost touch. We can do this by letter, phone or email, Skype, WhatsApp, etc.  We don't have the excuse of being too busy.
Above all, this is a time to re-connect with ourselves, to get it touch our core identity as 'a child of God', a word hidden in the heart of God from all eternity and spoken in time. It is a golden opportunity to 'love again the stranger who was yourself' and 'Give back your heart to itself, to the stranger who has loved you all your life'. These words, from a poem by Derek Walcott, entitled "Love after Love", were quoted by Fr Denis Mc Bride [Redemptorist], one of our lecturers in Kinnoull. They resonate with me powerfully during this strange and anxious time and remind me of another beautiful poem by the great seventeenth century English poet, George Herbert, about Love, which ends with the lines:
'You must sit down,' says Love, 'and taste My meat.'
So I did sit and eat.
Here surely is an invitation to us that we can respond to even in quarantine.
Michael McCabe SMA