The most active missionary of all time, St Paul, never saw his mission solely or even primarily in terms of activity. Witness and Prayer were essential dimensions of it and he considered his years in captivity in Rome as simply another phase of his missionary life of preaching the Gospel of Christ to the Gentiles.
– Fr. Michael McCabe SMA, Provincial Leader
Homily Preached at Mass for Retired Members of the SMA from the Blackrock Road and Wilton Communities (Friday, 14th February 2019)
The God we worship, the God of Jesus Christ, is not just the God of Love. He is the God whose love is manifested in a total, constant and irrevocable commitment to his people. The prophets spoke of "Yahweh" as the God of 'faithful love' (hesed), the God who always keeps his promises. "I have loved you with an everlasting love and therefore I am constant in my affection for you" (Jeremiah 31.3). The constancy of God's affection for his children is shown supremely in Jesus, the human face of God: "To see me is to see the Father" (Jn. 14:10). Jesus is sent by the Father so that we might experience the faithful love of the Father and have life to the full. It is in Jesus that we see what loving fidelity and what life in its fullness means. It means total and enduring commitment in love. When we too are faithful in our commitments, when we make promises and keep them, we manifest the "faithful love" of God in whose image we are made and who sustains our commitment.
Some time ago, the famous Dominican preacher, Timothy Radcliff, gave a homily to young novices entitled "Making Promises till Death" in which he affirmed the importance of making vows and keeping them at a time when vows seem to have little credibility and the idea of commitment to anyone or anything seems old hat. "The first reason" he says "why we should have the confidence to dare to make promises is because we are God's children… We show God to the world by daring to follow our Father's example" (I Call you Friends, p. 90). Our identity and our dignity as God's children is manifested above all else in our "making promises till death" – promises we make because we know that our God of faithful love will enable us to keep them.
But how do we live out that fidelity when out active involvement in mission is over, when we are retired. The most active missionary of all time, St Paul, never saw his mission solely or even primarily in terms of activity. Witness and Prayer were essential dimensions of it and he considered his years in captivity in Rome as simply another phase of his missionary life of preaching the Gospel of Christ to the Gentiles. According to David Bosch, Paul's mission and all genuine mission is marked by six constants:
1. Mission is first and foremost an act of God. It is God who calls the apostle or missionary, and it is divine grace that accompanies and sustains his or her activity.
2. The power of mission lies in the Gospel, not in the bearer. The Gospel is the power of God for salvation (Rom. 1:16).
3. The power and action of God's Spirit (Rom. 15:18-19), is shown especially in weakness and suffering. Speaking or himself, St Paul, the greatest missionary of all time, states that he bears "the brand marks of Jesus in my body" (Gal. 6:17).
4. Mission is an ecclesial action. "For Paul, as for the rest of the Bible, mission is the function of a people" (Legrand, Unity and Plurality, p. 128). This principle has been reiterated in our time by Paul IV in his famous encyclical, Evangelii Nuntiandi:
"Evangelisation is for no one an individual and isolated act; it is one that is deeply ecclesial" (EN, no. 60). Missionaries, then, must never act as it they were proprietors of the enterprise in which they are engaged.
5. Mission embraces all aspects of life, personal and social, spiritual and physical. The great Anglican Biblical scholar, Tom Wright, says that mission is a living out of what we pray in the Our Father: "Your Kingdom come on earth as it is in heaven". And missionary activity is directed towards the creation of life-giving koinonia (communion).
6. Mission is sustained by prayer and leads to prayer, to worship. Liturgy: the highest expression of the human spirit filled with the Spirit of God.
To conclude: Missionary commitment begins and ends in prayer. "We are at the service of a task which, despite our most generous commitment and most advanced techniques, transcends our human capabilities" (SMA Cons & Laws, art. 26). It is a task in which we are merely instruments in God's hands; a task which cannot be accomplished without God's grace. This points is brought out very well in the following reflections by Oscar Romero: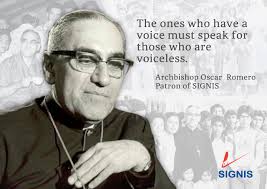 "It helps, now and then, to step back and take a long view.
The kingdom is not only beyond our efforts,
it is even beyond our vision.
We accomplish in our lifetime only a tiny fraction
of the magnificent enterprise that is God's work.
Nothing we do is complete, which is a way of saying
that the kingdom always lies beyond us.
No statement says all that could be said.
No prayer fully expresses our faith.
No confession brings perfection.
No pastoral visit brings wholeness.
No program accomplishes the church's mission.
No set of goals and objectives includes everything.
This is what we are about.
We plant the seeds that one day will grow.
We water seeds already planted,
knowing that they hold future promise.
We lay foundations that will need further development.
We provide yeast that produces far beyond our capabilities.
We cannot do everything, and there is a sense of liberation
in realizing that. This enables us to do something,
and to do it very well. It may be incomplete,
but it is a beginning, a step along the way,
an opportunity for the Lord's grace to enter and do the rest.
We may never see the end results, but that is the difference
between the master builder and the worker.
We are workers, not master builders; ministers, not messiahs.
We are prophets of a future not our own.
Amen."