RESOURCES:
Campaign Video 1  Suitable for Teenagers and Adults.
Campaign Video 2  Suitable for Younger children.
Both the above links lead to YouTube.  If you wish to use these links during a group presentation you will need access to the internet. Alternatively you can either download the videos from YouTube if you have the software to do so or else email [email protected] requesting a copy via We Transfer.
Campaign Leaflet: A short leaflet explaining what the Campaign is all about.   Two leaflets per page. Print on A4 paper, two sided and cut in half. This can be used to raise awareness of Climate Justice and of the Thumbprint Campaign.
Campaign Promise Sheet and Cards
The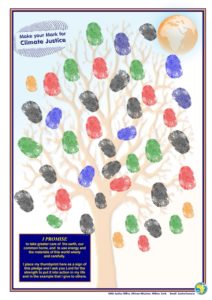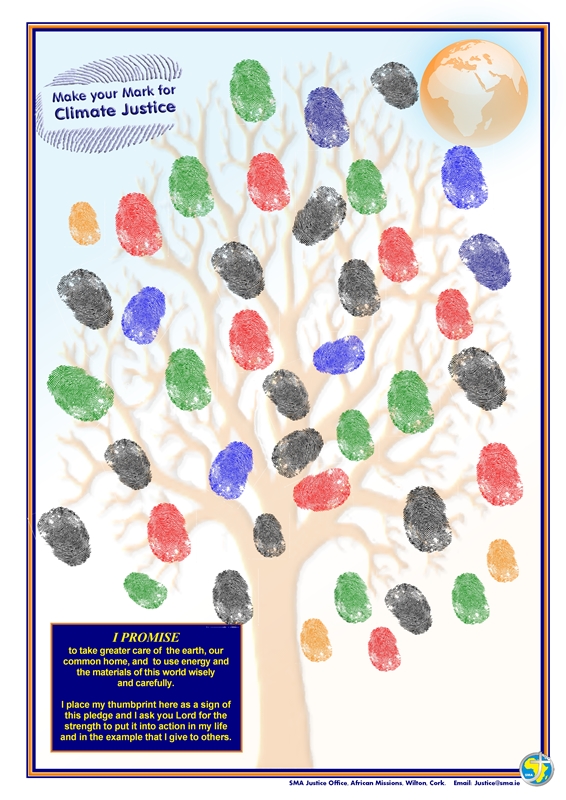 above links to three versions of the Promise Cards and a pdf version of the Pledge sheet.  This can be printed in whatever size you need.  The template for the cards is done on A4 size with four cards per sheet. These need to be printed two sided and then cut into four.  For best results print on light card.  Alternatively you can email [email protected] for information about printed versions of these resources.  Postage and printing costs will be charged. 
 Prayer Service:  The Thumbprint Campaign can also be used by small groups or communities.   Begin by introducing the concept of Climate Justice (use the above leaflet as a source of information)  Next show the Campaign Video and then follow the Prayer Service which includes the act of putting ones Thumbprint on a Pledge sheet and collective reciting of the Pledge.
You will also need some poster paints or ink pads in order to put thumbprints on the Pledge Sheet.  Make sure you do NOT use indelible ink!! Also provide some wet-wipes to remove paint from fingers.
Prayer for the Earth:  Taken from from Laudato Si.   Use either as a poster or for reciting in a group.
Campaign Posters: 
Some of these are available as Roll-ups to trained Campaign Volunteers.  Those linked to below  can be printed in either A3 or A4 sizes.
Poster1   Make your Mark for Climate Justice
Poster 2  Act for Climate Justice – We Pollute – Others Pay – its time to change our ways.

Poster 3  God saw all that He had made and found it very good  – Climate Justice means stopping the part we play in causing climate change.

Poster 4  Thumbs up for Climate Justice – You can make a difference – if we all do a little it will matter a lot