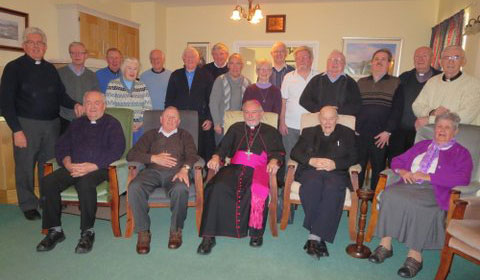 Following his appointment as Archbishop of Cashel and Emly the SMA community used the opportunity of their gathering in Claregalway on Wednesday, 10 December 2014, to wish the Most Rev Kieran O'Reilly SMA every blessing in his new ministry.
Every December the apostolic community [SMA priests working in parishes in Connacht and the community in Claregalway] gather to celebrate the Foundation Day of the Society. The SMA was founded in Lyons, France on 8 December 1856 and as the priests in parishes have their normal duties of the Holyday the celebration in the west takes place as close as possible to the 8th, Feast of the Immaculate Conception.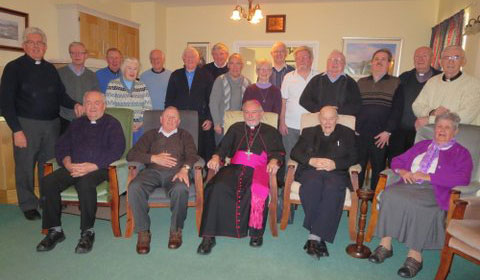 The Local Leader, Fr Eamonn Finnegan, invited the OLA community from Claremorris to join in the Foundation Day celebrations. Our photo shows those who turned up on the day. Seated are, from left, Fr Gerry Sweeney, Fr Michael Nohilly, Archbishop-elect O'Reilly, Fr Ned Casey [Chaplain to Nursing Home, which was formerly the African Missions Novitiate] and Sr Mary Agnes OLA.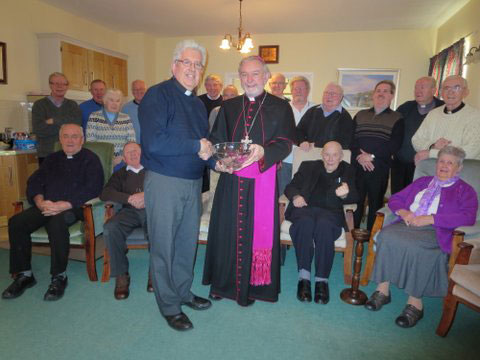 Back row: Frs Eamonn Finnegan, Kieran Morahan, Seamus Nohilly, Sr Marie OLA, Freddie Warner, Val Hynes, John McCormack, Anthony Kelly, Sr Patricia McMenamin, Brendan Dunning, Ali Kelly, Tom Fenlon, Eugene McLoughlin, John Dunleavy and Dan O'Neill.
Fr Gerry Sweeney, who was one of the seminary staff, when the young Kieran O'Reilly was studying in Wilton and Maynooth [residing at the SMA House on the New Campus] traced his student life from 1970 until his Ordination by Bishop Patrick J Kelly SMA in 1978. The Archbishop-elect served in Liberia [parish] and Nigeria [teaching in Ss Peter & Paul Major seminary]. In 1989 he was elected to the Irish Provincial Council.  Six years later he was elected SMA Vicar General, based in Rome. In 2001 he was elected as the SMA Superior General and was relected unanimously in 2007. It was during his second term that Pope Benedict XVI chose him to be Bishop of Killaloe, a position he took up in August 2010. He now moves to Thurles in succession to Archbishop Dermot Clifford.
A former OLA Superior General, Sr Patricia McMenamin, also spoke during the lunch and Fr Eamonn Finnegan presented the Archbishop-elect with an inscribed Galway Crystal Bowl to wish him 'God speed' in his new ministry.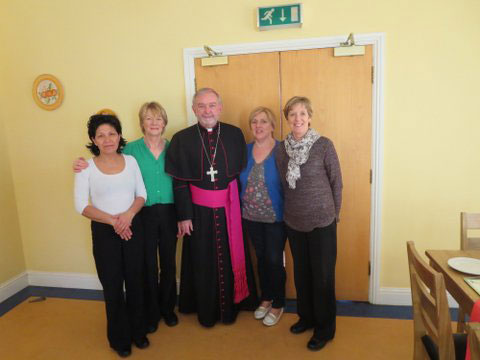 Archbishop O'Reilly expressed his thanks to all for the welcome he received as a member of the Claregalway Apostolic community at the several ongoing formation meetings he attended over the last 4 years, when he was living in Ennis. He was also grateful to the lay staff for their kindness and welcome whenever he called in.
He is pictured with some of the staff: Suzy O'Connor, Bernie Greally, Martina Lally and Madge Fahy.