And so Christmas comes around again… and people are busy rushing here and there making sure that everything is just right for the holiday. Enough food, drink, presents… and not forgetting a welcome cup of milk and biscuits for Santa when he calls to bring presents to the children.
And just as Santa leaves the North Pole far far away as he travels to the furthest corners of the world bringing gifts which will light up the eyes of our children, should it not remind us of how far we've left the real meaning of Christmas behind? And the true Light which brings lasting joy to us all?
Loving God, you love me so much you sent your Son Jesus into this broken world. Thank You!
May I heal the broken parts of my lives and those around me.
Loving God, your Son is the true Light, helps me to see what is truly important. Thank You!
May I bring light and not darkness into my own life and those around me.
Loving God, taught us by His words and actions how we should live. Thank You!
As the Three Kings brought you gifts, may my words and actions be gifts bringing peace and joy into my life and those around me.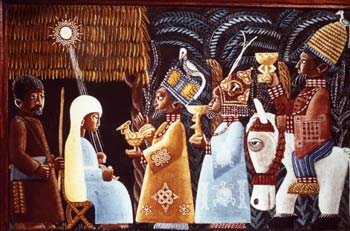 Loving Father, help me to have a happy Christmas celebration but to know that the true meaning of Christmas is not about food, drink and presents but that You loved me so much that you sent your Son so that I can experience a true and lasting happiness, building your Kingdom on earth, through doing my best to make this world a better place for all humankind, your beloved daughters and sons, my brothers and sisters.
Maranatha – Come, Lord Jesus – Emmanuel – God-is-with us.