"You are the light of the world"
– Matthew 5:14
My dear friends, on behalf of my SMA colleagues in the Irish Province, I send you our best wishes and assurance of a remembrance in our prayers at this special time of the year. Our SMA members, the world over, are preparing to celebrate the birth of the Prince of Peace, the Light of the world.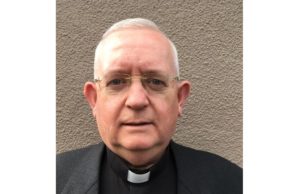 When we were baptised, a lighted candle was given to our parents and godparents, with the priest/deacon saying to them, "Receive the Light of Christ" and then encouraging each of them to be a light in the world.
Christmas reminds us that we are taking Christ's place in the world. Christ says to us, "You are the light of the world". He has no hands but ours to show his kindness to the needy, no mouth but ours to comfort those who are suffering with his message of love. Howard Thurman (an African-American author, philosopher, theologian, educator, and civil rights leader) once said: "When the song of the angels is stilled, when the star in the sky is gone, when the kings and princes are home, when the shepherds are back with their flocks, the work of Christmas begins: to find the lost, to heal the broken, to feed the hungry, to release the prisoner, to rebuild nations, to bring peace among the people, to make music in the heart".
So, we are called to be the "Light of the World". To offer hope in the midst of darkness, to offer joy in the midst of sadness. St Paul in (Phil. 2:15-16) encourages us with these words: "You will shine in the world like bright stars because you are offering it the Word of Life". The word of life is of course Jesus and all that he stands for which our world needs to hear and hear again.
I invite you to consider letting your light shine through reaching out to the stranger among us – the homeless, migrants, refugees, asylum seekers, those living with addictions, those burdened down with all types of illnesses and so many others who need to feel the warm glow of Christ's Light in their lives.
In July 2015, in Quito, Ecuador, Pope Francis told us that "we received this world as an inheritance from past generations, but also as a loan from future generations, to whom we will have to return it!"— I am mindful of how the world is groaning under the terrible damage that is being done to it by the misuse of the earth's resources. Let each of us ask ourselves how we will become more actively involved in caring for God's creation, particularly at home in Ireland or wherever we live.
Sisters and brothers, may the Light of Christ burn brightly in your hearts this Christmas time and through us reach out to others. May His peace be yours, now and always.
Fr Malachy Flanagan SMA, Provincial Leader