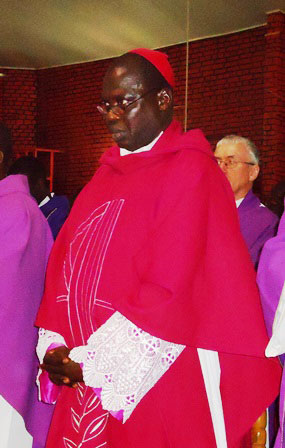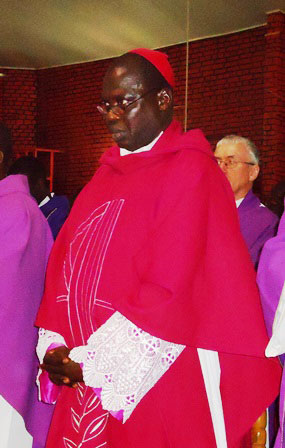 On 17 December 2013 a Memorial Mass for Fr William (Liam) Burke was celebrated at Queen of Apostles Catholic Church, Kaduna, Nigeria where Fr Liam had ministered for nearly 50 years. Fr Burke died in Cork on 30 October 2013.
The Chief Celebrant was Archbishop Matthew Man'oso Ndagoso (Pictured right).
Brother Goddy Udechukwu (KSJ), Chairman of the Parish Laity Council delivered an address entitled Tribute to Late Rev. Fr Liam Burke SMA, 1926-2013. At the conclusion of the Mass the Archbishop praised Fr Burke's immense contribution to the Archdiocese. This led him on to pay tribute to all the SMA missionaries who had brought the faith to Northern Nigeria.
The homily, delivered by Fr Mark Monaghan SMA (pictured below), one of the two Vicar Generals in Kaduna Archdiocese, is reproduced below:
Your Grace, fellow priests, Rev. Sisters, brothers and sisters in Christ.
We have gathered here this evening in The Queen of Apostles parish church at this memorial mass for our founding father and former Parish priest, Fr Liam Burke SMA. We pray for, remember and give thanks to almighty God for the wonderful gift of his life as an SMA missionary priest. Remarkable missionary that he was and fellow priest serving in the Archdiocese of Kaduna, he followed closely in the footsteps of our Founder, Bishop Marion de Brésillac.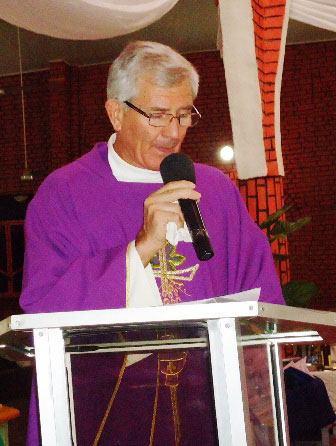 'Fides, Spes, Caritas' – 'Faith, Hope and Charity' – is the SMA motto. Faith, hope and Charity were the last three words spoken by the Founder as he lay dying. But much more than being the last words of a dying man, they were the driving force of his entire life as they were the driving force of the life of Fr. Liam Burke.
Faith… following the footsteps of Abraham, our Father in Faith, the prototype of the missionary stepping out in faith to answer God's call.
Hope… based on God's providence, the ability to see in a broken world the Redemption that has already taken place and the Salvation yet to come.
Charity… Love that was never just mere words but love that found expression in deeds, demanding, at times, that one's life be put on the line, that one be prepared to make even the supreme sacrifice if needs be.
Like the SMA Founder who had that great passion for mission, Fr. Liam always wanted to be a missionary from the bottom of his heart.
Interestingly, he spent his entire priestly life in Northern Nigeria during which time he worked in many different parishes, wore many different hats as he filled various posts during his missionary life. He moved around a lot especially in the earlier days of his ministry. It would be easier to give a resume of Nelson Mandela's life and catalogue his achievements than that of Fr. Burke. At least, Madiba of blessed memory was stationary for 27 years whilst he was incarcerated! So, you will forgive me if I am selective in highlighting only some aspects of the great service Fr. Liam rendered in the Archdiocese.
The early days
Fr. Liam served in numerous parishes. These included: Minna, Kontogora, Zuru, Gawu, Guni, Zonkwa, Our Lady's Independence Way and, finally, Queen of Apostles, Kakuri.
Those of you who are original members of the Church here will know that the parish was started in QAC chapel [Queen Amina College] while the construction of this church was in progress. As far as I am aware this Church is the only standing monument to Fr. Burke's building expertise. Building was never his strong point but being well-read and an expert on Vatican II documents, as well as in liturgical matters, was. You will find features in the building in keeping with the trends at the time. For example, this is the only church in the archdiocese that has a built-in baptistry catering for Baptism by immersion! It was one of the methods of Baptism discussed at our recent seminar on the RCIA. Fr. Liam was truly a great pastor beloved by his people.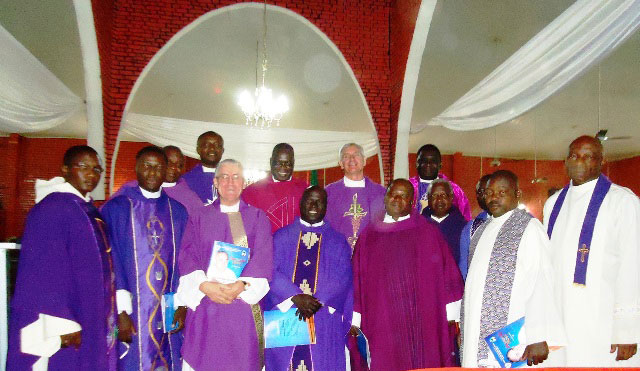 Some of the concelebrating priests including Fr Monaghan SMA

Role as Archdiocesan Secretary
Fr. Burke was to serve as Archdiocesan secretary under two archbishops viz: Archbishop McCarthy and Archbishop Jatau. Archbishop McCarthy transferred him from Zonkwa parish to the office where he performed with distinction… a very different post compared to what it is today. Not only did he serve as Chancellor, but lived in and maintained the "palace", served as Archbishop's driver, served as the Master of Ceremonies at major liturgical functions, served as the liason officer with Security at the State and Federal level, as well as the contact person with other Denominations and with Islam.
Fr. Liam had developed close friendships both with the leadership of other churches and with influential Muslim leaders within Kaduna and throughout Northern Nigeria. He was a promoter of Ecumenism and Inter-religious Dialogue long long before such matters ever became fashionable.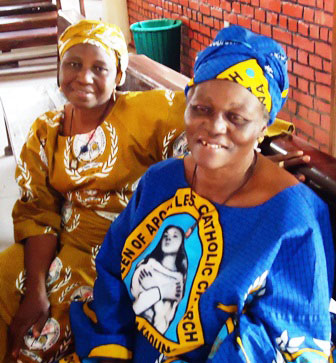 He was a perfectionist as Secretary. I remember well my first letter of appointment written by Fr Burke (in 1970) informing me that I was to take up duty as assistant priest in Maria Assumpta parish, Mabushi. It came by special delivery properly sealed embossed with the Archdiocesan seal. The letter itself spelled out the terms of reference. Not only was I to administer the parish but I was to traverse the Kaduna river and make contact with the people of Chawai with a view to establishing the Church there. It sounded wonderful to a young greenhorn missionary priest… I had visions of being another Stanley or a Livingstone blazing a trail of exploration and discovery! Little did I know that the appointment would last for a period of 10 days only. The Principal of St. John's would arrive bearing a similar well–penned sealed letter of appointment explaining an emergency that the HSC students were up in arms having no teacher. I was to proceed with immediate effect to St. John's College, Kaduna, to take up a teaching post there. So ended my initial pastoral experience in the rural area.
Fr. Liam was an excellent Secretary / Chancellor who was 'a mine of information' keeping tabs on all the arms of governance. Today, we have no less than 15 commissions planning and co-ordinating the activities of the archdiocese. Fr. Burke, singlehandedly, laid the groundwork for many of these commissions – for example: Ecumenism and Inter-faith Dialogue , Liturgy and Social Justice, etc.
Social Development
By far his greatest contribution was in the field of Community Development or Social Development – the forerunner of JDPC.
In 1958, Fr. Liam was sent to Ghana to participate in a social development project organized by 'Caritas International' which he, himself, described as "a catholic effort to prepare missionaries for a new era of Evangelisation on the cusp of Independence". He was to apply his administrative skills in self-help projects and other forms of community development when he returned to the Archdiocese. Eventually, he became Head and Co-ordinator of the Social Development Committee in Kaduna Province. His balanced and well thought-out approach earned him the trust and respect of Funding Agencies worldwide such as Miserior, Missio, Propaganda Fidei, etc. He was an invaluable contact person for the Archdiocese.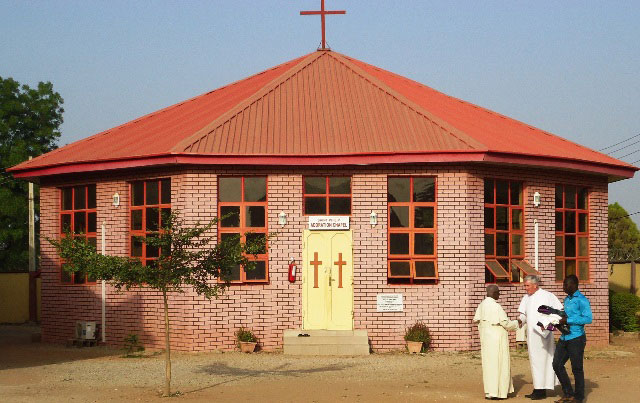 The Adoration Chapel of Our Lady of Apostles parish

A glorious highlight of the years he spent in Kaduna centred on the Papal Visit of the late Pope John Paul II to Kaduna in February 1982. Fr Liam was mandated to be the Chairperson of the Preparatory Arrangements for the visit, a task he executed with efficiency and distinction. Among his memorabilia is a prize photograph of himself with Archbishop Jatau and Pope John Paul. All three are smiling broadly but what is unique about the photo is that the Pope has his arms around the shoulders of a very happy Fr Burke drawing him playfully towards himself. It was a moment to relish. No doubt, Pope John Paul would return home to Rome further inspired to produce his Apostolic Exhortation 'Pastores dabo vobis' in which he states: "Priests must be men of integrity, balanced in judgement and behavior whose specific charism is 'pastoral charity'.. in other words to live in the image of The Good Shepherd". Fr Liam certainly lived in the image of the Good Shepherd.
Sadly, Fr Liam was forced to retire from Kaduna to the SMA Headquarters in 1999 due to ill health. He was sorely missed by the Archdiocese, most especially, by the good members of the Queen of Apostles parish and St. Gerard's Hospital where he served as Administrator during his term as Parish Priest here. I want to mention one group of parishioners, in particular, who were very dear to his heart. viz: The Neo-Catechumenate Way with whom he was so closely associated and must surely have very fond memories of him.
In his retirement, reflecting on his life's work, he wrote: "I lived through a blessed time as we tried to cope with an extraordinary time of grace. When I took my departure from Kaduna in 1999 I was leaving behind a dynamic young Church which I could quantify: 3 Ecclesiastical Provinces, 17 jurisdictions and over 300 indigenous priests. Of course, the numerical growth of the Church is only a symptom of the deeper reality… the spiritual edifice that we come to know and love.
Finally, suffice it to say, Fr Liam, a well-read man, a man of broad vision, of sharp critical intelligence was a man of profound spirituality. It was a spirituality that was the driving force underpinning his missionary commitment to the SMA and his faithfulness to the Archdiocese of Kaduna. It was a spirituality captured in a prayer he wrote himself in his retirement:
"Grant, O Lord, that we may never shrink from the task of proclaiming your gospel to the people of Africa, to all people to whom You sent us as missionaries. Grant us the courage to trust Your Word fully . We give You thanks for all you have achieved through Your humble servants. Grant us disinterest, Lord Jesus, so that we may not want to interfere in the young church we have now commended to You. Grant us detachment and the ability to realize that there is more joy in giving than in receiving. Let us pray for one another that through the intercession of Mary , the Mother of God and Our Mother, we may continue being members of a living Church in our lives on earth."
Fr Liam is survived by his sisters Maureen and Rev Sr Breeda; by his brothers Thomas and Martin, by his sister-in-law Anna.
We extend to them our heartfelt sympathy as we do to all who mourn his passing.
Fr. Liam professed all his life the hope of the Resurrection of the Body and the life of the World to come. May he now enjoy the fruits of his labour. We say: "Eternal rest grant unto him, O Lord, let perpetual light shine on him. May he rest in peace. May his soul and the souls of all the faithful departed rest in perfect peace. Amen."