The Catholic church in Cameroon is mourning the death of the parish priest of Bomaka, a district of Buea, the capital of the English-speaking region of South-West Cameroon, who was killed on Friday by unidentified individuals.
A Catholic parish priest, Fr. Alexendre Sob Nougi (42), pastor of the parish of the Sacred Heart in Bomaka, in the Cameroonian diocese of Buea, was killed on 20 July for reasons not yet clarified. His mutilated body was found on the road between Buea and Muyuka, 25 km northeast of Buea, which is the capital of the English-speaking region in the southwest of the country. His assailants are, as yet, unknown, in the Anglophone region of Cameroon as the security situation in the African country continues to deteriorate.
Fighting between security forces and armed separatists demanding an independent English-speaking state has become a daily occurrence despite attempts by priests and bishops at mediation, and travel in the African country is now considered dangerous.
Those responsible for the July 20 death of the priest in Bomaka, a district of Buea in the capital of Southwest Cameroon, remain at large with police not naming any suspects, africanews.com reports.
The Catholic Church represents one third of Cameroon's population but has taken flak from the International Crisis Group (ICG) for not adopting a neutral stance on the so-called "Anglophone question," the media reports.
Cameroon, which also faces an armed insurgency from the jihadist group Boko Haram in the north, is due to hold a presidential election on Oct. 7.
President Paul Biya is reportedly eyeing a seventh term but opponents of the 85-year-old say he must go as he has helped to foment the current crisis.
Meanwhile, Human Rights Watch (HRW) said in a June 19 report that many residents in the English-speaking region have suffered "grave abuses" at the hands of both warring sides as protests result in violent clashes.
Over 180,000 people have been displaced in the western region alone since December 2017 with kidnappings, torture and the torching of villages reaching a "crisis level," the agency said.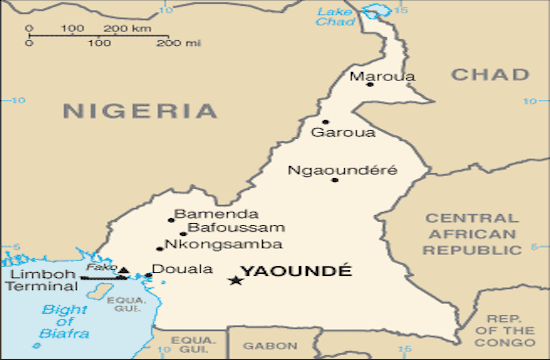 "The human rights situation in Cameroon has reached crisis level and could still get much worse," Masui Segun, Africa director of HRW, was quoted as saying.
"International action is needed to ensure that both sides protect civilians and ensure justice for crimes against them," he added.
La Croix International staff
Cameroon
The Vatican news agency, Agenzia Fides, reported the killing of Fr. Nougi on the 23 July 2018 as follows:
Buea (Agenzia Fides) – Fr. Alexandre Sob Nougi, 42, pastor of the parish of the Sacred Heart in Bomaka, in the Cameroonian diocese of Buea, was killed on 20 July for reasons not yet clarified. The serious incident occurred on the road between Buea and Muyuka, 25 km northeast of Buea, which is the capital of the English-speaking region in the southwest of the country. The priest, who was also known because he was a diocesan secretary for Catholic education, was hit by a stray bullet during a clash between military and separatists, while according to other reconstructions he was intentionally killed. In this area, as in the other north-west English-speaking region, there are frequent clashes between security forces and separatists, who claim an independent English-speaking state. Since the country's independence (1960), the English-speaking Cameroonians have accused the French-speaking authorities of marginalizing them, claiming that the authorities in Yaoundé impose the French language and traditions in courts, public offices and schools. For years the English-speaking provinces have asked for more space for their customs and habits and have demanded greater autonomy. Since 2016, demonstrations have become more frequent. On October 1, 2017, the most extreme fringes pushed to declare the independence of the two English-speaking provinces from Cameroon and the birth of the Republic of Ambazonia. This provoked an increase in tension in the two provinces, with increasingly bloody clashes between separatists and police, with hundreds of dead and wounded. According to the United Nations, 160,000 English-speaking Cameroonians have left their homes to seek refuge in other areas of Cameroon or abroad, especially in Nigeria. Last June Caritas launched an aid campaign for the people of the English-speaking areas. A situation has been created "marked by blind, inhuman, monstrous violence and by a radicalization of positions that alarm us a lot" the Bishops said in a declaration by the Bishops' Conference of Cameroon on May 16, 2018, urging: "Let us stop all forms of violence and let us stop killing each other … Let us save our country from a unfounded and useless civil war" (see Fides 18/5/2018; 26/5/2018; 29/5/2018). The Catholic Church is considered the only one capable of promoting dialogue between the parties. The next presidential elections should be held on October 7, 2018. (SL) (Agenzia Fides, 23/7/2018