"I want to bring you into my confidence to tell you what will happen if day zero arrives. Dam levels must at least be at 13.5%. If they go below that, that is the day we will turn off the taps.
"We have to exclude the densely populated areas like the townships. If we turn the taps off there, we face significant risks in those areas like disease."
If this isn't enough to jolt you into saving – if for some absurd reason you aren't already – then… well….ja."

– Mayor of Cape Town, Patricia de Lille
Writing for the on-line magazine The South African, journalist Tom Head reported (9 January 2018) that by January 14th "there'll be less than 100 days left until the taps are shut off" in Cape Town.
The crisis has been brewing for some time and warning, until recently, having been falling on deaf ears. However, the situation is now reaching critical point and it appears, residents are beginning to wake up and limit their usage of water.
However, despite an improved water consumption rate in the region, Cape Town is being choked by its dwindling supply left in the dams. That's according to the Mayor of Cape Town, Patricia de Lille, and the Western Cape government, who have brought 'day zero' forward by a week.
Head explains that 'Day zero' is the name given to the day where the Western Cape is forced to shut the taps off across the region. "Residents have used 578 million litres of water a day this week. That's the lowest consumption recorded since the water crisis began. However, it's still over the city's target of 500 million litres a day, thus forcing de Lille's hand."
When will day zero hit Cape Town?
According to The South African the Mayor and local authorities have brought it forward one week, from April 29th 2018 to April 22nd 2018. "By the end of this week, the municipality will be less than 100 days away from the taps running dry."
Western Cape dam levels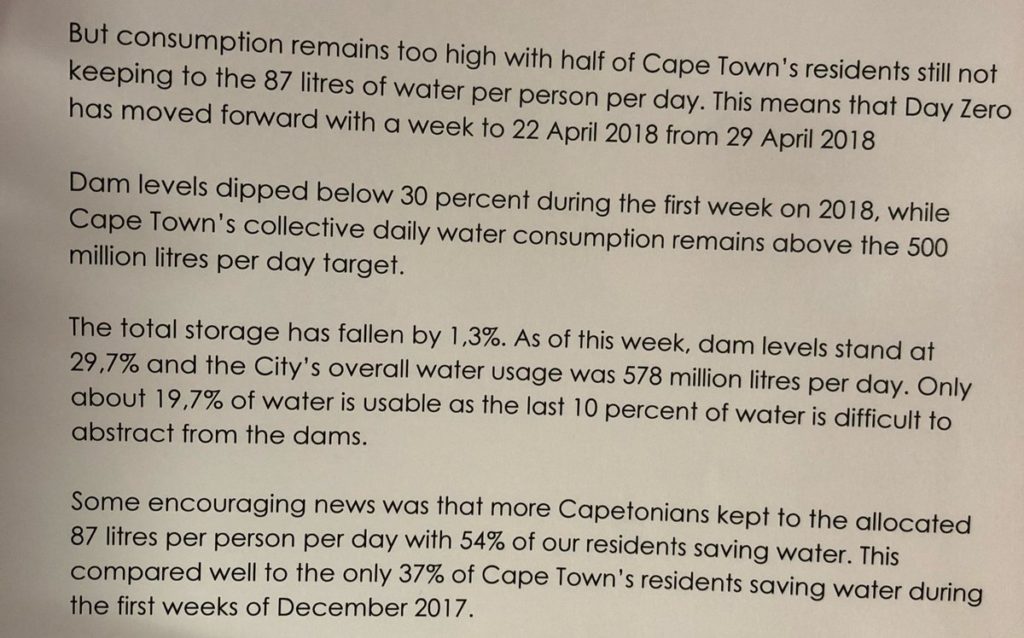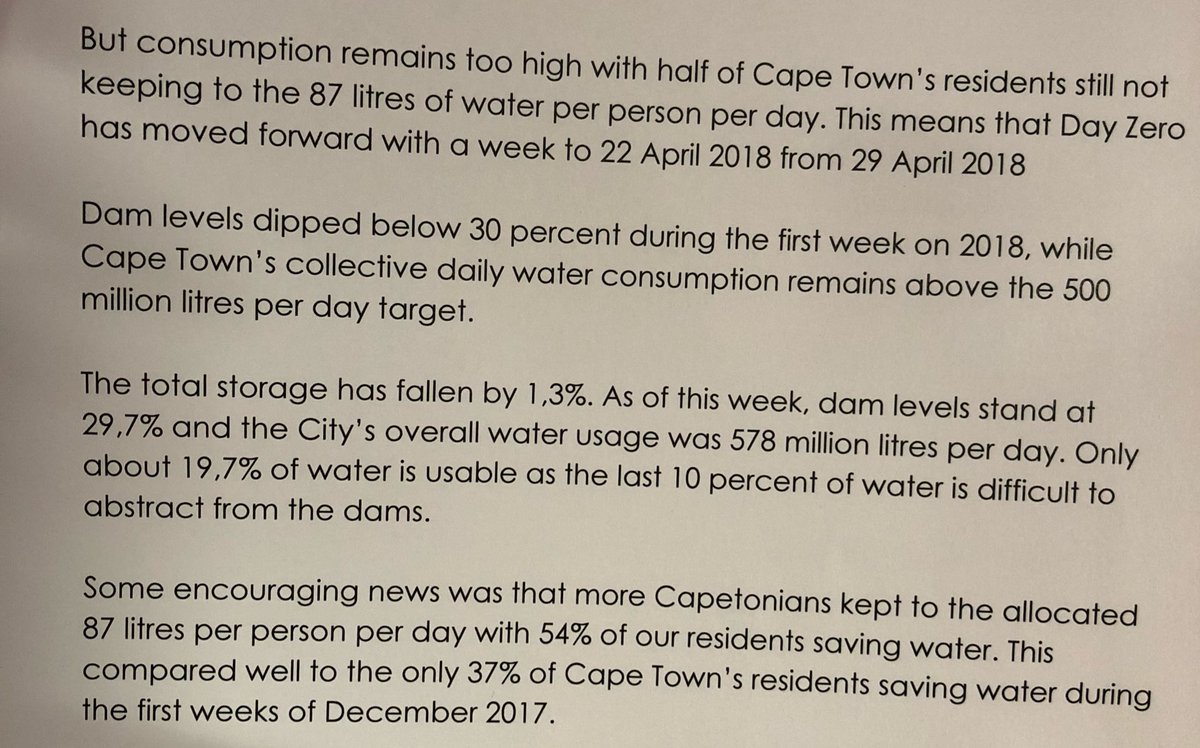 In the statement tweeted by Western Cape's government, Patricia de Lille confirmed the dam storage numbers we reported earlier on Tuesday. Capacity is now lower than 30% (at 29.7%), indicating a 1.3% decrease from last week's numbers.
However, Mayor de Lille did acknowledge those who have been fighting tooth and nail to save every possible drop of water. She stated it was 'encouraging' that more individuals are sticking to their personal usage targets of 87 litres per person, per day.
Journalist Head reported that this week's data shows "54% of Capetonians were using less than their 87's worth. This is a major improvement, in comparison to last week's figures which showed just 37% of residents stuck to their limits."
In early December the City of Cape Town insisted that there will be no 'day zero'. But with dipping dam levels, scorching temperatures and incoming tourists, a few folks are getting pretty nervous.
What might Day Zero look like?
What would Day Zero actually look like if such were to happen? What might happen? It's likely to be a gradual process, but the South African magazine, Bloomberg, interviewed some who offered insights.
Bob Scholes, a professor of systems ecology at the University of Witwatersrand in Johannesburg, had this to say.
"Running out of water in places that have a highly developed water infrastructure is not that common," he said. "I know of no example of a city the size of Cape Town running out of water. It would be quite catastrophic."
Clem Sunter, an independent scenario planner who has also been advising the city, meanwhile, painted a grim picture.
"I don't want to underestimate how catastrophic Day Zero could be. It would require thousands of tankers to provide a minimal level of water to each person. You would have to think of temporarily evacuating people."
At current levels, estimates put Cape Town as 'safe' until the end of April 2018. This is when the dam levels will reach 10% if current usage continues. With the next rainy season still months away, residents are constantly reminded that they need to do absolutely everything to save water.
TimesLive reported in November that people will have to make do with 25litres of water per day for washing, cooking and personal hygiene if dam levels drop below 13.5% in Cape Town.
Back then, mayor Patricia de Lille described what Day Zero will look like.
"I want to bring you into my confidence to tell you what will happen if day zero arrives. Dam levels must at least be at 13.5%. If they go below that, that is the day we will turn off the taps.
"We have to exclude the densely populated areas like the townships. If we turn the taps off there, we face significant risks in those areas like disease."
If this isn't enough to jolt you into saving – if for some absurd reason you aren't already – then… well….ja."