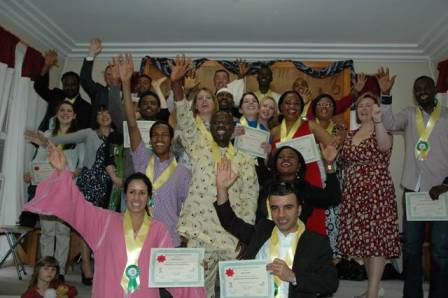 BUILDING IDENTITY IN A MULTICULTURAL SOCIETY
Since its foundation in 2002 Cois Tine has provided pastoral support to Immigrants. However, in the following years, Cois Tine's role has, with the changing situation, evolved from providing basic support and initial welcome for the newly arrived to the provision of social, psychological and spiritual supports to those who have been resident here for a long time sothat they can participate in society and engage in active citizenship.
One of the ways Cois Tine does this is by providing training. On the 11th of September Certificates were presented to twenty people who completed a Course called "Building Identity in a Multicultural Society."
The comprehensive course run over the summer involved participants from; Ireland, Nigeria, Cameroon, Sudan, Germany, Ethiopia, Eritrea, Germany, Morocco, Somalia and Iraq. The course consisted of facilitated input from trainers and also activities in which participants worked with each other. In a speech made at the Presentation Event it was remarked that the biggest learning in the programme was what participants taught each other and the realisation that while we are different we can respectfully, live with, work with and be with each other.
The course was set up in collaboration with NASC the Irish Immigrant Centre and funded by the OLA Sisters and the Sisters of Our Lady of Charity Trust Fund. The course was facilitated by Ann Nagle, Cathal Casey and Emer McCarthy.