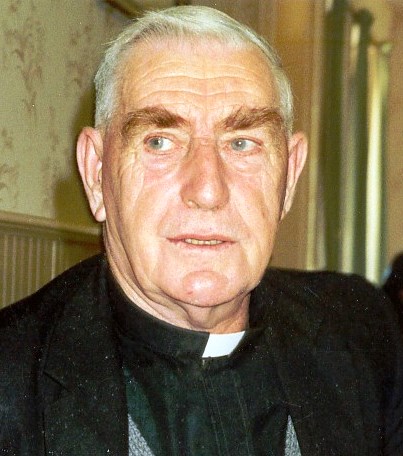 The Society of African Missions [SMA] is mourning the death of its most senior Brother, Br Tom Fitzgerald SMA. He was in his 100th year.
Br Tom died peacefully at 1.35 am in St Theresa's, SMA House, Blackrock Road, Cork on Thursday, 1 February, feast of St Brigid, Muire na nGael. A native Irish speaker from Cahirscullibeen, Ballydavid, Co Kerry, Br Tom became a member of the Society in 1940. He served for fifty years in the diocese of Ondo, Nigeria. He was noted as a builder – churches, schools, clinics and residences. His greatest concern was, not for buildings, but for the poor and particularly the lepers of Ondo State. He built the Ago Ireti Leprosy settlement in Akure as a practical expression of that concern.
He is predeceased by his parents, Patrick and Mary [née O'Shea], his siblings, Cáit, Máire, Bridie, Sean and Michéal.
Solas Mhic Dé ar a anam. 
Removal from the SMA House, Blackrock Road after Prayers at 7pm, Friday, 2 February.
Funeral Mass in St Joseph's SMA Church, Wilton, Cork at 12 noon, Saturday, 3 February.
Click here to watch the Funeral ceremonies for Br Tom on Friday @ 7.30pm and his Funeral Mass at 12 noon on Saturday in St Joseph's SMA Church, Wilton, Cork.
Tá Cumann na Misnéiri chun na h Aifrice faoi bhrón mar gheal ar bhás an bhrátair Tomás Mac Gearailt. Bhí sé i mbliain a chéad. Is as Cathairscilibin, Baile na nGall, Co Ciarraí a tháinig an bhrathair Tomás. Fuair se bás suaimhneach tí SMA, an Charraig Dhubh, Corcaigh.
Chaith sé leith chéad bliain ag obair i ndeoise Ondo, sa Nigéir áit a raibh sé i gceannas togaí séipeil, scoileanna, clochair, clinicí agus teach le hagaidh curam labhar Ago Ireti, Akure.
 
Beannacht Dé lena anam.