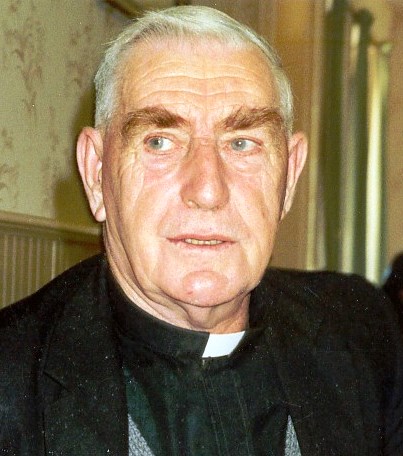 "Schools, churches, dispensaries, Ago Ireti Leprosarium… some of the many structures you built with skill and mastery both of the local customs, geographical condition and budget to enable the SMA to concentrate on the pastoral care of souls and the education and health care of generations that will shape the religious, spiritual and the sociocultural life of Nigeria in the future. Sun re o Brother Tom! (Rest in peace, Brother Tom) Ódìgbà ní esè Jésù (Until we meet at the feet of Jesus)."
These words of Fr Basil Soyoye (SMA Nigeria) are his tribute to Brother Tom Fitzgerald who passed to his eternal reward early on the morning of 1 February 2018, Feast of St Brigid, in the SMA House, African Missions, Blackrock Road, Cork.
Brother Tom was in his 100th year, the son of Patrick and Mary (née O'Shea). He is survived by his sister Eileen (Sayers), nephews, nieces, grand-nephews, nieces, a wide circle of friends, particularly in the diocese of Ondo, Ilorin and Ekiti where he served for 50 unbroken years. He has gone to join his parents and siblings, Cáit, Máire, Bridie, Seán and Michéal in the bosom of the Father.
Thomas Fitzgerald applied to join the Society of African Missions as a Brother on 28 November 1937 and on 1 November 1940 he became a member of the Society to whom he dedicated the rest of his life which drew to a close on 1 February last.
From 1940 to 1950, Br Tom served in the SMA Motherhouse on Blackrock Road, with several responsibilities including that of Church Sacristan. During those years he trained many young boys as Altar servers, some of them later becoming SMA priests. One of them, Fr Hugh McLaughlin, was to become Vicar General (deputy to the Bishop) in Ondo diocese where he renewed his great friendship with the man who helped to nurture his vocation. Br Tom also served in the SMA House, Wilton, Cork.
In 1942 Br Tom wrote, "that when ordered to do so by my superiors I will set out without delay for any of the mission confided to the Society…, and that I will give my work and attention to the saving of souls…". Br Tom's wish to go to Africa was eventually realised when, in January 1951, he was appointed to the diocese of Ondo-Ilorin, then under the leadership of Bishop William Field SMA. (In 1969, Ilorin became a diocese in its own right and a second diocese was created in 1972, that of Ekiti). Br Tom left by boat from Liverpool for Nigeria on 23 May 1951.
Photo taken in 1954 in Akure shows Br Tom in the back row, 2nd from the right.

Mr Mike Omoleye, a former pupil of Aquinas College which Br Tom helped to build, became a journalist and in 2001 he interviewed Br Tom, no small feat with a man who never wanted to draw attention to himself. "While missionaries and local priests continue to spread the Good News one missionary Brother has dedicated his life to the provision of earthly accommodation to foster the work of Christ so that Christians can start to dwell in the 'heavenly' mansions on earth before getting the keys to the heavenly abode." As well as devoting his life to building he was often the surveyor and architect as well.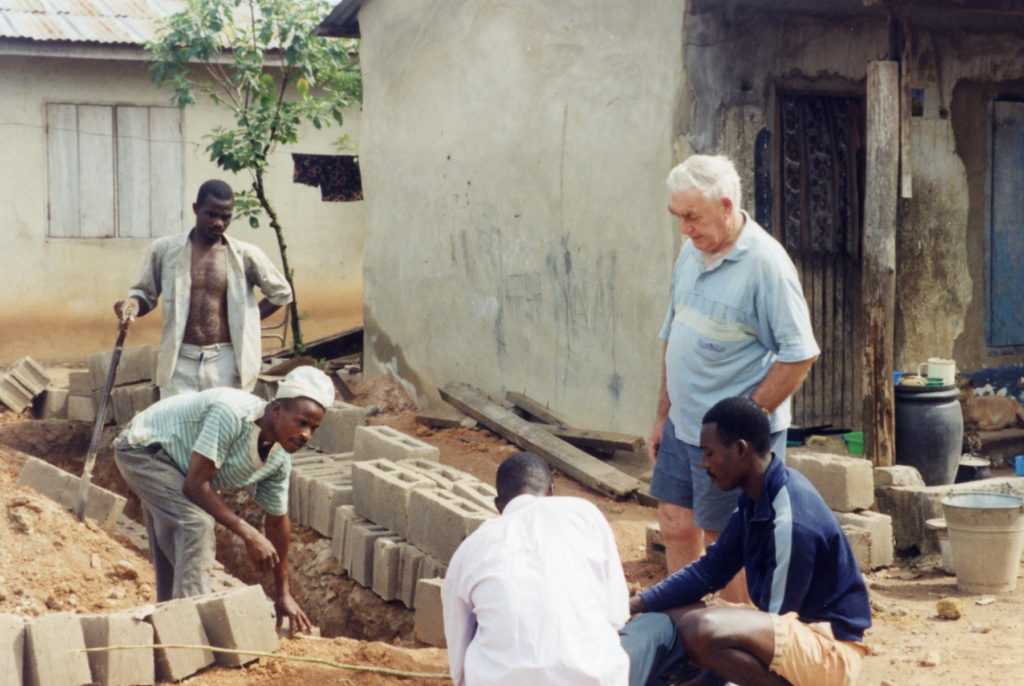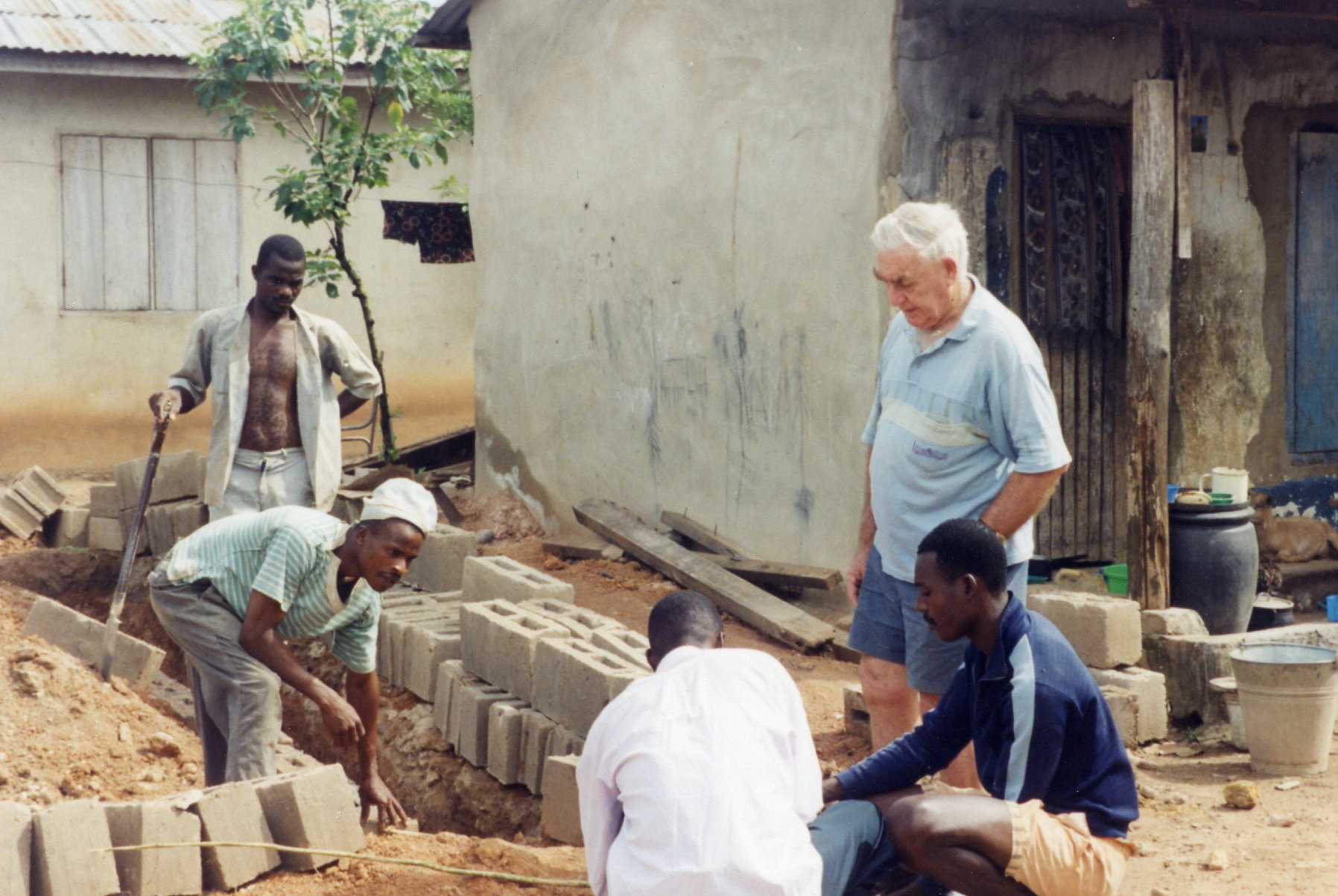 In an article written by Fr Peter McCawille for the SMA African Missionary we read, "The diocese of Ondo is dotted with churches, schools and hospitals which stand as monuments to his dedication as a missionary. A huge amount of the infrastructures for evangelization, education, health care and formation within the diocese owe their existence to his competence. … In Nigeria he didn't confine his building skills to bricks and mortar alone. He was also committed to building lives and long before the words became fashionable he provided 'skills training' for many workers especially those who were poor."
Fr Michael McCabe, preaching at the Funeral Mass, spoke about a particular project dear to Br Tom – that of the Ago-Ireti (Camp of Hope) Leprosarium. In addition to what Fr Michael said we note that he developed a number of self-help projects with the lepers: farming, shoemaking, dressmaking, tailoring and knitting. There were many Catholics among the lepers and he built a Chapel for them to gather for prayer. Asked about whether he was afraid of getting leprosy (as happened to St Damian of Molokai) he said that he never went there whenever he had a wound of any sort and each time he goes there he washes his hands with soap and antiseptic.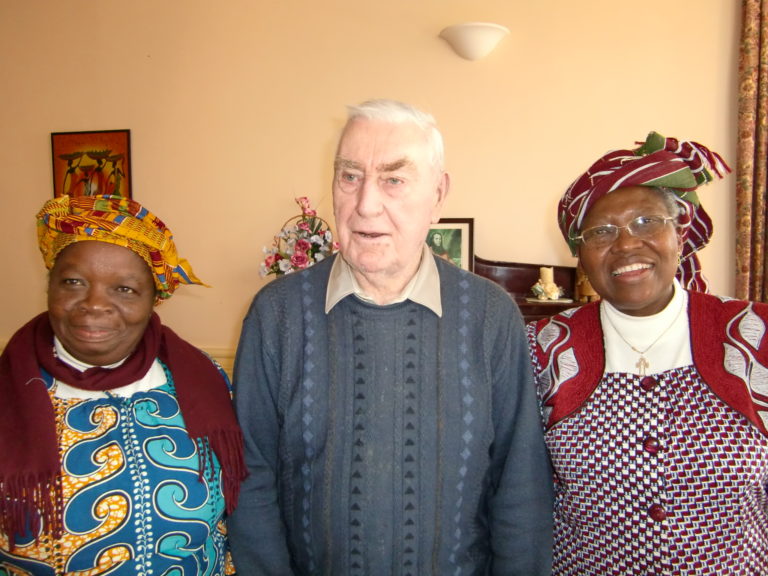 His work at Ago-Ireti was greatly helped by a Saint Louis Sister, Sr Philomena McGuinness. Sr Phil addressed the medical and other needs of the lepers with the assistance of other Sisters and lay people. Sr Phil kept up her contact with Br Tom and visited him regularly in Blackrock Road right up to his death. His family were also frequent visitors to Blackrock Road and their conversations were always as Gaeilge, Br Tom's first language.
Other buildings which bear the stamp of his skills: St Thomas Aquinas College in Ondo, Maria Assumpta hospital and a primary school in Ado-Ekiti, St Louis Convent in Ode Irele, St Louis Secondary school and the Bishop's house in Akure, schools in Okitipupa and Ilorin. AS one missionary said of him, "his buildings are legion, hundreds all over three dioceses". It cannot go without mention that Br Tom's family 'back in Kerry' were supportive of his work down the years and gave generously to his work. Go raibh míle maith agaibh.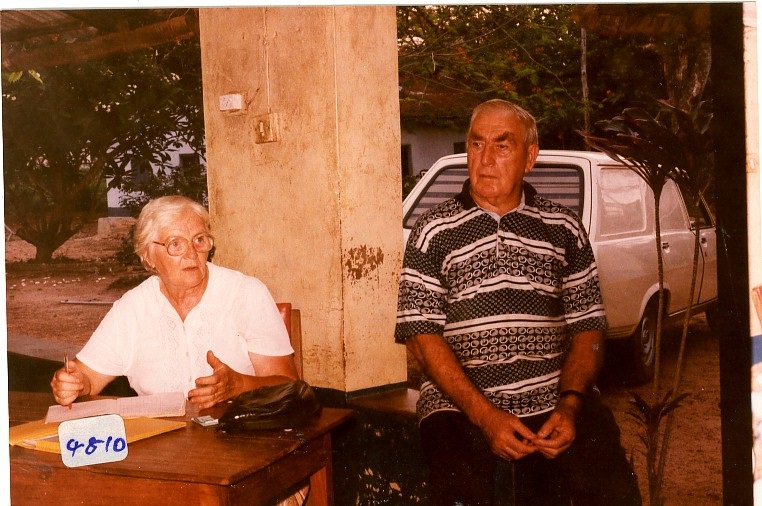 Photo of Sr Phil McGuinness SSL and Br Tom Fitzgerald SMA.
In a separate article on the occasion of Br Tom's Golden Jubilee as a Brother (1990), Fr McCawille summed up the man as follows, "I had always associated those in the building line with being rugged and robust people who were prepared not only to call a spade a spade but prepared to use it as well. No doubt he possesses those qualities in abundance but he manages to disguise them quite well. Though strong and sturdy he is also genial and gracious, a gentle breeze rather than a howling Gael… A man of prayer whose actions spoke more loudly than his words."
Br Tom was not a man of many words but, on this occasion, I leave the last words to him (again from the 2001 Mike Omoleye interview): "I am at peace internally and with my God. If you can search your mind and discover that you have not done evil in thought or deed to anyone during your career, you should feel happy at 82."
With villagers after completing a building project
Ar dheis Dé go raibh a anam dílis.