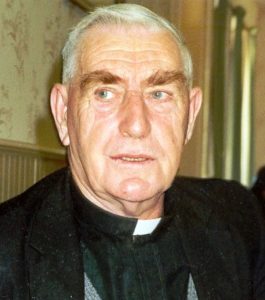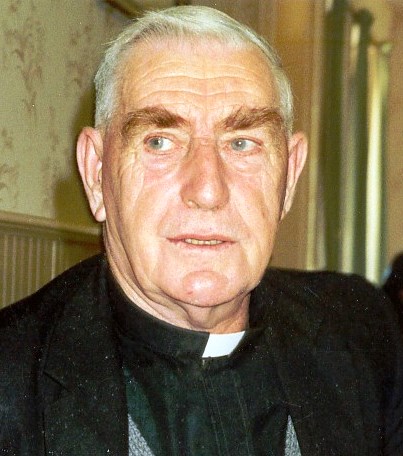 Brother Tom Fitzgerald SMA was laid to rest in the SMA Community cemetery adjacent to St Joseph's SMA Church, Wilton, Cork on Saturday, 3 February 2018. Br Tom had died early on the morning of 1 February, Lá Fhéile Bríde, in St Theresa's Unit, SMA House, Blackrock Road, Cork.
Fr Michael McCabe, SMA Provincial Leader, was the Principal Celebrant of the Funeral Mass with 40 SMA priests concelebrating.
Introduction of Fr McCabe SMA
We gather in this Church today to bid farewell to our dear confrere, Brother Thomas Fitzgerald, better known as 'Brother Tom', and assist him with our prayers as goes on his final journey to meet the Lord to whom he dedicated his entire life as an SMA missionary.
I extend a warm welcome to all who have come here today for this funeral Mass: members of his family, friends and neighbours, SMA confreres, visiting priests and Sisters – OLA, St Louis Sisters, especially Sr Winnifred Ojo (Superior General) and Sr Philomena McGuinness (a long-time friend and helper of Fr Tom in Ondo diocese).
I wish to convey my condolences to his sister, Eileen Sayers, who is unable to be here today; his sister-in-law, nieces, nephews, grandnieces and grandnephews, relatives and friends, SMA confreres and the people of Ondo and Ekiti Dioceses, Nigeria. I wish also to express the condolences of Bishop Michael Fagun (Ekiti) diocese and Fr Reginald Nwachukwu, Superior of the Nigerian District-in-formation.
We remember in this Eucharist the deceased members Br Tom's family, his parents, Patrick and Mary; his sisters, Cáit, Máire and Bridie; brothers Sean and Michéal; deceased relatives and friends as well as deceased members of the SMA and OLA families.
With me as Principal concelebrants are SMA Fathers Val Hynes and James Clesham, who lived and worked with Br Tom in Ondo Diocese.
As we prepare to celebrate this Mass we acknowledge our need of God's mercy and forgiveness.
————————-
Following readings from Apocalypse 21:1-7, 2 Corinthians 4:14-5:1 and Matthew 25:31-36, Fr Michael preached the following homily.
"Now I am making the whole of creation new… I will give water from the well of life free to anyone who is thirsty; it is the rightful inheritance of the one who proves victorious; and I will be his God and he a Son to me."
"For we know that when the tent that we live in on earth is folded up, there is a house built by God for us, an everlasting home not made by human hands, in the heavens."
"Come, you who are blessed by my Father, inherit the kingdom prepared for you from the foundation of the world"
Brother Tom, who during his life used his hands to build houses, schools, churches and convents, had departed his earthly home to enter that 'home built by God for us, an everlasting home not built by human hands, in the heavens'.  Having spent his life in the service of the Lord as an SMA missionary, reaching out especially to the poorest and most neediest of God's children, he has gone to his reward with the welcoming words of Christ ringing in his ears: 'Come, you who are blessed by my Father, inherit the Kingdom prepared for you from the foundation of the world'. Brother Tom was the oldest member of the SMA Irish Province. He had a long and fruitful life in the service of Lord as a member of the Society and was in his 100th year when, on the feast of St Brigid, Patroness of Ireland, the Lord decided to call him home. While his passing from us will be mourned by the members of his family, his SMA confreres, the people he served in Ondo and Ekiti dioceses, and many friends, we remember his life with gratitude and commend him to the God of mercy and love.
Tom was born in Cahirscullibeen, Ballydavid, Dingle, Co Kerry, on 25 January 1919 to Patrick Fitzgerald and Mary O'Shea. He was the eldest of a family of six, three boys and three girls. Following his primary education at Feohanagh Primary School, he attended the Christian Brothers School, Dingle, for his secondary education. Through the influence of Fr John Brown SMA, and also a Kerryman, Tom felt called to offer his life as a missionary in the service of the people of Africa. Thus, in 1938, he entered the Novitiate of the Society in Cloughballymore, Co Galway. He became a permanent member of the Society on 2 November 1946.
From 1940 to 1950 he had various assignments in Blackrock Road and Wilton Houses, In 1951 Brother Tom was appointed to the diocese of Ondo, Nigeria, where he was to labour for the next 50 years. His arrival coincided with a building boom and he launched himself into it with typical zest and determination. His first assignment was to supervise a furniture project at the recently-established St Thomas Aquinas College. The project proved to be a great success satisfying the growing demand for school and church furniture. After four years in Akure, Brother Tom moved to Ado-Ekiti and began his career as a builder. Though raised on a farm, his talent as a craftsman was evident at an early age and he cultivated an interest in carpentry, plumbing, and brick-laying.
In the Nigeria of his day, Brother Tom found ample scope for his skilful and generous hands and quickly earned a reputation as a 'master builder.' A huge amount of the essential infrastructure for evangelization, education, health care, and formation in the diocese of Ondo owe their existence to his competence. He constructed, or supervised the construction, of multiple schools, hospitals, churches and mission houses throughout the dioceses of Ondo and Ekiti, and further afield. He left an indelible mark in places like Ado-Ekiti, Ode-Irele, Ondo, Okitipupa, Ilorin, Oro and Akure. However, Brother Tom was not just builder of mortar and bricks. He was primarily an evangeliser, committed to building lives, and, long before the word became fashionable, he provided "skills training" for many local workers, especially the poor. In this he was following the example of his Lord and Master who said: "I have come that you may have life and have it to the full" (John 10:10)
The project dearest to Tom's heart, one to which he was to devoted many years of his life was the renovation of a village for a community of lepers at Ago-Ireti (in English, Camp Hope) on the outskirts of Akure town. This leper village, established by the Nigerian government in 1947, had been badly neglected for many years, leaving the lepers to live in appalling conditions. Moved by the plight of the lepers, Brother Tom undertook the mammoth task of rebuilding it, helped by donations from many sources, including the SMA Irish Province, and members of his family in Ireland. In ten years he built ten blocks of spacious and well-ventilated room (five rooms to a block), a Chapel, and a nursery for the children. He also built proper toilet blocks in conformity with UNICEF regulations as well as five external communal kitchens, an isolation block for infectious cases, and a clinic with a dispensary. In all this labour Brother Tom was supported and helped by his dear friend, St Louis Sister, Sr Philomena McGuinness.
After fifty years of missionary service in Nigeria, Brother Tom, at the age of 82, returned to Ireland to live in contented retirement at Blackrock Road, participating fully until recently in the life of the community. I only got to know him when I came to Cork in 2013 but I feel privileged to have known a man described by a Nigerian journalist as "a titan in the history of Catholicism in Ondo State". I found him a quiet, no nonsense, private, independent, simple and prayerful man. He had deep faith and great integrity: a man of few words, content to let his actions speak for him.  Asked one time, in an interview to what he attributed his longevity he replied with characteristic terseness; 'God and hard work' When further asked about what he considered most important in life he answered: 'Be straightforward and put yourself at the disposal of the people'.
Unassuming and straightforward, Tom was not one to blow his own trumpet and he didn't really want others to blow his trumpet either. Nevertheless, his remarkable contribution to the development of the Church in Ondo diocese was recognised and honoured. In January 1999, at the request of Bishop Francis Alonge of Ondo diocese, Brother Tom was granted the Papal Award, Pro Ecclesia et Pontifice 'for meritorious service to the Church in Ondo Diocese'. Explaining the significance of this award, Bishop Alonge stated that this high honour was "symbolic of our appreciation of your Society's immense contribution to Evangelization in our Diocese."
When Brother Tom's health began to decline in recent times, he moved to the nursing unit of Blackrock Road where he was very well cared for by Sister Margaret and the nurses and Staff of St Theresa's. Thankfully, he did not have to endure his final suffering for two long and just two days ago on the feast of St Brigid, he died peacefully, less than a year short of his 100th birthday. May the Lord welcome him into the company of Mary, Brigid and the Saints to share in the glory promised to all God's faithful servants. And may we who continue on our journey to our final destiny draw strength and inspiration from the example of his life. "Ar dheis Dé go raibh a anam dilis"
Michael McCabe SMA
Provincial Leader