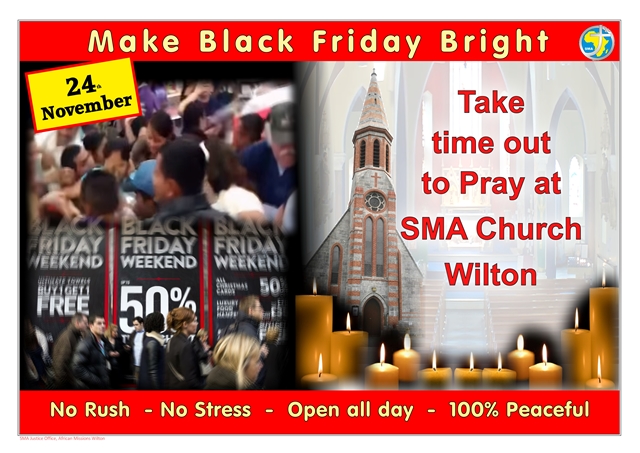 Black Friday is the day following Thanksgiving Day in the United States (the fourth Thursday of November). Since 1952, it has been regarded as the beginning of the Christmas shopping season in the U.S. Black Friday has caught on in Ireland also. What started as an American tradition has become one of the biggest days in the year here, with Irish consumers expected to spend about €74m on weekend.
An initiative to offer people an alternative to the hype of the so-called 'Black Friday" shopping frenzy is gaining momentum in Ireland. It's being called "Bright Friday" and what it involves is giving people the option of attending a spiritual program on that day. Newman University Church, Stephens Green, Dublin is organising an event from 1pm to 7pm on the 24th November. It is a free event and will involve many of the leading spiritual thinkers in Ireland such as Daniel O'Leary, Sister Stan, Brian D'arcy, Martina Lehane Sheehan, and Mark Hederman.
In an attempt to bring the initiative of "Bright Friday" to Cork the SMA parish in Wilton will host a day of Quiet Prayer on that day also. We are seeking the support of parishioners and adjacent parishes and all the groups in the diocese who encourage quiet adoration to join with us in offering to the shoppers in the adjacent shopping centre an option to pause and reflect on a day when shops can be "black with people" rushing around looking for bargains.
Through the medium of our SMA web site we would like to invite anyone who wishes to join with us for a period of quiet prayer to come and be with us on the day. We will be in the church from 10am to 6pm. It's our way of offering people an opportunity to have a day of calm and reflection in opposition to the increasing dominance of "Black Friday", November 24th. Come when you can, and go when you wish.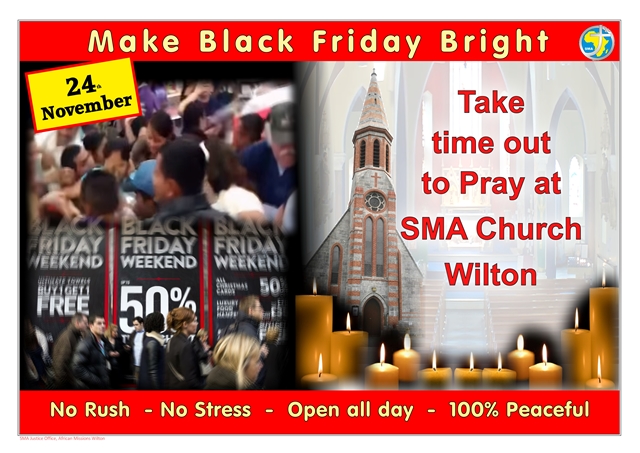 Please help us to promote the SMA 'Bright Friday' initiative in Cork by informing friends, relatives, neighbours and colleagues, and inviting them to join us.