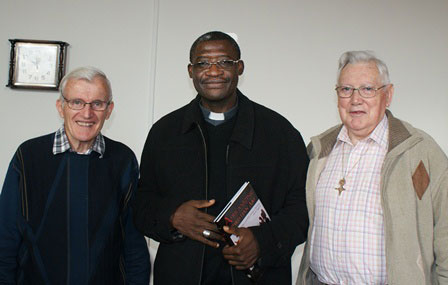 Late last year Bishop John Namanzah Niyiring OSA of Kano diocese, Nigeria visited the SMA community at Blackrock Road to meet some of the missionaries he knew as young man, seminarian and priest. Accompanying him were two Irish Augustinians, Frs Vincent Ahern and Brendan McDonnell who had also worked in Nigeria for many years.
(Sadly, on 28 October 2012 the Church where Fr Ahern ministered for several years – St Rita's, Kaduna City, was seriously damaged in a suicide bomb attack and many people attending Mass were killed or injured.)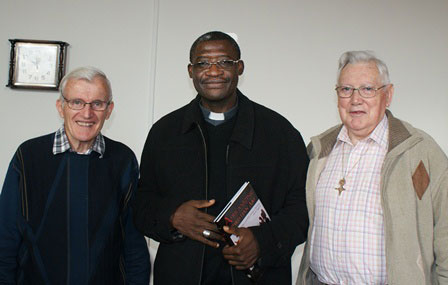 Bishop Niyiring was born in Zonkwa (Archdiocese of Jos) on 4 June 1960. He was baptised by the late Fr Gregory McGovern SMA in Aduwan. He believes that if Fr McGovern had not built St Gregory's Primary School in the neighbouring village of Kankada, he would never have received an education.
After completing his primary level he moved to Kaduna City and attended St John's College where Fr John Gubbins SMA was on the teaching staff. This College has since been renamed Rimi College, losing its connection with the Catholic Archdiocese of Kaduna which built it. With his WAEC results the young John Niyiring began studies at Ahmadu Bello University, Zaria. But even there his connection with the SMA continued and he credits the late Fr Sean Rafferty SMA with his joining the Augustinians! We did not ask the bishop how it was that an SMA encouraged him to join a different group than his own!! Fr Rafferty was the Chaplain in the University at the time. What was the SMA's loss was the Augustinians gain!! The young university student took Fr Rafferty's advice and enrolled at St Augustine's Major seminary in Jos. He was ordained a priest in 1992.
Kano diocese was created from Kaduna Archdiocese in 1991 as a 'Missio sui iuris' with Fr John Brown SMA as Ecclesiastical Superior. On 15 December 1995 it was raised to the status of a Vicariate Apostolic under the leadership of OSA Bishop Francis Sheehan as Vicar Apostolic. Bisho Sheehan had already served as Bishop of Yola since 1970. In 2008, Bishop Sheehan handed over to his confrere, Bishop Niyiring who was ordained bishop on 13 May 2008
The first missionaries arrived in Shendam in 1906. The three SMA priests decided that this was the town where they would establish the first Catholic church in this part of Nigeria. The three priests moved north to different villages and towns. Monsignor Oswald Waller SMA administered the sacrament of baptism in Kano in August 1919. He secured a plot of land to build a church there in 1922, in Sabon Gari. Three years later, St Elizabeth's Church, was officially opened.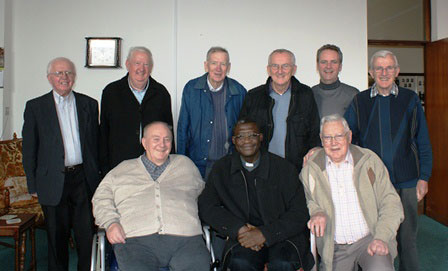 Our picture shows Bishop Niyiring flanked by Frs Liam Burke (on left) and the late Fr Billy O'Sullivan who died on 25 March last (RIP). In the back row are Frs Bernie Cotter SMA, Vincent Ahern OSA, Jim Kirstein SMA, Brendan McDonnell OSA, Damian Bresnahan and Bishop Tim Carroll, bishop emeritus of Kontagora.
Five years later, the area was divided and Monsignor Alphonse Schall SMA was appointed as Prefect of Northern Nigeria with his headquarters at Kano. It covered the area north of the two great Nigerian rivers, the Niger and the Benue. In 1934 this was divided again into two Prefectures, Kaduna and Jos. As Kano was now part of Kaduna Prefecture the headquarters moved south to Kaduna city.
Our Lady of Fatima Church was built in 1954 and despite its huge size it quickly outgrew the four Sunday Masses (five more were being celebrated in the Social Centre). In 1994, because of the need to accommodate the growing number of worshippers Fr John Brown SMA began an extension to what is now the Cathedral Church of the diocese, measuring 50mts by 36mts and accommodating nearly 4,000 people. Today there are 23 parishes in the diocese, which covers 43,178 sq kms.