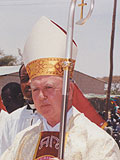 Statement of Bishop Patrick J Harrington SMA
Fr Fabian Hevi SMA, Regional Superior in Kenya, attended the installation of the 3rd bishop of Lodwar, Rt Rev Dominic Kimengich, on 30 March 2011. Fr Hevi writes: " There was a colourful liturgical celebration with 20 bishops present including HE John Cardinal Njue and the Apostolic Nuncio to Kenya, Most Rev Alain Paul Lebeaupin, and a great number of priests, Religious Sisters and Brothers and the lay faithful. Please find attached Bishop Patrick Harrington's address at the end of the ceremony.
My Dear Sisters and Brothers,
First of all, I would like to thank God for giving me the privilege and strength to serve as Bishop of Lodwar for eleven years. For me, He has been at all times, the Rock, the Guide, the Solace and the Comfort in carrying out my duties.
Secondly, I wish to thank the Turkana people and all who live and work in this vast County for their cooperation over the years. Together, we have been able to achieve some improvements here and there, as well as assisting each other in trying to deepen our faith in the Lord Jesus Christ. We will leave it to others to carry out the inevitable evaluations, and to God Himself for the final, merciful judgement.
Thirdly, my gratitude goes to all the Sponsors and Benefactors from around the world who have given their prayers, time, interest and money to improve the quality of life of the children, women and men of Turkana. God will surely bless you for your generosity.
Fourthly, I am grateful to the Holy Father, Pope Benedict XV1 for understanding and accepting my reasons for retiring from the Episcopal Ministry in Lodwar Diocese. As he said himself in his recent book:*
" when one realises that he is no longer physically, psychologically and spiritually capable of handling the duties of his office, he has the right and, under some circumstances, also an obligation to resign."
In this statement, he is simply reflecting Church Law (Canon 402 #2). But he goes on to advise that one should leave office "at a peaceful moment." For me, this is "a peaceful moment" and all circumstances taken together indicate that the time is right.
This year (2011), the Catholic Church in Turkana will celebrate fifty years. At the end of 1961, the first missionaries officially came to this place. Over the years, missionaries (men and women) – in collaboration with dedicated catechists, diocesan clergy and lay faithful – have been doing their part to establish the Reign of Christ in this vast and challenging part of Kenya.
As a missionary myself, I chose as my Episcopal motto in March 2000: Vias Parare Ejus (To Prepare His Ways). In my judgement, after fifty years, it is now "the peaceful moment" for Kenyans to assume full responsibility and all leadership roles of the Church here in Turkana. Of course, this will be done in solidarity with the universal church. However, one of the objectives of the so-called "Missionary Bishop" is to prepare the way and to put himself "out of business" at the appropriate time. Now is the acceptable time.
Fifthly, I would like to thank the Apostolic Nuncio and my colleagues of the Kenyan Episcopal Conference for their friendship and support over the years. I am happy that I have been able to make some contribution to the work of the church at national level and to Kenyan society at large.
Finally, in appointing Bishop Dominic Kimengich as Bishop of Lodwar, Turkana has received a dedicated, prayerful and well-qualified Shepherd. I know that all of you will work well with him to bring about the Kingdom of God within yourselves and in this area.
Turkana will always remain in my heart and in my prayers. The people and the place are truly special.
Thank You and Farewell. Goodbye.
Signed: +Patrick J. Harrington SMA, Bishop Emeritus of Lodwar 30th March 2011
*Light of the World: Paulines Publications & Ignatius Press. 2010 p. 41.