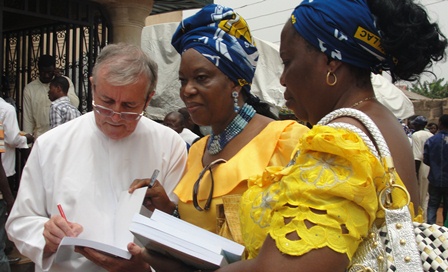 Benin City celebrations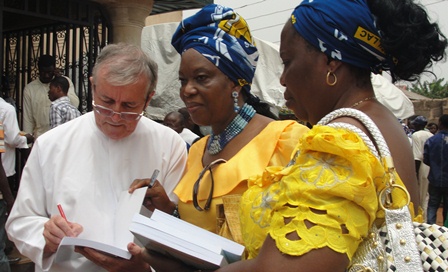 St Patrick's Day 2012 was a special day for the parishioners of St Andrew's Church, Benin City, Nigeria. On that day, they celebrated 150 years of SMA missionary work in this part of Nigeria. At the end of the Mass, Fr Peter McCawille's book, We will remember them, was launched.
When the first SMA missionaries, from Italy and France, set foot in Nigeria it was still a British colony. Thank God it is now an independent Federal Republic with huge natural resources, particularly oil. But Nigeria's greatest resource is its people, coming from 100's of different groups. It is estimated that 20% of the entire African continent are Nigerian.
And from the arrival of SMA missionaries Fr Francesco Borghero in Lagos and Fr Carlo Zappa the Catholic Church has grown in leaps and bounds.
We will remember them is a book recalling the lives, and deaths, of 425 foreign missionaries, many of them SMA bishops, brothers and priests. Also remembered are OLA Sisters, diocesan priests, Sisters and brothers. It covers the period 1884 – 2011. Rightful remembrance was also made during the Mass of the local Catechists and other lay women and men who also shared in the work of evangelization that has brought the Christian faith to all parts of the Nigerian Federation.
Fr Peter is pictured autographing his book for some parishioners who turned out in large numbers to support the event and give thanks to God for the faith they now share with others. Read more.
SMA Fathers, from left to right, Valentin Fadegnon (from Benin Republic, now serving in St Patrick's SMA Parish, Cable Point, Asaba), Reginald Nwachukwu (Superior, Bight of Benin District-in-formation) and Robert Obro were also at the celebrations.
Pictures courtesy of Fr Patrick Kwis SMA.