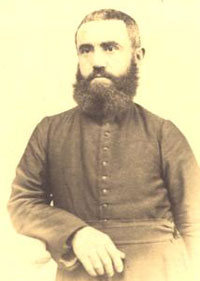 Celebration marks first visit of Fr Borghero
On 9 March 1862 the first public Mass in modern times was offered in Lagos, Nigeria. The occasion marked the arrival of the first SMA priest on Nigerian soil in the person of Italian-born Fr Francesco Borghero who had come, secretly, from his mission in Porto Novo, Dahomey on an exploratory trip along the Gulf of Benin Coast. Read about his 'secret' trip here.
Fr Borghero came to identify a suitable base for a mission post in the territory we now know as Nigeria. He was greeted by a group of freed slaves who had returned from Brazil and had been settled at Lagos, a colony of some 30,000 inhabitants, and the administration centre of the British colonisers. Prominent among them was Pa Antonio who was seen as the leader of the Catholic community there.
Exactly one hundred and fifty years later to the day, the present SMA team in Lagos gathered with the SMA Nigeria Regional Superior, Fr Maurice Henry, to commemorate this historic event. Our picture shows some of those who attended the Jubilee Mass at the SMA House, Obanikoro, Lagos.
From left to right: SMA Fathers Bernard Asuka (St Joseph's, Gowon Estate), Eamonn Finnegan (O L Mother of Perpetual Help, Ajah), Peter Makasa (St Joseph's, Gowon Estate), Noel O'Leary (O L Mother & Queen, Badore), Maurice Henry (Regional Superior, Abuja), Trinkson Debres (Charles Borromeo, 1004), Andrew O'Sullivan (Sacred Heart, Apapa), Patrick Kwis (Promoter, Family Vocations Movement, Lagos), Sr Francesca OLA (OLA community, Kweme), Val Hynes (SMA House, Obanikoro) and Eddie Hartnett (Holy Family, Kweme).